The survival of people dealing with life-threatening illnesses such as HIV/AIDS often depends on affordable access to prescription medications.
Viewing 1 thru 12 of 732 Stories
The Black Lives Matter movement has brought forward what could be considered one of the most important social discussions in a generation.
In its June 15, decision holding that Title VII of the Federal Civil Rights Act of 1964 prohibits discrimination against LGBT people, two conservative court members pulled the court away from from the brink of issuing another Dred Scott decision.
The United States is home to more than one million gay veterans, most of whom served under the radar.
I had known Harry Britt since 1977, when he was president of the Harvey Milk LGBTQ Democratic Club (then San Francisco Gay Democratic Club).
As a survivor of the AIDS crisis of the 1980s, I remember how our community was torn apart by the two camps that were formed around the practice of safe sex. Condoms or no condoms?
The 1980s were an increasingly awful decade in California.
A year on from Stonewall's 50th anniversary, we find ourselves in quite an odd time in history.
Celebrating Pride this June is anything but what we'd envisioned for 2020.
First of all, I am talking about the peaceful protests. I live in Oakland, California and during 1967's Summer of Love it was our neighboring city of Berkeley that garnered the media attention for demonstrations and protests.
This year's Anniversary Celebration for the National Center for Lesbian Rights will be nothing like I imagined when I accepted the position as executive director in late 2019.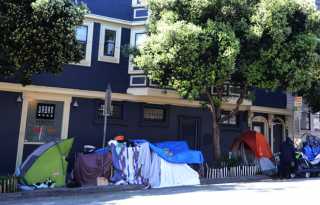 Shelter in place, which has been so successful at flattening the curve and saving lives, has been a disaster for street conditions in San Francisco.
Given what has transpired in our nation over the last several years, it is hard to argue with what then-Senator Barack Obama asserted in 2006: that America indeed suffers from an "empathy deficit."
Viewing 1 thru 12 of 732 Stories