It may be premature to declare President Joe Biden's executive order repealing former President Donald Trump's odious transgender military ban a "victory," as some news outlets have reported
Viewing 1 thru 12 of 1824 Stories
The Senate this week finally started holding hearings for President Joe Biden's various cabinet nominees and others that need confirmation.
To say I held my bated breath until it was clear that "Uncle Joe" had won would be the understatement of a century. Or two. Add in "Auntie" Kamala and my gay self has been in an election coma ever since.
History was made last week when the San Francisco Board of Supervisors selected Shamann Walton, who represents District 10, to be its new president, the first Black man to take the powerful post.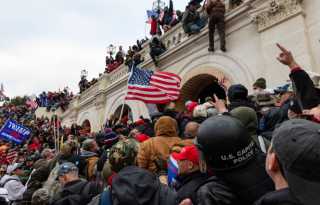 Thousands of Trump supporters swarmed the U.S. Capitol on Wednesday, January 6, to commit seditious acts that were motivated by ignorance and white supremacy, which obviously go hand in hand.
It is no secret that many hospital emergency departments are struggling.
On his way out the door, former Attorney General William Barr delivered one last slap to minority groups, potentially including LGBTQs of color.
We are several weeks into COVID-19 vaccine distribution and the pace is woefully slow in California.
After a mostly dismal 2020, we are more than ready for the new year.
From 2010 to 2020, the world fêted San Francisco. New startups, new graduates, new immigrants — all wanted to share in its glittering promise.
The San Francisco Board of Supervisors will meet January 8 and, after elected and reelected members are sworn in, will choose a new board president.
Viewing 1 thru 12 of 1824 Stories