From its very title, Caleb Crain's second novel, "Overthrow," is comedy of the highest order.
Viewing 1 thru 12 of 1248 Stories
As Sloan De Forest shows in TCM's "Dynamic Dames: 50 Leading Ladies Who Made History" (Running Press, $23), today's gifted actresses continue to make noteworthy films.
"The necessity of procuring good intelligence is apparent and need not be further urged." — George Washington, 1777. Here are five homosexual authors through history who dabbled in espionage.
I was initially dismayed to see Ethan Mordden's latest book, "On Streisand" (Oxford Press, hardcover, $21.95).
Blondie cofounders Debbie Harry and Chris Stein were guests at the Arts & Ideas series hosted by the Jewish Community Center on October 3, to discuss Harry's memoir, 'Face It.'
The first new Henry Rios mystery novel in 20 years, "Carved in Bone" (Persigo Press) by award-winning gay author Michael Nava, is set in mid-1980s San Francisco.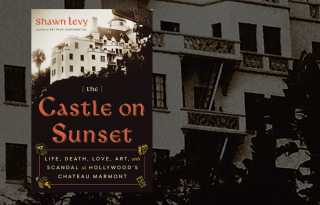 In "The Castle on Sunset — Life, Death, Love, Art, and Scandal at Hollywood's Chateau Marmont," Shawn Levy breathlessly relates the fascinating history of a unique property.
Novelist James Gregor has written "Going Dutch," a dynamic debut novel about the difficulties in searching for love, and how supremely messy the entire process can become.
One of the great things about author Chris Dennis' outstanding debut story collection "Here Is What You Do" is its penchant for expressing the tone of uneasiness in his characters.
In its subtitle, Alex Espinosa's new book, "Cruising: An Intimate History of a Radical Pastime" (The Unnamed Press), "history" seems almost to relegate to the past the pleasures of what was a "pastime."
Summer has come and gone, but don't be sad. Autumn means a harvest of new books to read throughout the season.
The brightest star of Amanda Lee Koe's debut novel "Delayed Rays of a Star" (Nan A. Talese/Doubleday) is Amanda Lee Koe. The queer, Singapore-born, New York-based Koe's book is one of those astronomical rarities people get up in the night to behold.
I initially sensed a word play lurking in the title of Tim Murphy's new novel, "Correspondents" (Grove Press), but if so, it went past me.
Viewing 1 thru 12 of 1248 Stories