Mayor London Breed on Wednesday named a gay man to head the San Francisco Municipal Transportation Agency.
Viewing 1 thru 12 of 3271 Stories
Updated below: Mayor London Breed announces DA-elect Chesa Boudin will take office in January, at his request. Interim DA Suzy Loftus agrees to continue serving.
Until recently Sergio Lobito was working as a landscaper in San Francisco and starring in the wildly popular drag parodies of television shows.
Visit any national park site in San Francisco and you will likely encounter a vista that has been shaped in some manner by Bay Area native Michael Boland.
San Francisco officials are eyeing several sites to house LGBT homeless individuals, in particular youth and transgender people, that could open in 2020 and fulfill several campaign promises made by Mayor London Breed.
I was singled out by TSA for being a transgender woman and I am not the only one.
The Mayor's Office of Housing and Community Development will award $1 million this year to the Q Foundation for rental subsidies for people living with HIV, according to the agency.
This week's editorial cartoon.
Anti-gay demonstrators and police clashed last week as violence erupted at the opening of the highly acclaimed Swedish gay romance, "And Then We Danced," in the former Soviet republic of Georgia.
Deputy public defender Chesa Boudin's upset victory in the hotly contested San Francisco district attorney's race has sent shockwaves through the city, and continues a national trend of electing criminal justice reformers as top prosecutors.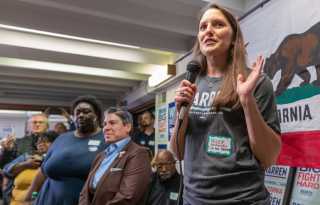 Democratic presidential candidate Senator Elizabeth Warren's campaign opened its Oakland office last weekend.
Valentine's Day is still a ways off, but a local nonprofit that brightens the holiday for sick kids and their families held a recent fundraiser to start planning for the next event.
Viewing 1 thru 12 of 3271 Stories