There won't be a rematch in next year's race for an East Bay Assembly seat.
Viewing 1 thru 12 of 3144 Stories
Our national correspondent provides an analysis of the recent LGBTQ town hall for Democratic presidential candidates.
District 5 Supervisor Vallie Brown deserves election to complete the term of former supervisor London Breed, who appointed her to the seat when she became mayor last summer.
In the first open race for San Francisco district attorney in more than 100 years, Suzy Loftus is the candidate who best exemplifies San Francisco values and whose professional record has prepared her to lead the department.
The City and County of San Francisco has awarded $1.15 million for each of the next two fiscal years to two nonprofits to provide direct rental subsidies to help keep transgender and gender-nonconforming people in their homes or find housing.
Following a spate of business closures, as many as three restaurants are slated to open in the Castro in the coming weeks.
At least one progressive Democratic club and a civil liberties group have blasted Mayor London Breed's decision to name Suzy Loftus, who is running for district attorney, to serve as interim DA once the current officeholder, George Gascón, vacates the pos
The fight over the electronic cigarette ban in San Francisco and the recent epidemic of vaping-related deaths and lung injuries nationwide has made nicotine use — both vaping and smoking — a top priority for some LGBT leaders.
The Bay Area Reporter's endorsements for the November 5 municipal election. Editorials started October 3 and will continue this month.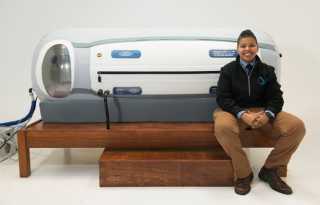 Bay Area native Alex Williams two summers ago opened her Holistic Hyperbarics spa in a small Albany storefront. At the time, it was all the business owner could afford.
Breast Cancer Action launches campaign against "forever" chemicals for Breast Cancer Awareness Month.
ABC News correspondent Gio Benitez said that as a young reporter in Miami, he was inspired by the greats of television journalism: Peter Jennings, Tom Brokaw, Barbara Walters, and Katie Couric.
"Damn I'm going to be a gorgeous man," Lou Sullivan wrote 40 years ago in one of his personal diaries.
Viewing 1 thru 12 of 3144 Stories