Alice Hoagland, the mother of gay 9/11 hero Mark Bingham, has died.
Viewing 1 thru 12 of 4652 Stories
A San Francisco supervisor is open to landmarking the Bank of America building in the Castro after the financial giant initially posted signs that appeared to ban impromptu memorials.
Margo St. James, a noted sex-positive feminist and pioneer of the sex workers' rights movement, died January 12 at age 83.
Want a break from today's scary news?
A California lawmaker is again attempting to ban medically unnecessary surgeries on intersex children in the Golden State.
Fran Hutchins, who helped lead the fight for marriage equality in Maine as the regional field director for Mainers United for Marriage, took on a new role as the executive director of the Equality Federation at the beginning of the year.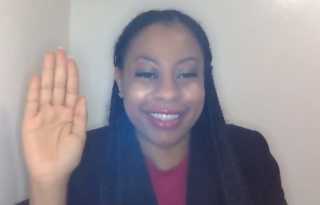 Four people were sworn in to the San Francisco City College Board of Trustees January 14 before the governing body reelected out members Shanell Williams and Tom Temprano as president and vice president, respectively, during its first meeting of the year.
Longtime gay activist Ken Jones, a Black man who was key to the desegregation of LGBTQ activism, died January 13. He was 70.
As a monthly queer reading series marks its fifth anniversary of spotlighting out authors, the LGBTQ bookstore that hosts it in San Francisco's Castro district is facing an uncertain future due to the COVID pandemic.
For a year UC Berkeley graduate Juniperangelica Cordova's original diploma had sat on a bookshelf in her Alameda home wrapped in the envelope it arrived in.
At a perilous time for many small businesses in the pandemic, a San Francisco supervisor is proposing legislation to fund nightlife venues while another board member spearheaded millions of dollars in regulatory relief.
The Alameda County Democratic Central Committee will see a record number of LGBTQ members serving on the oversight body for the local party this year.
History was made last week when the San Francisco Board of Supervisors selected Shamann Walton, who represents District 10, to be its new president, the first Black man to take the powerful post.
Viewing 1 thru 12 of 4652 Stories