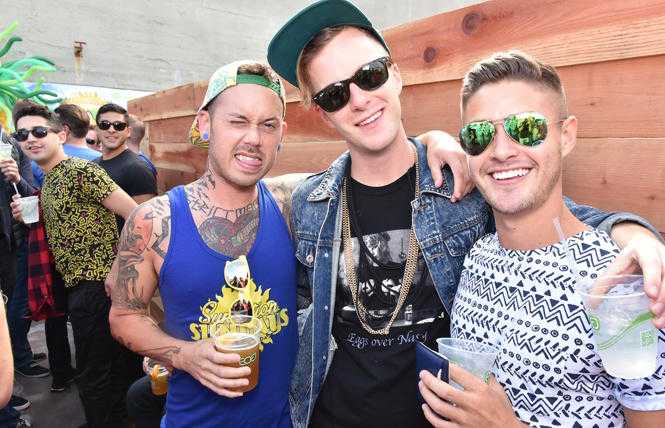 Good news for nightlife fans. Oasis, the popular SoMa nightclub, announced plans to re-open its rooftop bar on August 14, with proper social distancing rules in effect Fridays through Sundays.
Viewing 1 thru 12 of 1501 Stories
For those unable to get to their workouts at the gym or favorite dance club because they've been shut down again after reopening too soon, here are some new releases sure to get your heart rate up and your body moving. Play them loud.
On third Thursdays, Lisa Geduldig brings us Lockdown Comedy, shows, online via Zoom. This month's show takes place on August 20 and promises to offer lots of laughs. The line-up includes the host's mom, at a senior home in Florida.
Marga Gomez returns to host the hit comedy series, Who's Your Mami Comedy. This time it's online, with headliner Laurie Kilmartin, pluis Dhaya Lakshminarayanan, Suni Reyes, Dominique Gelin, and Jesús U. BettaWork.
Music, comedy, theatre and community forums will get you through the next week of our collective endurance. Mask and ye shall receive.
Two San Francisco drag performers have joined an effort to promote participation in the fall elections, where control of the White House and U.S. Senate are up for grabs and countless local elections will be taking place across the country.
San Francisco Gay Men's Chorus' annual Crescendo gala goes online with honors to singer-actor Billy Porter, activist Ariadne Getty, and special guests Kristin Chenoweth, Alex Newell, Wilson Cruz, and more.
You loved him in 'Unbreakable Kimmy Schmidt ("Peenooooo Noir!") and other shows. Tituss Burgess' newest song, "Dance, M.F.," speaks to us now about letting our inhibitions down in a time of crisis.
TV fans know him for 'American Horror Story,' Broadway fans know him for 'Xanadu' and 'All Shook Up.' Cheyenne Jackson, the handsome singer-actor, performs in an intimate concert fundraiser with our favorite musical theatre wizard, Seth Rudetsky.
Another Zoom opening, another show - online, of course. When you're not masking up outside, enjoy arts, nightlife and community events at home.
The Castro nightclub Badlands at 4121 18th Street will not be reopening, according to a post on its Facebook page.
Moby Dick, the popular Castro district bar, is raising funds for employees and the owners' expenses in two online fundraisers.
Kim David Smith, a gay Australian native who now lives and works in New York City, has released his first concert album: 'Live at Joe's Pub.' Smith's concert conjures up images of smoky nightclubs in Weimer Era Germany.
Viewing 1 thru 12 of 1501 Stories