Despite a year of providing entertainment through the pandemic, the drag-focused nightclub Oasis still needs fan support to remain open. So owner D'Arcy Drollinger will host a 12-hour telethon with dozens of performers on March 6.
Viewing 1 thru 12 of 1611 Stories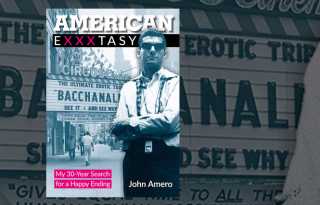 In his newly published memoir, 'American Exxxtasy: My 30-Year Search for a Happy Ending,' gay filmmaker Amero recalls those bygone days with wit, humor and heart.
There's so much to recommend about 'Daddy's Country Gold,' the dazzling new album by out singer/songwriter Melissa Carper, it's hard to know where to begin. Carper's distinctive vocal style transcends a single genre description.
America's longest continuously-published and highest weekly circulation LGBTQ newspaper will celebrate its historic 50th anniversary edition to be published on April 1. Advertising space reservations for this special issue are now being accepted.
Now that the San Francisco Board of Supervisors has unanimously passed District 6 Supervisor Matt Haney's Music and Entertainment Venue Recovery Fund, his legislative aide is hopeful that beleaguered venues can start getting help next month.
The nonprofit that oversees the Folsom Street Fair will soon open a sex-positive space in San Francisco's South of Market neighborhood.
"Big" Bill Eld, one of gay cinema's first porn stars, didn't last long in the business, as director Toby Ross recounts in his ruminative odd 'docudrama.'
Sometime it feels like being the DJ on the Titanic II, part desperate distraction, part solemn duty, working to bring you entertainments and the strange dispiriting online version of community. Sometimes it doesn't.
Names like Mo B. Dick and Sexy Galexy will grace your computer screens when Drag King Legends takes to Zoom on Feb. 21 at 5pm. Kings with 25 years or more experience will be honored in a show that promises to be informative, exciting, and entertaining.
'Kink: Stories,' edited by R.O. Kwon and Garth Greenwell, is an anthology of 14 blazing, vivid stories that come together and make up a collection that plunges into different definitions of the multi-layered discipline of intimacy.
Castro nightlife is back, sort of, including brunch drag shows outside The Edge bar.
Shuttered at home, musicians are producing new songs in abundance, including local artists and longtime favorites. Also, we honor a singer-songwriter lost too soon.
Click here, click there, and voila, a new world of theatre, dance, drag and community will appear.
Viewing 1 thru 12 of 1611 Stories