Spring has quite sprung and many arts, nightlife and community organizers and producers have emerged from their Zoom caves. Chirp, chirp.
Viewing 1 thru 12 of 115 Stories
The building that houses The Eagle, a South of Market leather-themed LGBTQ bar, is still for sale, according to one of the real estate agents.
As we continue to celebrate the Bay Area Reporter's 50th anniversary, let's look to arts nightlife and community groups that share our collective history. Long-running theater companies and even new online forums span the decades.
In honor of the B.A.R.'s 50th anniversary, let's look back on the past five decades of local leather seen through the lens of the paper, which is admittedly but a smidgen of the entirety of local leather history.
The Bay Area Reporter first published on April 1, 1971, two years after the New York Stonewall Riots. But the paper's emergence grew not out of activism, but from San Francisco's growing gay bar scene.
In what will undoubtedly be recalled as the biggest drag fundraiser in local history, Oasis nightclub's 12-hour three-camera marathon telethon more than doubled the initial goal by raising more than $253,000 through the club's March 6 online event.
Castro nightlife is back, sort of, including brunch drag shows outside The Edge bar.
The giant leather pride flag that flew over the nearly finished Eagle Plaza in San Francisco's South of Market neighborhood was so frayed by the wind that it was quietly removed late last year.
The members of a San Francisco supervisors' panel are recommending that their colleagues start the process to landmark a gay-owned bar in the city's South of Market district.
Despite our astoundingly difficult times, fans and patrons of LGBTQ Bay Area bars and nightclubs were extraordinarily generous to multiple fundraising efforts in 2020, donating nearly $400,000. You can still donate to help your favorite venues survive.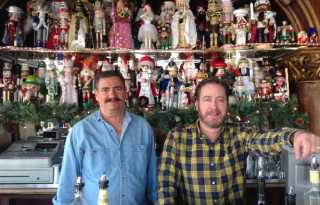 The historic Twin Peaks Tavern, a landmark gay bar on Castro and Market streets, has succeeded in its campaign to raise $100,000 to keep the struggling bar open and pay its staff. But more funds are needed in these difficult financial times.
Get a taste of those fun cabaret shows at Martuni's that we miss so much. The popular martini bar is making do in difficult times by selling a cute variety of gifts items.
Want to ease the anxiety of the upcoming election? Some nightclubs and organizations without political affiliations will host online —and in-person— watch parties and related events. Here's a quick roundup to consider for your evening's choices.
Viewing 1 thru 12 of 115 Stories