The stylish crowd that usually enjoys watching the Oscars at the Academy of Friends gala in San Francisco won't be noshing on hors d'oeuvres or sipping bubbly this year.
Viewing 1 thru 12 of 688 Stories
Plenty of outdoor and distanced events are worth joining this, week. But you'll pardon our recusal from 4/20, the marijuana party. Now that's legal, it's not so radical, and more like Muffin Monday. Going to bars feels more speakeasy-esque these days.
The building that houses The Eagle, a South of Market leather-themed LGBTQ bar, is still for sale, according to one of the real estate agents.
The Covered Wagon bar hosted the 1972 Mr. Cowboy contest, but things didn't go well, as reported in the B.A.R.'s May 17 issue. Many in attendance were "stirred into a frenzy of accusations, charges and counter-charges of fraud, fake fix and cheat."
Our veteran erotica reviewer reminisces about the early glory days of gay porn on film, vintage B.A.R. coverage, and porn's rise, (ahem) in popularity before changes made into VHS and online formats.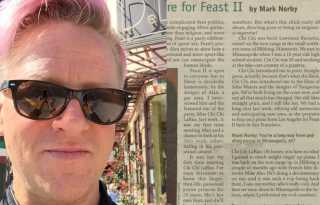 A former assistant editor and current freelance writer, Mark Norby recalls his first days working at the B.A.R.'s 9th & Harrison office.
The Bay Area Reporter first published on April 1, 1971, two years after the New York Stonewall Riots. But the paper's emergence grew not out of activism, but from San Francisco's growing gay bar scene.
Local nightlife icon and community organizer Juanita MORE! this week announced her candidacy to run for Empress of The Imperial Council of San Francisco. If elected, MORE! would become the 56th Empress.
Face it, you're itching to get out. With more museums, galleries, move theaters, bars and restaurants opening, you're allowed. Mask up, get out, have fun.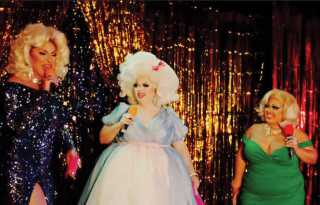 District 6 Supervisor Matt Haney's office announced March 18 that $3 million will be set aside for the Music and Entertainment Venue Recovery Fund — double the initial commitment of $1.5 million.
Events in arts, community and nightlife are carefully cracking open like fertile spring Easter eggs. See what's hatching in this week's Homing's In.
Depending on how long you've lived in San Francisco, the name Howie Klein may be familiar to you. His 415 Records brought bands like Romeo Void to popularity, and he's worked with greats like Joni Mitchell, Neil Young, Green Day and many more.
We care less about the royal them than we do about the royal you. Are you doing right? Would you like some music, dance, theatre, drag or DJed grooves to help you get through the days and nights? Then ye shall have it. We proclaim fun.
Viewing 1 thru 12 of 688 Stories