In an industry where entertainers gets labeled, Wynonna has refused. She has raised the bar as a visionary with great success. Wynonna is famous for saying "Don't ever let them tell you who you are." Maybe this is the foundation of our adoration for her.
Viewing 1 thru 12 of 534 Stories
Live music acts, drag galore and a few porn stars here and there; nightlife awaits.
The Edwardian Ball returns for its 20th anniversary. The two-day extravaganza, which takes place at The Regency Ballroom, promises to be a fusion and a celebration of art, music, theater, fashion, technology, and of the creations of the late Edward Gorey.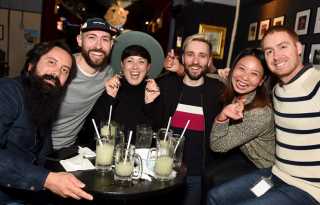 Moby Dick, the longtime Castro district's favored bar for casual gatherings, pinball and pool, is also notable for its beautiful aquarium above the bar.
What if you went to a bar or nightclub you've never visited before? Would you feel nervous, self-conscious? Out of place? Disrupt the dress codes, and unspoken ageism and race codes at Bay Area bars and clubs. Be the unexpected.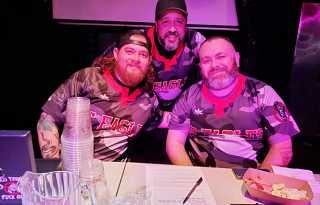 Ask a local San Francisco leather person what they're doing on a Sunday afternoon and you'll often here them say they're going to the beer bust. That typically means the weekly Sunday SF Eagle beer bust.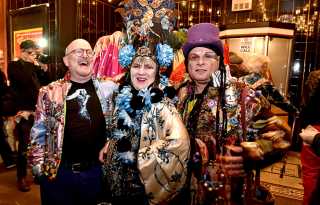 The 50th anniversary of The Cockettes was celebrated at the Victoria Theatre on Jan. 4 with hours of numbers from original Cockettes musicals, and other songs.
Now is the winter of our discoteque, or disco, but no techno. Anyway, shake a tail-feather to cool comedy, dancing bears and Bowie tributes.
Beach Blanket Babylon came to its last show on January 31, 2019, and California celebrities showed up in abundance.
Are you ready for a new year of nightlife fun? It's arriving, ready or not. Will our '20s be roaring with flappers and bootleg gin? Doubtful. More like floppers on TikTok and bootleg vapes. Either way, Happy New Year.
What might a modern day kinkster want to see happen in 2020 that could make their lives better while strengthening the kink communities overall? I'm sure you have your own list, but here's what I'd like to see transpire in the new year.
Nightlife icon and community activist Juanita MORE! shares her thoughts on 2019's ups and down, and projects to look forward to in 2020.
Our prolific photographer Steven Underhill attended hundreds of events last year. Here are our favorites from 2019.
Viewing 1 thru 12 of 534 Stories