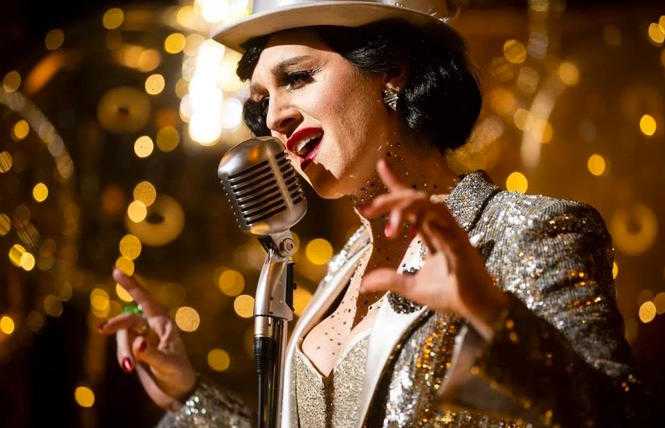 Departing from her guest-star turn as a chanteuse on the hit scifi TV show 'Snowpiercer,' SF-raised Lena Hall, also of 'Hedwig' and 'Kinky Boots' fame, returns to Feinstein's ballroom to perform her new cabaret concert.
Viewing 1 thru 12 of 191 Stories
Chris Conde, the Austin-based self-proclaimed "thicc, queer Mexican" rapper, unleashes a sophomore album, 'Engulfed in the Marvelous Decay.'
In 1982, Josie Cotton released her debut album 'Convertible Music,' containing the campy new wave single "Johnny, Are You Queer?" She's done much more since then, but was happy to chat about the old days, befo0re her Nov. 13 SF concert at Great Northern.
There may be a chill in the air, but arts and nightlife events continue to warm our spirits.
We'll leave the coverage of the contentious 2000 presidential election to our news editor and mention a sporty gay film, a snarky gay sports column, and leave it to Liza to give 2000 a bit of class.
Outside Lands is back. And it's outer than ever. Here's just a partial rundown of this year's queer Outside Lands highlights across a full gamut of musical genres, from R&B to rock to electronica.
Dubbed A Fair For Every Bear, the inaugural Bearrison Street Fair will commence Oct. 23. Bearrison promises to be a fun afternoon not only for bears, but for their friends, admirers and loved ones. Big Dipper headlines the fair.
From her duet vocal on Meat Loaf's hit single "Paradise by the Dashboard Light" to her performance in the "Black Boys/White Boys" number in 'Hair,' plus her acting gig on 'Night Court,' Ellen Foley's talent spans genres and decades.
Lil Nas X continues to strut his out gay stuff with what the industry welcomed as his "debut album," 'Montero (Call Me By Your Name),' after all the individual tunes dropped in spellbinding —some called them explicit— music videos.
Extra Fancy front man Brian Grillo may have been the most prominent out gay rock singer of the year. The band headlined the 1995 Folsom Street Fair in one of several queer rock moments of the year.
Last year, Rufus Wainwright released his eighth pop music studio album. It was significant because it was his first in 12 years. He'll perform at Satatoga's Mountain Winery Sept. 12.
LA-based, globally known drag queen Sherry Vine is always on the move, and she'll bring her wacky new song parody show to SF's Oasis Sept. 9.
Bay Area cabaret, rock and concert venues are once again filling their halls with the sound of music and laughter. Oasis, The Masonic, El Rio, Great American Music Hall and other favorite venues offer some terrific talents.
Viewing 1 thru 12 of 191 Stories