Walter Mercado will make you laugh, make you surprised, make you raise an eyebrow or two. And he will bring you to tears with his sincerest wish that you have love, the "Mucho mucho amor" part of the title of the new Netflix documentary about his life.
Viewing 1 thru 12 of 11980 Stories
Happy Blursday. When is that Zoom drag bake sale fundraiser string quartet? We'll do our best to delineate one event from another amid the midsummer maskness.
Choreographer Rory Davis (Baloney and multiple drag shows) enjoyed a few celebrity guests one of his recent 'Roryography' dance classes, including Darren Criss and John Stamos.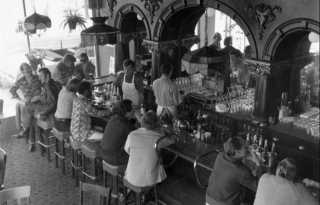 A Castro district institution for decades, the historic Twin Peaks Tavern is the subject of a 2019 documentary, to be screened as an online fundraiser July 10.
Missing SF Opera's summer performances? Tune in on Friday, July 10 at 7:30pm for a 90-minute free digital broadcast showcasing the many musicians, performers, and luminaries who would have shaped our summer season.
When it comes to Iggy Pop's solo work, he has yet to top the two he released in 1977: 'The Idiot' and 'Lust For Life,' each one newly reissued in expanded, double disc, deluxe editions, both produced by David Bowie.
Fame came early for Brian Falduto, a child actor in 'School of Rock.' Falduto is now back in the limelight, albeit in a very different way. He's an LGBTQ life coach and Country music singer-songwriter.
Lesbian filmmaker Wendy Jo Carlton seems to have a thing for intimate, almost stagey movies. Her latest, 'Good Kisser,' also fits into that mold. Abner Pastoll's thriller 'A Good Woman is Hard to Find' is also reviewed.
The premise of Carter Sickels' novel 'The Prettiest Star' is one that is very much based on the kind of real circumstances many gay men grappled with in the AIDS years of the 1980s.
Kent James, also known as the punk-influenced rock music frontman Nick Name, died at his home in Palm Springs on July 3, 2020. The gay singer-songwriter lived in San Francisco for a few years, and performed at local nightclubs.
A new scholarly project at Cal State Fullerton, created by Assistant Professor Eric Gonzaba, maps LGBT bars, cafes and hotels from the historic Bob Damron's Gay Guides.
Disco icon Sylvester's 'Step II' album has been reissued, and a short online documentary tells the story of his fabulous yet too-brief career and life.
Although its hit mini-festival is over, Frameline continues to screen ticketed and free films online, including a series of narrative documentary and short films about AIDS.
Viewing 1 thru 12 of 11980 Stories