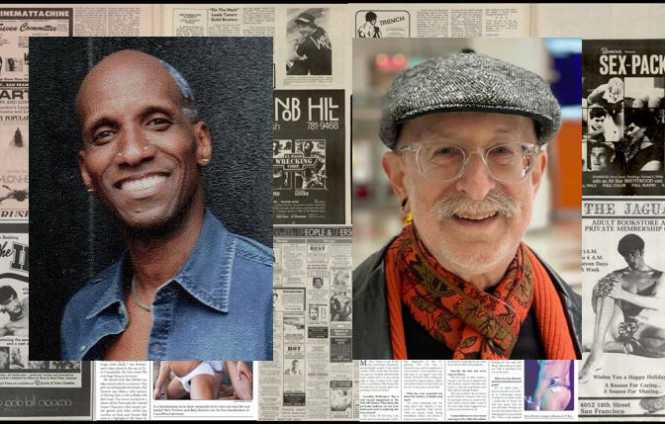 In the fourth edition of the Bay Area Reporter's monthly online chats celebrating the 50th anniversary of the publication, writers John F. Karr and Cornelius Washington will discuss the history of sexuality in the publication in an Aug. 5 online chat.
Viewing 1 thru 12 of 1710 Stories
As more venues re-open, but more precautions become standard, let's shift back to online as well as in-person events, some new and favored, others new to be savored.
Sons and daughters, sisters and brothers of prominent musicians have long shared their own talents. Our music columnist offers a few new bests.
As more venues re-open, more precautions become standard. Mask up, get your shots, and enjoy arts and nightlife events.
Revelers at Sunday's Folsom Street Market fair who wanted a drink had to show something more than an ID to the doorman at many of the bars — proof of COVID-19 vaccination.
Known for outrageous and unique performances, the late local drag performer Phatima Rude (Leigh Pankonin) will be remembered at a gathering on August 1 at Public Works.
Midsummer fun continues all over the Bay. Be careful, be kind, mask up indoors, and head out for plays, concerts, films and nightlife frolics. Many venues are requiring masks, proof of vaccination or proof of a negative COVID test for entry.
Determined to pick some prominent arts event from 1986's Bay Area Reporter issues, what stuck out more prominently was the high number of phone sex ads.
Oasis hosts Michael Phillis' new drag parody show, 'The Hand That Rocks the Crawford,' starring Matthew Martin as Joan Crawford in a mash-up of femme fatale '90s classic films.
Is there anything gay performer and Texas-native Todrick Hall can't do? He sings. He dances. He writes songs. He acts on Broadway, in movies, and on TV. He's also an outspoken activist, and discusses his new album, 'Femuline.'
In Michael Lowenthal's fifth book, Sex with Strangers, the writer steps out of the novel and delivers a fiery collection of eight stories coursing through queer and straight lives.
Something new is in store for the genteel cabaret audiences that frequent Feinstein's at the Nikko. On July 28-31, two-time Tony nominee Eva Noblezada will premiere a brand new solo set at the club ... and she'll be pole dancing.
The San Francisco LeatherWalk will return this fall after being on hiatus for several years. The event, with a new route, will help to kick off Leather Week in late September.
Viewing 1 thru 12 of 1710 Stories