A trio of out applicants seeking appointment to San Francisco's Immigrant Rights Commission won support Monday from the Board of Supervisor's Rules Committee.
Viewing 1 thru 12 of 1071 Stories
Distribution of a third vaccine to combat COVID-19 has begun across the country, following federal authorization last week.
The National LGBTQ Task Force is starting its third annual sex-ed leadership project this week to help teach advocates at the local level how to push for policy changes.
The number of LGBTQ judges serving on California state courts has spiked by 15.87% over the last year
Keith Fong, a gay man whom Governor Gavin Newsom appointed an Alameda County Superior Court judge, took his oath of office Monday.
A trio of out applicants is seeking appointment to San Francisco's Immigrant Rights Commission.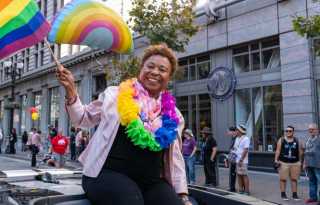 As Black History Month draws to a close, Congresswoman Barbara Lee on Friday introduced a resolution honoring the contributions of Black LGBTQ+ people.
Come its March 3 meeting San Francisco's Historic Preservation Commission will no longer have anyone from the city's LGBTQ community serving on it.
America's longest continuously-published and highest weekly circulation LGBTQ newspaper will celebrate its historic 50th anniversary edition to be published on April 1. Advertising space reservations for this special issue are now being accepted.
In his debut novel, Robert Jones Jr., describes the romantic and tragic relationship between Samuel and Isaiah, two enslaved young men on a Mississippi cotton plantation in the early 1800s.
The U.S. House of Representatives on Thursday approved a bill that would add sexual orientation and gender identity to the Civil Rights Act of 1964.
Dr. Rachel Levine's testimony before a U.S. Senate committee on Thursday marked the historic first time an openly transgender person had taken part in a confirmation hearing for a presidential appointment.
Amid threats of a lawsuit and to recall three of its members, San Francisco's school board is postponing its plan to rename 44 school sites whose namesakes have been accused of taking racist actions against various peoples of color.
Viewing 1 thru 12 of 1071 Stories