Chesa Boudin, a reform-minded deputy public defender, won the hotly contested race to be San Francisco's next district attorney.
Viewing 1 thru 12 of 398 Stories
Lawrence "Larry" Metzger, a gay man and onetime shareholder in the corporation that does business as the Mix gay bar on 18th Street in the Castro, is suing the corporation and two of its shareholders.
The onePULSE Foundation has announced the results of a competition to design a memorial and museum in honor of the victims of the 2016 massacre at the Pulse gay nightclub in Orlando, Florida — even as it faces some opposition to the proposal.
The twin victories of progressives Chesa Boudin and Dean Preston for San Francisco district attorney and District 5 supervisor, respectively, has sent a jolt through the political establishment.,
With a 170-vote lead in the District 5 supervisor race, Dean Preston declared victory Saturday, becoming the first San Francisco supervisor elected as a Democratic Socialist since gay former District 5 supervisor Harry Britt in 1980.
Convicted arsonist David Munoz Diaz pleaded guilty Friday, November 8, to three felony counts before he could stand trial in an attempted murder case, according to a spokesman for the San Francisco District Attorney's office.
Officials from half a dozen San Francisco city agencies pledged Thursday to improve their efforts to serve LGBT residents over the coming year as they strive to meet a mandate for collecting sexual orientation and gender identity data.
Lesbian Oakland City Council President Rebecca Kaplan on Thursday endorsed Massachusetts Senator Elizabeth Warren for president.
Two federal judges in two days have struck down the Trump administration's Denial of Care rule as a third case in San Francisco awaits a judge's decision.
A property in San Francisco's Japantown that has ties to the early LGBT rights movement has won support from a state panel to receive federal historic status.
Two years after San Francisco ordered half a dozen city agencies to track the number of LGBT people they serve, the departments are reporting they have ramped up their data collection efforts in recent months in order to meet the mandate.
Some Adrian Wilcox High School football players have faced discipline from school officials, but they will not face criminal charges, the city of Santa Clara said Monday in a news release.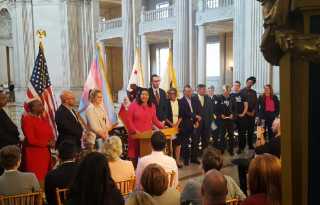 Mayor London Breed raised the trans flag at San Francisco City Hall Friday, marking the beginning of Transgender Awareness Month.
Viewing 1 thru 12 of 398 Stories