In response to questions from the Bay Area Reporter, Senator Dianne Feinstein's (D-California) office pledged February 19 to reach out to the attorney of the longest-detained trans woman in Immigration and Customs Enforcement custody.
Viewing 1 thru 12 of 491 Stories
A San Francisco man is the subject of a temporary restraining order issued in Santa Clara County last week, preventing him from coming into contact with gay Apple CEO Tim Cook.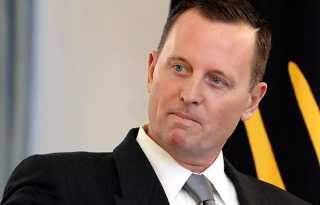 The appointment may last only a few weeks, but President Donald Trump on Wednesday named longtime gay Republican activist Richard Grenell to be his new acting director of national intelligence.
A project that would see the first tribute to an LGBT individual installed in San Francisco's Golden Gate Park outside of the National AIDS Memorial Grove has hit a hiccup in the city's approval process.
"Horse-faced lesbians." That was one of the first barbs tossed at the Democratic presidential field's newcomer, billionaire former New York City mayor Michael Bloomberg, Wednesday night, in the party's most combative debate yet.
Mayor London Breed, city officials, and members of the San Francisco LGBT Pride Celebration Committee kicked off festivities associated with the upcoming 50th San Francisco Pride parade with a City Hall media event February 18.
Supervisor Rafael Mandelman said Tuesday that he would not support calls for Mayor London Breed to resign due to her connections to indicted former Public Works director Mohammed Nuru.
As part of the activities for Golden Gate Park's 150th anniversary, portions of the AIDS Memorial Quilt will be displayed in San Francisco for three days in April.
'INSIDE PRIDE', the official magazine of San Francisco Pride is now accepting space reservations.
In a nondescript warehouse near Oakland International Airport, volunteers gathered on Valentine's Day to begin the solemn — yet joyful — task of unloading blocks of the AIDS Memorial Quilt.
At a federal court hearing February 14, an officer of United States Immigration and Customs Enforcement had to explain what steps the agency would take to bring back a San Francisco gay man who a federal judge ruled had been deported erroneously.
James Rickleffs, a San Francisco man found guilty last March of murdering a gay man in 2012, will not be sentenced for at least two more months.
The San Francisco Board of Supervisors Tuesday unanimously approved the $12 million purchase of a triangular lot on upper Market Street in order to build affordable senior housing on the property.
Viewing 1 thru 12 of 491 Stories