Margo St. James, a noted sex-positive feminist and pioneer of the sex workers' rights movement, died January 12 at age 83.
Viewing 1 thru 12 of 999 Stories
Want a break from today's scary news?
A California lawmaker is again attempting to ban medically unnecessary surgeries on intersex children in the Golden State.
Fran Hutchins, who helped lead the fight for marriage equality in Maine as the regional field director for Mainers United for Marriage, took on a new role as the executive director of the Equality Federation at the beginning of the year.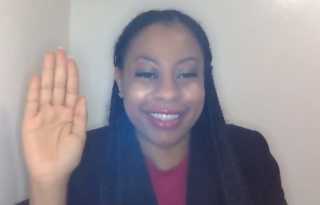 Four people were sworn in to the San Francisco City College Board of Trustees January 14 before the governing body reelected out members Shanell Williams and Tom Temprano as president and vice president, respectively, during its first meeting of the year.
Longtime gay activist Ken Jones, a Black man who was key to the desegregation of LGBTQ activism, died January 13. He was 70.
The executive director of Openhouse, the leading service provider for San Francisco's LGBTQ seniors, has announced she will be leaving the position this spring in what she called "the most difficult decision I have ever made."
Transgender powerlifter JayCee Cooper of Minnesota has filed a discrimination lawsuit against USA Powerlifting and the association's state chapter, alleging its policies preventing transgender women from competition are contrary to state anti-bias law.
An online survey to solicit feedback about a proposed public safety camera program in the Castro neighborhood will end shortly before a February town hall on the contentious issue, according to the Castro/Upper Market Community Benefit District.
As long as they have negative COVID test results, California legislators will be returning to the state Capitol Monday (January 11) to get back to work as the pandemic continues to rage in the Golden State.
A total of 40 LGBTQ organizations are calling for the "immediate removal of President Donald Trump" in the wake of the January 6 attack on the United States Capitol by pro-Trump domestic terrorists that resulted in five deaths.
A San Francisco Board of Supervisors committee January 7 forwarded on to the full board a resolution requiring community benefit districts, among other groups, to disclose their use of surveillance technology at a public hearing in advance of using them.
Following a year of racial protests over police killings of Black Americans, both in the Bay Area and across the country, San Francisco's top two political leaders will be African Americans born and raised in the city.
Viewing 1 thru 12 of 999 Stories