A number of Californians are among the inaugural class being inducted into the LGBTQ Hall of Fame May 2 by the LGBTQ Victory Institute.
Viewing 1 thru 12 of 1140 Stories
Queer twin sisters and community activists Melonie and Melorra Green have been named San Francisco Pride community grand marshals, the organization recently announced.
In his conversations with potential donors Eric Curry has been referred to as the "underdog" candidate and the less polite "unlikely" candidate running for San Francisco's 12th Congressional District seat covering much of the city.
The gay former Sebastopol mayor who was arrested on charges of sexual assault of a minor is now free on $620,00 bail following a hearing April 15, when the Sonoma County District Attorney's office added four additional counts to the initial charges.
As the Friends of Harvey Milk Plaza works to reboot its renovation project, new preliminary designs for the public parklet above the Castro Muni Station were rolled out Thursday during a virtual town hall.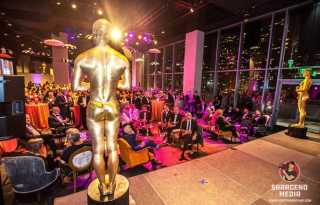 The stylish crowd that usually enjoys watching the Oscars at the Academy of Friends gala in San Francisco won't be noshing on hors d'oeuvres or sipping bubbly this year.
Equality California has named its managing director, Tony Hoang, as its first Asian American executive director.
A Japantown site has become only the second local historic property related to San Francisco's Japanese community and the fifth having to do with the LGBTQ community to be recognized as a city landmark.
Hours prior to her likely being rejected by the San Francisco Board of Supervisors at its meeting Tuesday, Historic Preservation Commission mayoral appointee Christina Dikas withdrew her nomination.
The final season of a podcast about the history of the LGBTQ rights movement will conclude with an episode about Stonewall that drops on June 28, the 52nd anniversary of the riots — and will precede a forthcoming podcast about Harry Britt.
A gay man who's the former mayor of Sebastopol and a longtime executive in the cannabis industry has been arrested and charged with five felonies and one misdemeanor related to sexual assault on a minor.
A massive photographic exhibit detailing the life and political career of the late gay San Francisco Supervisor Harvey Milk that for two years has adorned the San Francisco International Airport terminal named in his honor is being disassembled.
You may know Bay Area-raised drag performer Rock M. Sakura from last year's "RuPaul's Drag Race" Season 12, from her YouTube channel with more than 55,000 subscribers, or from her pre-COVID performances at numerous drag events.
Viewing 1 thru 12 of 1140 Stories