As Black History Month draws to a close, Congresswoman Barbara Lee on Friday introduced a resolution honoring the contributions of Black LGBTQ+ people.
Viewing 1 thru 12 of 248 Stories
America's longest continuously-published and highest weekly circulation LGBTQ newspaper will celebrate its historic 50th anniversary edition to be published on April 1. Advertising space reservations for this special issue are now being accepted.
The U.S. House of Representatives on Thursday approved a bill that would add sexual orientation and gender identity to the Civil Rights Act of 1964.
Dr. Rachel Levine's testimony before a U.S. Senate committee on Thursday marked the historic first time an openly transgender person had taken part in a confirmation hearing for a presidential appointment.
LGBTQ advocates are praising the Biden administration's Housing and Urban Development Department for interpreting the Fair Housing Act to prohibit discrimination on the basis of sexual orientation and gender identity.
With a House vote on the Equality Act set for next week, talks between LGBTQ rights advocates and Capitol Hill have begun on getting the legislation across the finish line with Democratic control of both chambers of Congress and the White House.
A groundbreaking report is shedding light on the issues facing LGBTQ accountants, especially LGBTQ women of color, as leaders of the profession attempt to diversify its ranks.
Pete Buttigieg was approved by the U.S. Senate on Tuesday as transportation secretary with bipartisan support, marking the first-time ever an openly gay person was confirmed to a Cabinet-level position.
The Human Rights Campaign sounded the alarm about anti-transgender legislation in statehouses coast-to-coast during a recent news conference.
The federal Food and Drug Administration has approved Cabenuva, the first complete long-acting injectable HIV regimen that does not require daily pills.
President Joe Biden on Monday signed an executive order repealing the ban on transgender troops serving in the military.
First lady Jill Biden on Friday visited the Washington, D.C.-based Whitman-Walker Health HIV/AIDS clinic, marking a distinct change for a new administration within its first 48 hours after inauguration.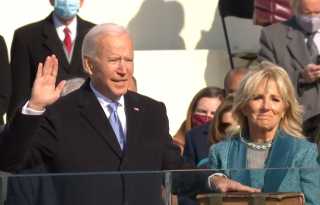 Joe Biden was inaugurated the 46th president of the United States January 20 in a ceremony on the west steps of the United States Capitol in Washington, D.C., bringing to an end one of the most tumultuous administrations in nation's history.
Viewing 1 thru 12 of 248 Stories