Among major West Coast cities, only Los Angeles has a worse response rate on the 2020 census than San Francisco.
Viewing 1 thru 12 of 168 Stories
Joe Biden's campaign held a wide-ranging virtual national conversation for LGBTQ+ women August 13, as participants praised his selection of Senator Kamala Harris as his running mate and expressed hope for a future under a new administration.
Longtime organizer Karine Jean-Pierre has been named chief of staff for Democratic presumptive vice presidential nominee Senator Kamala Harris (D-California).
California Senator Kamala Harris was selected by presumptive Democratic Party presidential nominee Joseph R. Biden Jr. Tuesday to be his running mate on the party's 2020 ticket.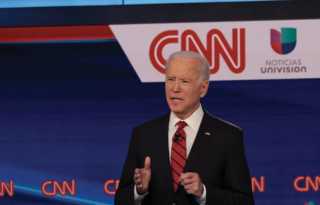 Joe Biden is seeking to one-up President Trump on the fight against HIV by pledging to end the epidemic by 2025 — an ambitious goal that would beat the current administration's goal by five years, although some HIV advocates are skeptical the presidential
A federal judge in Washington, D.C., indicated Monday he is not likely to grant an injunction to stop a Trump administration change in rules that will eliminate non-discrimination protections for LGBTQ people.
In issuing a new series of stamps honoring Bugs Bunny that includes two depicting the cartoon rabbit in women's clothing, the U.S. Postal Service has for the first time featured images of drag on the country's postage.
LGBTQ rights supporters are mourning the less of Rep. John Lewis (D-Ga.), a civil rights icon who worked with Dr. Martin Luther King Jr. and died late Friday after a battle with pancreatic cancer at age 80.
New guidance from Defense Secretary Mark Esper on flag displays at military installations is being hailed for prohibiting the display of Confederate flags — but the memo also bans the display of LGBTQ Pride flags, the Washington Blade has learned.
In a decision that undermines LGBTQ teachers at religious schools, the U.S. Supreme Court has affirmed for Catholic schools an expansive ministerial exemption in hiring practices under civil rights law.
San Francisco District Attorney Chesa Boudin joined the top prosecutors in Philadelphia and Boston, along with two civil rights advocates, to announce the formation of truth, justice, and reconciliation commissions in all three cities in a Zoom call.
The U.S. Supreme Court on Monday ruled that a federal law requiring foreign affiliates of U.S. AIDS prevention groups to express public opposition to prostitution is constitutional.
The U.S. Supreme Court's ruling this week on workplace protections for LGBTs may force President Donald Trump to retreat on much of his administration's anti-LGBTQ policies.
Viewing 1 thru 12 of 168 Stories