The federal Food and Drug Administration has approved Cabenuva, the first complete long-acting injectable HIV regimen that does not require daily pills.
Viewing 1 thru 12 of 239 Stories
President Joe Biden on Monday signed an executive order repealing the ban on transgender troops serving in the military.
First lady Jill Biden on Friday visited the Washington, D.C.-based Whitman-Walker Health HIV/AIDS clinic, marking a distinct change for a new administration within its first 48 hours after inauguration.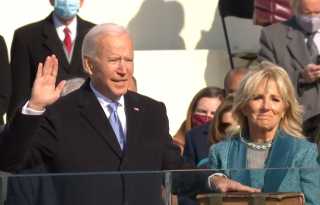 Joe Biden was inaugurated the 46th president of the United States January 20 in a ceremony on the west steps of the United States Capitol in Washington, D.C., bringing to an end one of the most tumultuous administrations in nation's history.
Fran Hutchins, who helped lead the fight for marriage equality in Maine as the regional field director for Mainers United for Marriage, took on a new role as the executive director of the Equality Federation at the beginning of the year.
Transgender powerlifter JayCee Cooper of Minnesota has filed a discrimination lawsuit against USA Powerlifting and the association's state chapter, alleging its policies preventing transgender women from competition are contrary to state anti-bias law.
A total of 40 LGBTQ organizations are calling for the "immediate removal of President Donald Trump" in the wake of the January 6 attack on the United States Capitol by pro-Trump domestic terrorists that resulted in five deaths.
Thousands of President Donald Trump's supporters stormed the U.S. Capitol on Wednesday as lawmakers were beginning to certify the Electoral College results.
A look at the numbers in Tuesday's U.S. Senate runoff races in Georgia indicate that Democrats have won control of the upper chamber of Congress — a development with potentially favorable consequences for the LGBTQ community and the nation.
The country's attention will be riveted on Georgia this week where runoff races for the state's two U.S. Senate seats will determine whether Democrats or Republicans control the chamber.
In 2020, the nation faced two existential threats: an out-of-control coronavirus pandemic that killed more than 300,000 people in the United States in less than 12 months, and an erratic, self-obsessed Republican president.
President-elect Joe Biden finally announced a gay cabinet secretary pick Tuesday.
The Lambda Legal Defense and Education Fund is raising alarm about new Trump administration rules that weaken distinctions between religious and secular federal contractors in order to uphold the First Amendment's establishment clause.
Viewing 1 thru 12 of 239 Stories