Opening night of the 43rd annual Frameline San Francisco International LGBTQ+ Film Festival included a screening of 'Vita and Virginia' at the Castro Theatre, followed by a party at Terra Gallery. Cinematic luminaries enjoyed drinks, food and music.
Viewing 1 thru 12 of 46 Stories
A delicious, rainbow-licious super-queer-ificious week to you and yours.
Wake up and taste the rainbow! For malapropism-free arts events, proceed.
Frame it, screen it, sing it or conduct it; LGBT-themed arts events blossom in mid-June.
A new exhibition opened at the GLBT Historical Society Museum on 18th Street, 'The Mayor of Folsom Street: The Life and Legacy of Alan Selby,' to honor his memory. A large crowd was on hand to welcome this exhibition.
Step up, roll up, sit down or standing room only for shows, exhibit, concerts and more arts events.
Do you know how many arts events are intriguing, fascinating and worth seeing? Asking for a friend.
Arts events heat up our cultural taste buds. Get in while it's hot!
At American Conservatory Theatre's opening night of Kate Hamill's 'Vanity Fair,' cast members, production staff and patrons schmoozed in the stylish lounge of the Geary Theatre.
Plan it, dammit! Make your reservations now for hit plays, musicals, art exhibits and even some events that don't need any advance planning.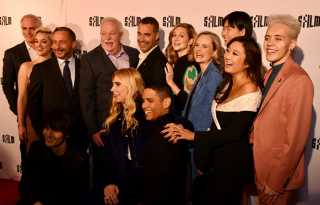 Stars shined brightly at the April 10 opening of the San Francisco International Film Festival, which featured a screening of the first episode from the new series, Armistead Maupin's 'Tales of the City.'
Film festivals, art exhibits and stunningly staged plays and musicals; choose from the expanding cultural menu.
Cast members of the national touring production of Falsettos enjoyed raves for their opening night performance at the Golden Gate Theatre. The after-party at the Phoenix Hotel included local notable celebrities.
Viewing 1 thru 12 of 46 Stories