Kim David Smith, a gay Australian native who now lives and works in New York City, has released his first concert album: 'Live at Joe's Pub.' Smith's concert conjures up images of smoky nightclubs in Weimer Era Germany.
Viewing 1 thru 12 of 330 Stories
Maria Gomez returns to host the hit comedy series, Who's Your Mami Comedy. This time it's online, with headliner Laurie Kilmartin, pluis Dhaya Lakshminarayanan, Suni Reyes, Dominique Gelin, and Jesús U. BettaWork.
Music, comedy, theatre and community forums will get you through the next week of our collective endurance. Mask and ye shall receive.
Another Zoom opening, another show - online, of course. When you're not masking up outside, enjoy arts, nightlife and community events at home.
Up Your I.P.! Sorry, but nearly every event is online, including the otherwise public kinkfest Up Your Alley street fair. But that doesn't mean you can't have fun, so long as your router's rooting and your IP's percolating.
The Gay & Lesbian Alliance Against Defamation's annual awards will be held online, with a fab array of special guests, including Dolly Parton, Dan Levy, Lil Nas X, Angelica Ross and many others.
Showtime, no time like the present to catch up on arts, community and nightlife events online.
Happy Blursday. When is that Zoom drag bake sale fundraiser string quartet? We'll do our best to delineate one event from another amid the midsummer maskness.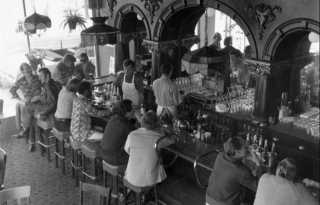 A Castro district institution for decades, the historic Twin Peaks Tavern is the subject of a 2019 documentary, to be screened as an online fundraiser July 10.
Along with their weekly cavalcade of online entertainments, host D'Arcy Drollinger takes on current events in a dishy blend of 'Talk Soup' and 'Drag Race.'
Disco icon Sylvester's 'Step II' album has been reissued, and a short online documentary tells the story of his fabulous yet too-brief career and life.
Midsummer mindfulness means enjoying more entertainments at home. Sorry, that's the way it is. Whether you're enjoying or avoiding fireworks, keep safe and enjoy arts, nightlife and community events online.
As the main creator of the Hi-NRG music genre, Patrick Cowley briefly thrived on the dance music charts with originality and ferocity. Cowley's posthumously published diaries document his short life in 1970s gay dance and music scene.
Viewing 1 thru 12 of 330 Stories