Happy Blursday. When is that Zoom drag bake sale fundraiser string quartet? We'll do our best to delineate one event from another amid the midsummer maskness.
Viewing 1 thru 12 of 323 Stories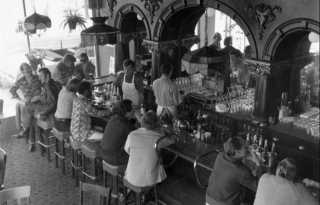 A Castro district institution for decades, the historic Twin Peaks Tavern is the subject of a 2019 documentary, to be screened as an online fundraiser July 10.
Along with their weekly cavalcade of online entertainments, host D'Arcy Drollinger takes on current events in a dishy blend of 'Talk Soup' and 'Drag Race.'
Disco icon Sylvester's 'Step II' album has been reissued, and a short online documentary tells the story of his fabulous yet too-brief career and life.
Midsummer mindfulness means enjoying more entertainments at home. Sorry, that's the way it is. Whether you're enjoying or avoiding fireworks, keep safe and enjoy arts, nightlife and community events online.
As the main creator of the Hi-NRG music genre, Patrick Cowley briefly thrived on the dance music charts with originality and ferocity. Cowley's posthumously published diaries document his short life in 1970s gay dance and music scene.
As Pride month blooms into a full-fledged festive online party, and an outdoor protest, events multiply and fly. But stay safe and wear your fab and/or functional facemasks.
Although you can't enjoy the terpsichorian talents of strippers at this year's Broadway Bares SF, Stripped Down for Equality, produced by the Richmond/Ermet Aid Foundation, brings the sexy benefit online, with proceeds aiding Black Lives Matter.
The It Gets Better Project will partner with musicians, artists, beauty and fitness experts, actors, gamers, and drag queens from around the world to present a three-day Pride extravaganza, with host Peppermint, Rebecca Black, Crystal Methyd & others.
As Pride month continues, events multiply, from drag tributes to concerts and cultural and community events.
The second annual Pride Summit and Prom, sponsored by Billboard and the Hollywood Reporter and scheduled for June 13, features a lengthy list of LGBT celebrities, actors and music acts.
Dixie De La Tour is the founder and host of the renowned Bawdy Storytelling shows. "We are, as a species, addicted to story," she says. "Even when the body goes to sleep, the mind stays up all night, telling itself stories."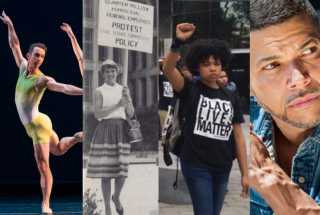 Amid protests and a pandemic, as Pride month gets underway, you can find a bit of relief with a rainbow of arts, nightlife and community events.
Viewing 1 thru 12 of 323 Stories