As a teenager in suburban Maryland, Joshua Grannell created a makeshift horror house, enlisting his supportive family. Decades later, as Peaches Christ, the gay horror super-fan directs the second annual Into the Dark: Terror Vault at the historic Mint.
Viewing 1 thru 12 of 271 Stories
The Castro Theatre will be hopping on October 26 with SexCells, featuring Marc Almond, TR/ST, Hercules & Love Affair (playing a DJ set) and other talents.
In the depths of the New York winter, Caissie Levy will be defrosted. Bay Area audiences can preview the thaw as Levy brings a mix of backstage stories and folk-pop arrangements of theater songs to Feinstein's at the Nikko.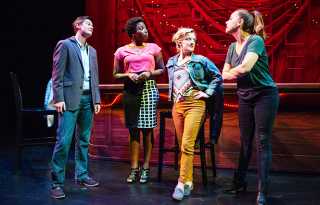 Autumn's brisk beauty is reflected in the bounty of arts events, including authors, artists and queer horror films.
Nibble on some pumpkin spice nightlife.
Curtain up, light the lights, we've got nothing but arts at their heights, with an extra helping of the visual, thanks to Open Studios, and the literary, as Litquake stirs up the Bay.
Andy Mientus takes to the elegant stage of Feinstein's At the Nikko on October 12 and 13, for an evening of song devoted to the great folk rocker Joni Mitchell.
Tom Orr will sing for his supper at Martuni's when he offers The Greatest Showqueen, an evening of wild parodies of classic Broadway hits. The October 13 show is a comeback of sorts for Orr.
Autumn lovelies fill our weekly line-up of nightlifery.
Blondie cofounders Debbie Harry and Chris Stein were guests at the Arts & Ideas series hosted by the Jewish Community Center on October 3, to discuss Harry's memoir, 'Face It.'
Under sunny October 6 skies, Castro and 18th streets filled with booths, live music, and cheerleaders flying above the crowd of thousands who strolled the 46th annual Castro Street Fair.
Folsom Street Fair may be only a fond memory, but multiple new events are still going on in the San Francisco Bay Area for leather and other kinksters.
Laugh, dance, sip, shimmy; whatever moves you in nightlife mode.
Viewing 1 thru 12 of 271 Stories