San Francisco Ballet's recent online preview concert showcased newly commissioned dance films as well as previously recorded classic works in four new online programs for 2021.
Viewing 1 thru 12 of 624 Stories
As Americans and people over the world heaved a heavy sigh of relief and joy with the Inauguration of President Joe Biden and Vice President Kamala Harris, one young poet stood out for her artistic contribution.
San Franciscans have had rare opportunities to catch exciting new shows performed in London and New York without traveling, even as nearby as Petaluma, where the gay-themed 'The Absolute Brightness of Leonard Pelkey' will stream for online audiences.
Enjoy new music for the new year in a wide range of genres from LGBT artists young and older, including Fredo Viola, Tret Fure, Jay Thomas, Another Sky and Alex The Astronaut.
Inaugurate your new year with arts, nightlife and community events online, or go outside to stroll/roll through a park. you deserve it.
Santa Monica's revered Highways Performance Space presents Film Maudit 2.0, a truly unusual selection of feature, short and experimental films, some that blend performance and cinema, and others with decidedly queer themes, Jan. 12-24.
We kept thinking of all the folks who told us that President Trump would never instigate a coup as we watched a simple roll call vote turn into an attempt to subvert the election and kill the Vice President and Speaker of the House.
The first few moments of 'Ma Rainey's Black Bottom' are electrifying. It's 1927 in rural Georgia. Hundreds of people, all of them Black, are lined up at the entrance to a huge tent. Inside, Ma Rainey, the Mother of the Blues, is singing her heart out.
Call it serial monology. Los Angeles-based comic actor and writer Tom DeTrinis' new one-man show, 'Making Friends,' streaming through January 18, is the latest link in a director-actor trio of productions.
The always innovative Amy Seiwert's Imagery will premiere the fourth dance film as part of the Sketch Films series online Jan. 15. Choreographer Ben Needham-Wood's 'What the Body Holds,' created with filmmaker Matthew McKee, features dancer Jenna Marie.
Despite our astoundingly difficult times, fans and patrons of LGBTQ Bay Area bars and nightclubs were extraordinarily generous to multiple fundraising efforts in 2020, donating nearly $400,000. You can still donate to help your favorite venues survive.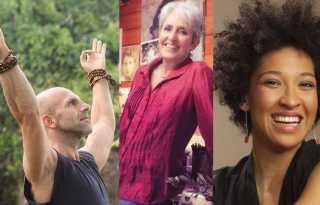 Amid tumultuous terrifying times, find relief, get informed, or just amused for a while, with arts, nightlife and community events.
Enjoying the new year yet? While most online events carried over from the 'annus horribilis,' some new events in arts, nightlife and community should cheer you.
Viewing 1 thru 12 of 624 Stories