Winter wonderlands of art, theatre and music offer warming thoughts, sounds, images and ideas.
Viewing 1 thru 12 of 165 Stories
On January 18 and 19 Broadway legends Donna McKechnie and Andrea McArdle will reunite for an evening of song at Feinstein's at The Nikko. The two performers will pay tribute to two songwriting giants: Stephen Sondheim and the late Marvin Hamlisch.
Despite inclement weather, some solid stand-by nightlife events are still standing. Shake it off, get indoors to get wet.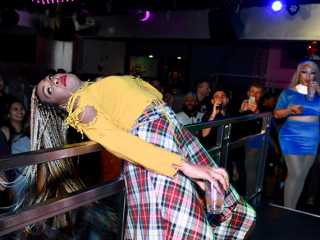 The Café, the Castro's dance nightclub with a view, hosted its first iCandy Friday night of 2019, and some amateur booty-shakers took to the platform as well.
I'm going to make this column a self-indulgence reflecting my hoped-for outcomes for 2019 for leatherfolk, kinksters, and anyone who resides outside the societal norms for sexuality and relationships.
The new year begins with a lot going on in the San Francisco Bay Area for leather and other kinksters.
Love the arts this year with renewed passion, dear flowers, er, followers.
Continue into the new year with annual favorites, visiting celebrity acts, and lovely local hangouts.
Despite the chilly Monday night, celebrations for New Year's Eve filled Castro district bars, including Beaux, Twin Peaks, The Café, The Midnight Sun, The Edge and more.
The new year brings on some new entertainments in nightlife, including New Year's Eve parties. But mostly it's more of the same, kind of like Groundhog Day, but with booze.
New year, new dears; curtain up for 2019, with arts events for both years.
This week, we feature a dozen-plus photos from the best of prolific photographer Steven Underhill's Shining Stars albums. See you next year!
At year's end, consider all the artists whose work you have yet to see, hear and enjoy.
Viewing 1 thru 12 of 165 Stories