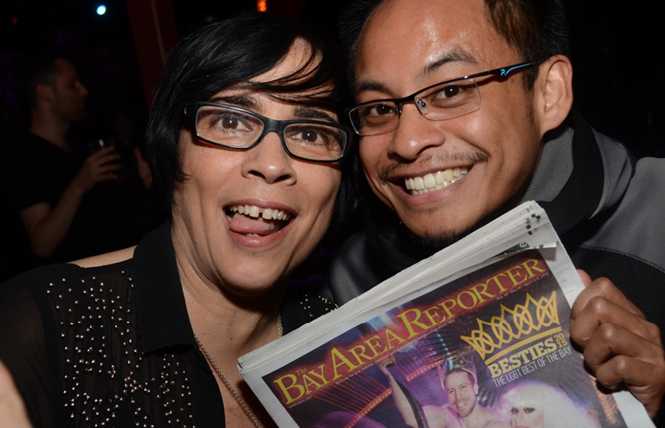 San Francisco is one of 11 US cities that is fortunate to have a legacy LGBT publication by us, for us, and about us. Help preserve the BAR as an historic and important community institution for the future.
Viewing 1 thru 12 of 15 Stories
'INSIDE PRIDE', the official magazine of San Francisco Pride is now accepting space reservations.
To celebrate four decades of glamorous fundraisers, the Academy of Friends welcomes patrons at their annual Oscars-viewing party at a fabulous new location, and with a Ruby Red theme.
A wine-tasting evening at The Academy, held Friday, August 30, included tips on tasting from sommelier Michael Wells. On the airy back patio, guests enjoyed sipping various wines while learning more about different vintages and kinds of wines.
Whispering Angel founder Sacha Lichine, Ken Fulk, and Juliet de Baubigny recently hosted a celebration of rosé and roses featuring Chateau d'Esclans, Whispering Angel Rosé and Rock Angel Rosé.
The makers of local beer Anchor Steam are stepping up their support of San Francisco's LGBT Center, with a portion of sales through June going to the Center.
When North Beach's Café Zoetrope offered an invitation to their Winemaker's Dinner, it was an offer we couldn't refuse. Godfather jokes aside, the stylish restaurant, owned by Francis Ford Coppola and his related winery, offers great food and wines.
"We are everywhere!" may be a queer community rallying cry, but once again, Bestie voters don't seem to eat anywhere but the Castro and the Mission.
In 2015, spurred in part by the enthusiastic response their potluck dishes and birthday treats garnered from friends when they socialized, Ryan Alvarez and Adam Merrin started a recipe blog, Husbands That Cook. That's now also the title of their book.
On Splasher, on Boozer, on Mincer, on Schmoozer! Even Santa agrees that this is a year that needs to be washed down with a stiff drink. To that end, we've made our annual list of nice and naughty gifts for the tipplers on your list.
Oakland couple James Erb and Jason Young would love to spill the tea with you. The pair share fascinating tidbits about the cultivation, processing and preparation of tea through their business, American Gongfu.
As we head into summer, the Bay Area Reporter has ordered up a round of fresh libations, whether you're looking for a new haunt, a new drink of choice, a wine country escape, or intellectual rationale for an impending hangover.
Out of the dozen categories in our dining Besties, only one has a different winner than last year (and many #1s are multi-year repeaters), our diagnosis? Reflux. Is this a sign of blind LGBT loyalty or of an oddly narrow palate?
Viewing 1 thru 12 of 15 Stories