The Stud is dead, but long live The Stud. The historic bar's collective owners are leaving the current location, planning a possible future, and a fabulous funeral.
Viewing 1 thru 12 of 77 Stories
Whether you're new to the hilarious camp play, film and series, or a diehard fan, be sure to tune in May 31, when The Del Shores Foundation presents a one-night-only benefit reading of Shore's comedy, 'Sordid Lives.'
Puerto Vallarta has long been a fun vacation spot for Bay Area folks, so Brian Kent Productions and Vallarta Pride will coshot 'PV STRONG,' a live-streamed YouTube and Facebook event to benefit the Puerto Vallarta Nightlife Relief Fund.
The SF Queer Nightlife Fund is now accepting applications for a second round of grants to those whose income has been impacted by the Covid-19. For many of the recipients, the grants they received have been a lifeline which helps them survive.
Arts, nightlife and community events continue online at a Zooming pace. From fundraisers to e-tip jar talents, we can support each other in many ways.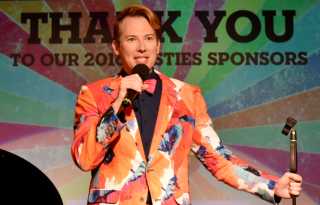 Thank you very much, it has been both humbling and encouraging receiving your generous support when so many are also in need of help. So far, we have raised just over $25,000 and are just 15% away from reaching our goal of $30,000.
Grants in the first round of applications for the San Francisco Queer Nightlife Fund are now being disbursed to 176 applicants, according to the organization that has thus far collected $160,000 in donations.
Amid the pandemic crisis, Frameline wraps up its fundraiser, screens films and documentaries, and announced the hiring of its new Director of Distribution and Educational Programming.
In a battle of simultaneous streaming events, GLAAD's Together in Pride: You are Not Alone and Broadway.com's Take Me to the World: A Sondheim 90th Birthday Celebration both won the war of raising needed funds while keeping us entertained.
Enjoy the wonderful array of arts, nightlife and community events online, many of them also worthy fundraisers.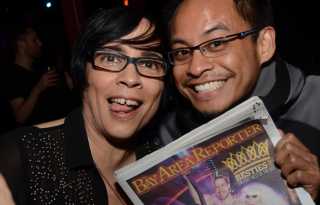 San Francisco is one of 11 US cities that is fortunate to have a legacy LGBT publication by us, for us, and about us. Help preserve the BAR as an historic and important community institution for the future.
Nightlife and community gatherings are a big part of queer culture, but all that has gone away. Undaunted, many of the Bay Area's most beloved performers, party promoters and events producers have found a new way to bring their magic to the masses.
What would queer San Francisco be without our nocturnal animals, the revelers and entertainers and service stars? Let's raise a glass (make it a double), to this year's Nightlife People Bestie winners.
Viewing 1 thru 12 of 77 Stories