'INSIDE PRIDE', the official magazine of San Francisco Pride is now accepting space reservations.
Viewing 1 thru 12 of 61 Stories
Oscar fans enjoyed watching the annual academy Awards as patrons of Academy of Friends, this year held at The Commonwealth Club's theatre, reception area and rooftop.
This year marks the 10th annual Bay Area Reporter readers' poll, the Besties, and voting begins Thursday, January 30.
To celebrate four decades of glamorous fundraisers, the Academy of Friends welcomes patrons at their annual Oscars-viewing party at a fabulous new location, and with a Ruby Red theme.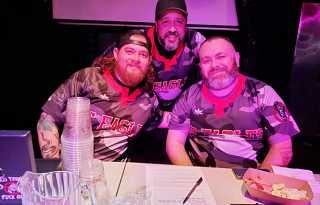 Ask a local San Francisco leather person what they're doing on a Sunday afternoon and you'll often here them say they're going to the beer bust. That typically means the weekly Sunday SF Eagle beer bust.
Nightlife icon and community activist Juanita MORE! shares her thoughts on 2019's ups and down, and projects to look forward to in 2020.
The Richmond/Ermet Aid Foundation's 18th annual holiday benefit concert included stellar performances by Sheryl Lee Ralph, Lisa Vroman, David Hernandez, Shawn Ryan, Kim Nalley, Steve Knill and more.
The San Francisco AIDS Foundation's eleventh annual Santa Skivvies Run drew participants out in festive holiday undergear on December 9 for the brisk short run fundraiser around the Castro.
Sheryl Lee Ralph burst into international fame on Broadway as Dreamgirls' original Deena Jones, and she returns to San Francisco to perform with other stars in the annual Help Is On the Way for the Holidays benefit concert on December 9.
On Sunday, November 24, SoMa nightclub Oasis will host a tribute concert to rock legend Linda Ronstadt. The show features an all-star line-up of talent, including local legends Leigh Crow, Ruby Vixenn, Heklina, and others.
Margaret Cho is a Magenta. "At least I know I have that costume somewhere, so I'll probably be Magenta." The Emmy-nominated, Grammy-nominated stand-up comic and actor will host American Conservatory Theater's fundraiser gala at The Hibernia on Nov 2.
The GLBT Historical Society's annual gala took to the skies at the Saleforce Tower's leafy scenic 360-degree 61st-floor event space.
Cast members from the hit CBC series Schitt's Creek, along with other stars, were in attendance at the San Francisco edition of the annual GLAAD Awards.
Viewing 1 thru 12 of 61 Stories