The stylish crowd that usually enjoys watching the Oscars at the Academy of Friends gala in San Francisco won't be noshing on hors d'oeuvres or sipping bubbly this year.
Viewing 1 thru 12 of 107 Stories
On April 22, SF Gay Men's Chorus will present their 15th annual Crescendo: Voices Rising, an online gala with guest-stars LeeAnn Rimes, Jake Shears, Shangela, Rita Moreno and others.
Local nightlife icon and community organizer Juanita MORE! this week announced her candidacy to run for Empress of The Imperial Council of San Francisco. If elected, MORE! would become the 56th Empress.
For the second time, The Sisters of Perpetual Indulgence will host their very popular Easter party online. the event will still include the Hunky Jesus and Foxy Mary contests, plus a basket full of drag fun.
In the "better late than never" department, the Bay Area Reporter has revived its YouTube channel in preparation for its April 2021 50th anniversary. The BAR's channel currently consists of playlists, but will soon include original content.
In what will undoubtedly be recalled as the biggest drag fundraiser in local history, Oasis nightclub's 12-hour three-camera marathon telethon more than doubled the initial goal by raising more than $253,000 through the club's March 6 online event.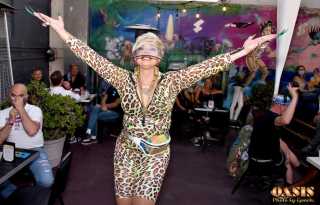 Despite a year of providing entertainment through the pandemic, the drag-focused nightclub Oasis still needs fan support to remain open. So owner D'Arcy Drollinger will host a 12-hour telethon with dozens of performers on March 6.
The annual Bare Chest Calendar is out, and raising funds for Positive Resource Center. Find out how the calendar men raised money without the usual year of bar events.
Valentine's Day comes a day early when the Richmond Ermet Aid Foundation offers 'All You Need Is Love: A Valentine Concert Celebrating Broadway.' The virtual event will be streaming at Facebook Live on Saturday, February 13, at 7pm.
While some Castro businesses have closed permanently, one unique store has gained support from a devoted fan. AutoErotica, the longtime resource for vintage gay-themed sexy collectibles, has already raised more than $11,000 of its $16,000 fundraiser goal.
Despite our astoundingly difficult times, fans and patrons of LGBTQ Bay Area bars and nightclubs were extraordinarily generous to multiple fundraising efforts in 2020, donating nearly $400,000. You can still donate to help your favorite venues survive.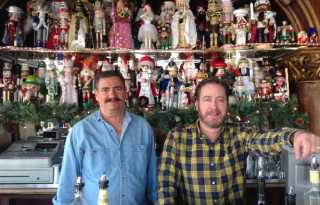 The historic Twin Peaks Tavern, a landmark gay bar on Castro and Market streets, has succeeded in its campaign to raise $100,000 to keep the struggling bar open and pay its staff. But more funds are needed in these difficult financial times.
Broke-Ass Stuart is turning 40, so to celebrate his impending midlife crisis, the Bay Area's funniest icons like Peaches Christ, Sister Roma and Nato Green are going to be roasting him online on Wednesday, 12/16 at 7:30pm PST. A once in a lifetime event.
Viewing 1 thru 12 of 107 Stories