Click here for our Obituary Policy »
For more obituaries click here to access searchable PDF newspaper archive project.
Viewing 1 thru 12 of 1108 Stories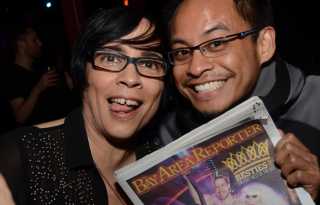 San Francisco is one of 11 US cities that is fortunate to have a legacy LGBT publication by us, for us, and about us. Help preserve the BAR as an historic and important community institution for the future.
The obituary for Jeffrey Tilmon.
The obituary for Robert Scot Webster.
Robb "Lord" Martine, a writer who was once called "the king of San Francisco nightlife," died Friday, March 20. He was 50.
Psychiatrist Robert P. Cabaj, a gay Bay Area man known for his role in advancing LGBT mental health through writing, teaching, and advocacy, died suddenly February 24 after a brief hospitalization. He was 72.
The obituary for Michael "Mike" Cletus Joyce.
The obituary for Anita Orlando.
The obituary for Robert "Bob" Alan Hatfield.
The obituary for Richard Lockerbie Rockwell.
The obituary for Liam Garrin Woods-Smith.
Roz Joseph, a San Francisco fine-art photographer whose work in the mid-1970s documented the local drag scene, died December 25 at Russian Hill home in San Francisco. She was 93.
The obituary for Gregory Harvey.
Viewing 1 thru 12 of 1108 Stories