'INSIDE PRIDE', the official magazine of San Francisco Pride is now accepting space reservations.
Viewing 1 thru 12 of 118 Stories
The brides both wore wedding dresses as they walked down the aisle, becoming the first same-sex couple to get hitched in Northern Ireland last week.
Swiss voters passed a referendum Sunday that adds penalties for publicly discriminating against, and committing, hate crimes based on an individual's sexual orientation.
More than 50 people were arrested and charged with sedition at a downsized Mumbai Pride February 1 after police attempted to cancel the annual celebration for the first time in 12 years.
A South Korean transgender woman's dreams of a military career were dashed by a panel of officers that recently discharged her following sex reassignment surgery for having a "mental and physical disability."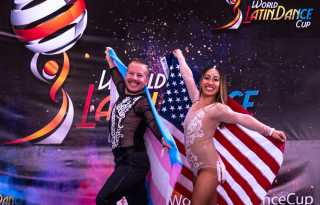 A Bay Area transgender man is crediting his love of dance with helping him find acceptance, and in the process, winning competitive awards.
Bogota's new mayor, Claudia López, secretly wed her partner, Angelica Lozano, before taking office, she announced on social media December 16.
Kyrgyzstan gay activist Dastan "Danik" Kasmamytov is on a mission to plant a rainbow flag atop the world's Seven Summits to bring visibility for LGBT rights around the world.
In 2019, global news affecting LGBTQs was filled with intense struggles and some big wins — from marriage equality to decriminalization to conversion therapy to politics.
Last week, an unidentified government official announced that Gabon passed a law criminalizing homosexuality, placing the county on a growing list of nations passing anti-gay laws.
Miss Myanmar, Swe Zin Htet, didn't win the Miss Universe crown December 8, but she did make history.
International LGBT organizations are calling for Haiti's government to investigate the suspicious death of the country's leading gay rights activist.
Soap is a necessity to maintain good hygiene, but for the thousands of refugees living in Kenya's notorious Kakuma refugee camp, soap, shampoo, and conditioner are costly commodities to come by.
Viewing 1 thru 12 of 118 Stories