As Oakland council prez, Kaplan breaks the mold
Wednesday Jun 12, 2019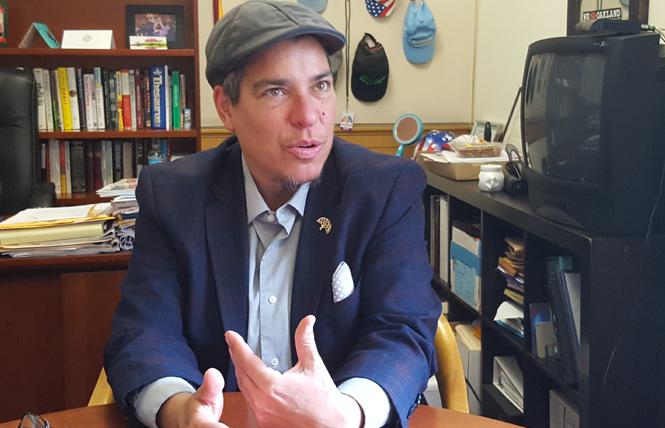 Lesbian at-large Oakland City Councilwoman Rebecca Kaplan's election in January as president of the legislative body made headlines for being the first time an out LGBT person had served in the leadership role.
But even more important, Kaplan's elevation broke through stereotypical perceptions of how a female politician should appear if she is to succeed. For Kaplan is a proud butch dyke and doesn't conform to gender norms.
"For people to see an openly LGBT person in that role ... I think sends a really important message about our community and our leadership and our inclusion that has been missing," said Kaplan. "In this transition into the council presidency, as well as in some of my prior campaigns, some people would advise me that I should try to dress more femme to help my political career, and I completely rejected that strategy."
She quickly clarified, "And let me be clear, this is not disrespect of femmes. I love them. I just am not one."
Her appearance — Kaplan wears suits and sports facial hair — was something she had specifically been advised to change if she wanted to lead the council.
"One of the specific things that came up around running for the presidency is, you know, is should I shave, because people like get weird about it. And I decided not to because I felt like I don't want to collude in that view, that you have to be gender role conforming to be able to attain a leadership role," explained Kaplan, 48, during a recent interview with the Bay Area Reporter inside her cramped council office.
Kaplan has moved to make her mark on the legislative body in other ways. Eschewing past presidential practices, she opted not to assign herself chair of the powerful rules committee, or any council committee, so that each of her seven council colleagues are chairing a committee. Doing so, she believes, has led to a more collegial atmosphere among the council.
"I feel like my commitment is to do the job in a way that's respectful to everyone. And so, you know, I'm not trying to use the role in a way that would be about hostility," said Kaplan. "And so, you know, when people come with scheduling items, or things like that, we're just handling them based on the merits and the timing and not having games being played around, like, 'Oh, I don't like you,' or 'You didn't endorse me so your items not going to get scheduled.' That used to happen a lot, and I've put a complete stop to that."
There is now a limit of one ceremonial presentation at each council meeting in order to cut down on the time it takes to reach the substantive items on the agenda. And to avoid disruptive outbursts at council meetings, Kaplan has staffers try to address the concerns raised by members of the public without them needing to repeatedly return in order to receive help.
The changes, Kaplan contended, have brought a bit of civility back to the council chambers.
"I gotta say, I am very pleased to be having the opportunity to be council president. It's, it's really lovely. And it's a really good time," said Kaplan, who was first elected to her council seat in November 2008 and was last re-elected in 2016.
Her elevation to council president followed the election last fall of several progressive council members, including her former aide, Sheng Thao, in District 4. Kaplan last year opted not to challenge Mayor Libby Schaaf who was seeking re-election, having lost to her in 2014; it was her second failed bid for mayor of the East Bay city.
Kaplan told the B.A.R. that despite Schaaf trying to thwart her becoming council president — the council vote was unanimous — she has tried to foster a working relationship with the mayor, whom she meets with every other week to discuss city business.
"There's a lot of communication that's open," said Kaplan.
LGBT issues
In terms of LGBT issues, Kaplan told the B.A.R. she would like to see Oakland open a homeless shelter either specifically for LGBT people or one explicitly welcoming of LGBT individuals. It is one of the budgetary items she is fighting to fund this year, as well as LGBT youth programs and monetary support for the LGBT community center near Lake Merritt and the city's annual Pride celebration.
Yet over the past two weeks the councilwoman and the mayor have sparred over the city's budget, which must be approved by July 1. Under city rules, Schaaf first presents a budget to the City Council and then the council president responds with a budget proposal of her own.
Kaplan's budgetary ideas, such as eliminating the city's transportation department, have generated headlines and outrage from Schaaf's administration. On Monday the mayor went so far as to email constituents asking them to speak out against Kaplan's budget, calling it "one of the most dangerous proposals I've ever seen to threaten Oakland's future."
While the spat has been interpreted as a political squabble between the two lawmakers, a spokesman for the mayor this week downplayed the dispute in comments to the B.A.R.
"It is unfortunate it has been portrayed as a personal slash political fight when it is actually a very policy focused debate," said Justin Berton, Schaaf's communications director. "The mayor has worked with council member Kaplan for years as they served together on the council."
Lost amid the fiscal fighting is the fact that Schaaf is term limited from running again for mayor in 2022. As for Kaplan, she is up for re-election to her council seat next fall, though there is speculation the Stanford Law School graduate may instead run for Oakland city attorney. The incumbent, Barbara Parker, is also up for re-election in November 2020.
"In an office like city attorney, I think (Kaplan) would bring all factions together. I think a lot of people really respect her legal and analytical abilities," said Michael Colbruno, a gay man who serves on Oakland's port commission.
Over the years there has been a lack of LGBT representation at Oakland City Hall, with just three known out council members since 2000. Having LGBT people serve on the city's oversight panels has also be an issue, noted Colbruno, so Kaplan becoming council president is an important milestone.
"We have learned historically that having a seat at the table is always important for being able to raise the issues that come out of our community. It is why we fought so hard to get people from our LGBT community to have a seat of power," said Colbruno, a government affairs consultant. "Rebecca is one of the smartest people around. The only thing I hope for, and think she will be more successful, is if the legislative and executive branch work together on issues facing the city right now. Oakland is at a critical time."
Colbruno added, "I am not saying it is not happening. I am hoping it does happen."
Tension between the two arms of government is usual, he added, having seen it first hand working as a supervisor aide in San Francisco and in the state Legislature for lesbian former lawmaker Carole Migden.
"I think it is a normal part of the process. The important thing is what you do with it," he said. "Both Libby and Rebecca are incredibly capable women. If they work together, Oakland is on the cusp of amazing things happening."
Gay Emeryville City Councilman John Bauters, who succeeded Colbruno as the political action committee chair of the East Bay Stonewall Democratic Club, serves with Kaplan on a county transportation committee. While the two out politicos often support different candidates in local political races, Bauters told the B.A.R. he was "happy" to see Kaplan be elected council president.
"To have the largest city in the county select an openly LGBTQ person as their council president is a testament both to Rebecca's experience and leadership, but also a statement of how our region leads California when it comes to equity and social values," wrote Bauters in an emailed reply. "I have had the privilege of working with Rebecca on important regional transportation issues at the Alameda County Transportation Commission where her aptitude for policy has helped make Alameda County a regional leader on the issue of transportation."
Editor's Note June 17, 2019: This story originally said that Kaplan was married, but her ex wife informed the B.A.R. that the couple was no longer together. Kaplan, who did not disclose the women were no longer together when asked about her wife during an interview for this story, confirmed today to the B.A.R. that they had divorced in the fall.
Comments on Facebook