Oakland council prez Kaplan, wife divorced last fall
Monday Jun 17, 2019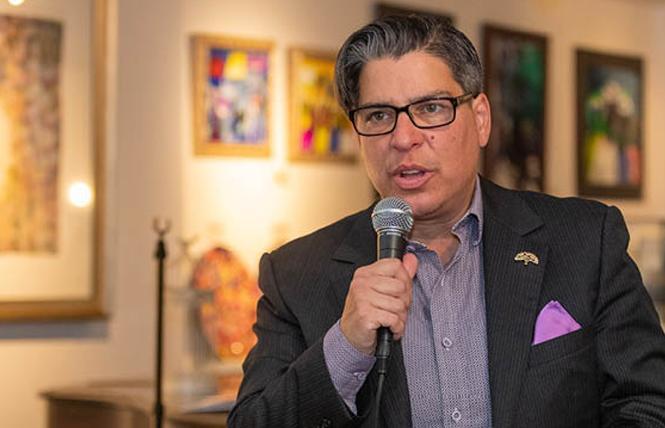 After marrying five years ago in a private summer wedding ceremony, Oakland at-large City Councilwoman Rebecca Kaplan and Pamela Rosin divorced last fall. The couple had been together since 2012 after first meeting at Oakland's East Bay Church.
Their nuptials made headlines in the Bay Area when Kaplan announced Rosin had accepted her marriage proposal via a Facebook post in May 2014. Their divorce appears to have gone unreported, as the Bay Area Reporter first learned about it over the weekend in a brief emailed note from Rosin, an Oakland-based associate marriage and family therapist who works with couples and individuals.
She was responding to a profile of her ex that ran in the June 13 issue of the B.A.R. The story, focused on Kaplan's historic election in January as the first LGBT person to be president of the Oakland City Council, noted that Kaplan is "a proud butch dyke, married to her wife, and doesn't conform to gender norms."
In her email, Rosin wrote that there was incorrect information in the story because "Rebecca Kaplan is not married." Their divorce will be finalized June 20, she told the B.A.R.
When the B.A.R. interviewed Kaplan in mid-May for the article, she was asked if there was a special ceremonial title used for her wife now that she was council president. In response, Kaplan made no mention of the fact she was divorced or separated from Rosin, and instead, replied she would "have to ponder that."
In an emailed reply Monday to the B.A.R. when asked if she had divorced from Rosin, Kaplan apologized for not clarifying her relationship status during the interview.
She wrote, "as our conversation was focused on my professional life, I wanted to mention and apologize that I did not mention information about my personal life."
Kaplan confirmed that she and her former wife "broke up last fall. And while I do not intend to speak about her, and I only wish her well for her future, I did want to share that information with you."
First elected to her council seat in November 2008, Kaplan was last re-elected in 2016 to a four-year term. She is one of only a handful of out women currently serving on a city council in the Bay Area.
She twice ran unsuccessfully for mayor of Oakland, in 2010 and 2014, and is already being talked about as a potential mayoral candidate in 2022 when the city's current mayor, Libby Schaaf, will be term limited from seeking a third term.
There is speculation that Kaplan, a Stanford Law School graduate, could enter the race next year for Oakland city attorney rather than seek re-election to her council seat. The incumbent, Barbara Parker, is also up for re-election in November 2020.
Editor's note: The online version of the B.A.R.'s June 13 profile of Kaplan has been updated.
Comments on Facebook