America's longest continuously-published and highest weekly circulation LGBTQ newspaper will celebrate its historic 50th anniversary edition to be published on April 1. Advertising space reservations for this special issue are now being accepted.
Viewing 1 thru 12 of 65 Stories
A well-known gay nightlife promoter in the East Bay who went into the restaurant business last year is opening a new nightclub and eatery in downtown Oakland.
A little over a month after Valentino Carrillo opened La Frontera Mexican Restaurant in East Oakland last winter, the COVID pandemic hit and upended his business plans.
As a monthly queer reading series marks its fifth anniversary of spotlighting out authors, the LGBTQ bookstore that hosts it in San Francisco's Castro district is facing an uncertain future due to the COVID pandemic.
Castro chocolatier Carol Gancia has whipped up her own version of the traditional Yule log dessert for the holiday season inspired by the flavors and fauna of her home country the Philippines.
Seven years ago lesbian married couple Naomi Gonzalez and Fran Dunaway launched their Seattle-based TomboyX clothing line to market underwear and shirts specifically tailored to fit female bodies.
As it works to increase interest among high school and college students in its field, the accounting profession is also striving to better understand the issues that LGBTQ accountants encounter in their workplaces.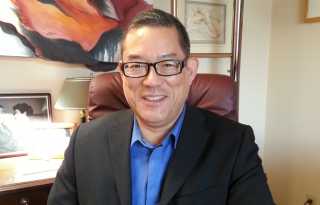 In a continuing effort to receive support from readers, the Bay Area Reporter has launched its membership program.
Six months after being ordered to close their doors due to the novel coronavirus outbreak, gyms, barbershops, nail salons, and other personal service businesses in San Francisco will be able to open for indoor service Monday.
Three years ago this October Bay Area native Maggie Przybylski and her wife, Morgan Murphy, debuted their Two Broads Cider brand at the Hardcore Cider Tour in their hometown of San Luis Obispo.
San Francisco native Eric Curry always had a fondness for animals. At age 9 Curry found a cat lying in the middle of the road not far from his parents home and asked his father if he could keep it.
Since they closed their law firm's Oakland office in March due to the novel coronavirus outbreak, co-founders Felicia Medina and Jen Orthwein have been working from home, as has Kevin Love Hubbard, a lawyer recently made a partner in the firm.
Since shelter-in-place orders imposed in mid-March caused her to close her gym location in Oakland, The Queer Gym owner Nathalie Huerta and her employees have continued to offer their training programs virtually.
Viewing 1 thru 12 of 65 Stories