News Briefs: GAPA to stage 'Prelude' show
Wednesday Mar 6, 2019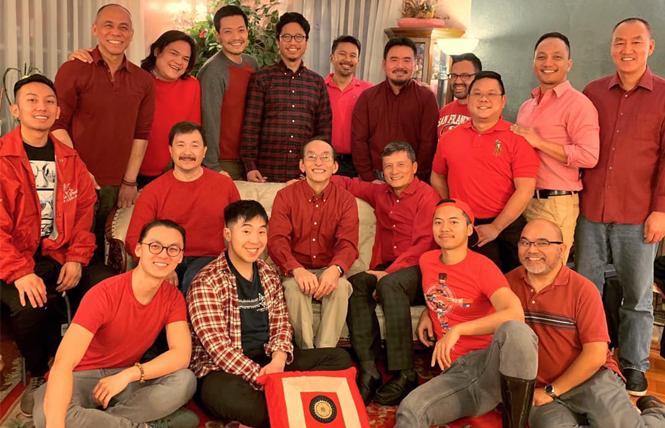 The Gay Asian Pacific Alliance will hold "Prelude: Songs and Stories from the Heart" Saturday, March 23, from 8 to 9:30 p.m. at St. Matthew's Lutheran Church, 3281 16th Street in San Francisco.
Anchored by GAPA Men's Chorus and GAPA Theatre, the program will be multi-disciplinary and incorporate the talents of other community-based artists and performers. Organizers said that Prelude, with allusions to movement, evolution, and growth, gives voice to the intersectionality of gender, sexuality, ethnicity, and culture, while providing a spotlight on the power of queer Asian and Pacific Islander collaboration and performance to create change.
GAPA Men's Chorus will present a preview of a special program it will perform in April at the Hand in Hand LGBT Choral Festival in Tokyo. GAPA Theatre members will present individual stories that speak to the queer API experience, as a precursor to its full-length production May 10-12 at Bindlestiff Studio during the United States of Asian America Festival.
While focusing primarily on GAPA's cultural programs, Prelude will also be multi-disciplinary, incorporating the talents of other performers, including guest artists Michael Nguyen, Brian Palac, and students from Na Lei Hulu I Ka Wekiu hula company.
"We want to shake up expectations of what queer API artistic achievement is all about," event organizer George Naylor said in a news release. "You'll see everything from dramatic spoken word pieces to iconic folk songs to classical music and masculine hula."
Tickets are $20 and can be purchased online at https://bit.ly/2Ue2ATZ. For more information, email gapachorus@aol.com or visit www.faceboook.com/gapachorus.
Contest for anti-illegal dumping slogan
San Francisco Public Works is seeking a creative slogan for its new anti-illegal dumping public awareness campaign, with a $500 prize for the winner.
According to a news release, Public Works and Recology, the city's private-sector refuse-hauling partner, have crews on the ground every day picking up illegal dumping at a cost of as much as $10 million a year.
"But at the end of the day, we need to change people's behavior so they don't dump on San Francisco in the first place," said Public Works director Mohammed Nuru in the release. "We're looking for a slogan to use on billboards, social media, posters, bus placards, and other platforms to get people's attention. And we're reaching out to the public for ideas."
All entries will be considered, but those containing offensive language or anti-San Francisco snark won't make the cut, officials said.
Submit slogan ideas to contest@sfdpw.org by 11:59 p.m. Friday, March 8.
LGBT aging task force celebration
The San Francisco Department of Aging and Adult Services will hold an event Saturday, March 9, from 10 a.m. to noon in the Rainbow Room of the LGBT Community Center, 1800 Market Street, to mark accomplishments in implementing the city's LGBT aging policy plan.
Initially billed as a town hall, the event is now of a celebratory nature, officials said. Mayor London Breed is expected to speak, along with several LGBT leaders, including state Senator Scott Wiener (D-San Francisco); former supervisor David Campos; Bill Ambrunn, chair of the LGBT Aging Policy Task Force that issued the report; city Treasurer Jose Cisneros; and Shireen McSpadden, DAAS executive director.
It was Wiener, Campos, and bisexual former supervisor Christina Olague who pushed for the creation of the task force when they all served on the Board of Supervisors in 2012. Olague has been invited to Saturday's event but is not confirmed, according to officials.
According to DAAS, it has made considerable progress toward addressing 11 of the 13 areas of concern listed in the task force's 2014 report titled "LGBT Aging at the Golden Gate: San Francisco Policy Issues and Recommendations."
The event, which is free, will include poster talks about each recommendation.
Rec and Park pop-up summer resource fair
The San Francisco Recreation and Parks Department will hold a 2019 summer resource fair pop-up event in the Castro Saturday, March 9, from noon to 2 p.m. at the Eureka Valley Recreation Center, 100 Collingwood Street.
The event gives people an opportunity to connect with representatives from summer camps, classes, programs, and services for toddlers to teens.
There is no cost to attend.
Oakland Women's March program on accessibility
The Oakland's Women's March will have a program "Leaving No Body Behind: Accessibility as a Practice of Revolutionary Imagination" Sunday, March 10, from 11 a.m. to 3 p.m. at Sports Basement, 2727 Milvia Street in Berkeley.
Organizers said in an email that people with disabilities make up 19 percent of the U.S. population and are impacted disproportionately by racism, sexism, classism, and other forms of oppression. At the forum, people will talk about how ableism affects organizing cultures and give a skill-share on how to facilitate accessible spaces and marches.
Disability rights activist Tara Ayres will present; she is a member of the core organizing team for the Oakland Women's March.
Also speaking will be Stacey Milbern, a disability justice organizer from Oakland.
A $5 donation is requested, but no one will be turned away for lack of funds. To sign up, visit https://bit.ly/2EoHvzB.
Breed announces SF town halls
Mayor London Breed has announced a series of upcoming town halls to discuss issues directly with San Francisco residents.
The first session is scheduled for Monday, March 11, at 6:30 p.m. at the San Francisco LGBT Community Center, 1800 Market Street. A second town hall will be held Monday, May 6, in Mission Bay.
"I hear all the time from people who feel like City Hall is disconnected from what is happening in our neighborhoods, which is why I spend so much time out in our communities meeting with people directly," Breed said in a news release.
In addition to the meetings, the Mayor's Office of Neighborhood Services will begin holding regular office hours in neighborhoods throughout San Francisco to make it easier for residents to have direct access to Breed's office and receive help navigating city government.
For more information on the neighborhood services office hours, which will start this month in the Richmond, Sunset, Bayview Hunters Point, and Excelsior districts and later expand citywide, visit www.sfmayor.org/mons.
Forum supporting trans immigrants
"Rainbows Not Walls: A Bay Area Forum for Trans Caravan Members" will be held Wednesday, March 13, from 6 to 8 p.m. at Congregation Sha'ar Zahav, 290 Dolores Street in San Francisco.
Organized by the Interfaith Movement for Human Integrity and Sha'ar Zahav, the forum will be an opportunity for attendees to learn how they can help welcome transgender members of the migrant caravan who are already here and those who are on their way to San Francisco. People can find out how congregations, community groups, and individuals can help provide sponsorship and other vital resources.
For more information, see the "Rainbows Not Walls" Facebook page.
Queer, trans APIs form new coalition
A coalition of queer and trans Asian and Pacific Islander organizations has formed to build community, facilitate intergenerational transfer of knowledge, recognize their historical context, and celebrate their cultural heritage and identity.
According to a news release, the new group will hold "When Pigs Fly Over the Moon: A QTAPI Gathering" Friday, March 15, from 5:30 to 8:30 p.m. at Salesforce Tower, 415 Mission Street, Third Floor.
An organizational resource fair will be followed by performances and breakout sessions throughout the evening.
Member organizations that are involved include the National Queer Asian Pacific Islander Alliance, Asian Pacific Islander Queer Women and Transgender Community, Gay Asian Pacific Alliance, GAPA Foundation, Trikone, and the Red Envelope Giving Circle. Other LGBT groups that are involved include the GLBT Historical Society, San Francisco Community Health Center, San Francisco AIDS Foundation, Essence of Mana, and North County Outreach.
LGBTQ API nightlife groups the Rice Rockettes and GAMeBoi SF are also working under the QTAPI umbrella.
Organizers said they're excited for the event.
"The importance of storytelling and learning our shared history and struggle as queer and trans Asian Pacific Islanders cannot be overstated," Vince Crisostomo, program manager at SFAF's Elizabeth Taylor 50-Plus Network, said in the release.
There is no cost to attend, though donations will be accepted. Money raised will go toward the API pavilion at this year's San Francisco Pride celebration. For more information, visit https://www.facebook.com/events/210241579845519/.
Applications open for Zamora scholarships
The Pedro Zamora Young Leaders Scholarship Program is now accepting applications from current high school seniors and college freshman, sophomores, and juniors (ages 27 and younger) who demonstrate an active commitment to mitigating the impact of the HIV/AIDS epidemic and taking on roles of public service and leadership.
The Zamora scholarships are a program of the National AIDS Memorial Grove.
The scholarships are named in honor of Zamora, an AIDS educator and television personality who died more than 20 years ago from an AIDS-related illness. The scholarship program is funded primarily through grants provided by Wells Fargo and Gilead.
Scholarship applications are being accepted through 5 p.m. May 31 and can be downloaded from the grove's website, http://www.aidsmemorial.org.
In a news release, the grove said that last year it awarded a total of $50,000 to 10 students and intends to give at least that amount this year. Since the program began in 2009, a total of $250,000 has been awarded to students.
Buttigieg coming to Inforum
Gay millennial presidential candidate Pete Buttigieg will appear at Inforum, part of the Commonwealth Club, Thursday, March 28.
Buttigieg, the mayor of South Bend, Indiana, announced in January that he was forming an exploratory committee to run for the 2020 Democratic presidential nomination. Since then, he has garnered some media attention and his new book, "The Shortest Way Home," has become a best-seller.
Buttigieg will be interviewed by Mother Jones editor in chief Clara Jeffery.
The event starts at 6:30 p.m. at the Marines' Memorial Club, 609 Sutter Street, 10th Floor. Check-in begins at 5:30.
Tickets are $30 for club members and $40 for non-members. Premium tickets (includes a book and seating in the first few rows) are $60 for members and $70 for non-members.
For more information or to purchase tickets, visit https://www.commonwealthclub.org/inforum.
Comments on Facebook