News Briefs: Berkeley college prez featured in Diverse magazine
Wednesday Mar 10, 2021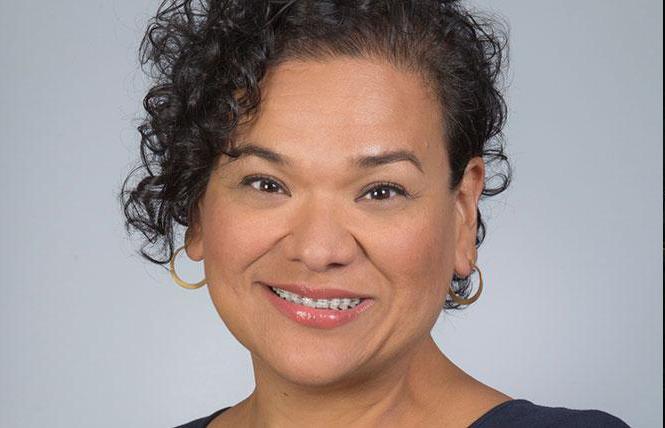 Berkeley City College President Angélica Garcia has been recognized on a list of 25 educators published by Diverse: Issues in Higher Education. The issue was released to coincide with Women's History Month and is the magazine's 10th anniversary of highlighting women who have made a difference in academics by tackling some of education's toughest challenges, according to a news release from the school.
Garcia, who identifies as pansexual, began her tenure as president of the community college in May 2020. The school is part of the Peralta Community College District and is known for civic engagement; student support services, including for veterans and the undocumented community; and a top college for Fulbright scholars and students transferring to four-year schools, including UC Berkeley, the release stated.
Last November, Berkeley City College received the Campaign for College Opportunity's inaugural 2020 Equity Champion of Higher Education designation for exemplary work in awarding associate degree for transfer, or ADT, to Black and Latinx students, the release noted. The college was also cited for having "one of the highest shares of ADT conferrals for the 2018-19 school year."
Garcia, who was profiled last summer in the Bay Area Reporter, stated that she was "thrilled" to receive the recognition from Diverse.
"I'm humbled to be included with 24 other amazing women," she stated. "I have dedicated my career's work to promoting equitable access to higher education, closing equity gaps in student success, and cultivating an educational institution that is prepared and committed to student completion."
Garcia lives in the East Bay with her wife and two young daughters. Prior to her position at Berkeley City College, Garcia served as vice president of student services at Skyline College in San Bruno.
Her colleagues praised this latest recognition.
"I'm so pleased that President Garcia has received this well-deserved honor from Diverse," stated Carla Walter, interim chancellor of the Peralta district. "Those of us who have the pleasure of working with her see her commitment to equity in education every single day."
LGBTQ sci-fi conference
Join authors across the spectrum at this year's virtual Rainbow Space Magic conference, which takes place March 12-14.
The event is a celebration of own voice, which refers to an author from a marginalized or under-represented group writing about their own experiences from their own perspective, and the LGBTQ+ science fiction and fantasy community, a place where everyone can gather, discuss, promote, and create queer speculative fiction in a safe and supportive place that is accessible.
This is RSM's second conference. Last year organizers had 25 writing professionals spread over 10 panels for the two-day event. This year's three-day gathering will include writing workshops on the first day, followed by panels and readings.
The keynote speaker and special guest will be lesbian author Jewelle Gomez, who wrote "The Gilda Stories" and "Bones and Ash."
The conference is free but organizers encourage attendees to make a donation. This year's planning group decided that donations will benefit Lambda Literary, Glad Day Lit, Trans Media Watch, Shade Literary Group, and BLF Press.
To register and for more information, go to https://www.rainbowspacemagic.org/
SF opens new animal shelter
San Francisco Mayor London Breed announced March 8 that Animal Care and Control's new state-of-the-art shelter in the Mission district has opened.
Because of COVID restrictions, San Francisco Animal Care and Control currently only allows limited public access at the center.
With nearly double the square footage of the old facility, the new 65,000 square foot shelter at 1419 Bryant Street includes a modernized veterinary suite, better ventilation, and improved cleaning systems to reduce the spread of disease. The new adoption center has expanded training and play areas for animals, larger education spaces. All will better serve the public, animal care staff, and volunteers, a news release stated.
The $76.4 million project is part of the city's 10-year capital plan and was funded primarily with certificates of participation proceeds. This funding source is typically used for the acquisition or improvement of existing or new facilities. Repayment is appropriated each year out of the city's general fund, the release stated.
Funds were also raised by Friends of Animal Care and Control, a nonprofit, according to the release.
"San Francisco has been a longtime leader in animal welfare and the services ACC provides will be enhanced through this critical project," City Administrator Carmen Chu stated.
For more information on services available, visit https://www.sfanimalcare.org/

SF updating General Plan
The San Francisco Planning Department is updating its General Plan and the public can provide input during a series of virtual events March 15-26.
The General Plan creates a roadmap for the city's growth and change over time. It consists of goals and policies that will help the city address topics such as racial and social equity, housing, transportation, climate resilience, and environmental justice, an email announcement stated.
There will be 60- and 90-minute sessions on Zoom during the day and evenings. For a schedule and more information, go to https://sfplanning.org./general-plan-virtual-events
Help keep the Bay Area Reporter going in these tough times. To support local, independent, LGBTQ journalism, consider becoming a BAR member.