Gay Chinese American activist Hoover Lee dies
Wednesday Feb 17, 2021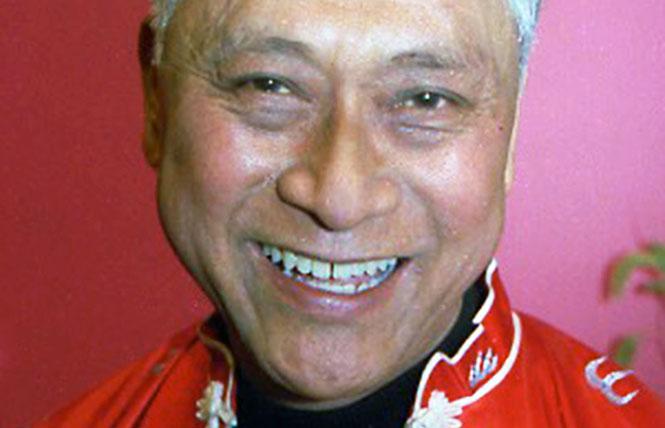 Hoover Lee, a Hawaii-born gay Chinese American activist and champion of global LGBTQ human rights, died February 11 at California Pacific Medical Center in San Francisco. He was 83.
His friend Edgar Poma said that Mr. Lee's death was due to several health issues but was not COVID-related.
Mr. Lee was a founding member of the Association of Lesbian and Gay Asians; one of the original organizers of the Gay Asian Pacific Alliance; founder of the Asian and Pacific Islander Caucus of the Harvey Milk LGBTQ Democratic Club; and coordinator and community organizer for many successful progressive political campaigns and causes.
"If there was ever to be a founding father of the gay Asian movement in San Francisco it would be Hoover Lee," Lawrence Wong, a gay man and former elected official, wrote in an email to the Bay Area Reporter. "Hoover was active as an openly gay man as a member of straight groups like the Organization of Chinese Americans and the Chinese American Democratic Club. But it was his activism in the San Francisco gay community where he has left his lasting legacy. He was a founding member of the Gay Asian Pacific Alliance where he mentored members like me to run for political office. I became the first openly gay Asian elected to political office in the U.S. when I was elected to the San Francisco Community College Board in 1994."
Wong added that Mr. Lee made no apologies for who he was in the conservative world of Chinatown politics.
"Many of us who were successful in SF politics owe a debt of gratitude to Hoover Lee, who was born to lead but instead chose to mentor other gay Asians to be politically involved," Wong stated. "Hoover Lee can truly be said to have made a difference and he will be remembered for his uncompromising vigilance in furthering the gay Asian movement."
Gay former state senator Mark Leno said that Mr. Lee was "supportive and encouraging" of his various campaigns. (Leno is also a former San Francisco supervisor and mayoral candidate.)
"Hoover loved life and celebrated it everyday," Leno said in a phone call February 16. "He was a beloved bon vivant with a serious social conscience and moral compass.
"He was very much a trailblazer, given the challenges of being out and proud in parts of the Asian communities," Leno added. "He was fearless and unafraid."
Lillian Sing, a retired San Francisco Superior Court judge, fondly remembered Mr. Lee.
"He was such a great person who was always faithful to his conviction of fighting discrimination against Asians as well as against gays and lesbians," Sing stated in an email. "He suffered the stings of discrimination both as an Asian and as an Asian gay man and did whatever he could to help other Asians and Asian gays, especially in the field of politics.
"He was never afraid to speak the truth and if you are his friend, he will be loyal to you for life," she stated. He never gave up and courageously stood up for equality and justice. He had a heart of gold and gave his time, money and life to help others. He will sorely be missed.
"I was his friend and he was always loyal to me and included me in all his great functions. I will truly miss him." she added.
Julie Tang, also a retired San Francisco Superior Court judge, said Mr. Lee "was an unusual man."
"He was unafraid to be openly gay during the 1980s — the years of AIDS and gay-bashing," Tang stated in an email. "He also could be comfortable anywhere, anytime, and with anyone. He introduced me to the San Francisco Asian gay community when I first ran for a seat on the SF community college board in 1981. He believed in empowering the Asian LGBTQ community by connecting them with Asian public officials.
"I became friends with many Asian gay men and women to this date through him," she added. "His 40-plus years of a long-term love relationship with Rick is the best proof that heterosexuals do not have a monopoly on relationships."
Eddie Chin, a former San Francisco school board member, recalled Mr. Lee helping him with his first campaign.
"When I first ran for the San Francisco Board of Education, He educated me about his community and took me to campaign a gay whip and leather bar in the Castro, while laughing his head off toward my first experience in a gay bar," Chin said, adding that Mr. Lee and his partner treated Chin and his wife, Mimi, "like family."
Other friends also recalled his determined spirit.
"Hoover was quintessentially San Franciscan. He was a fighter for human rights, he was opinionated, and he spoke up," Faruq Ahmad wrote in an email. "He was also a dear friend with a big heart and an occasionally sharp tongue who loved life and lived it to the fullest. I will miss him."
Mr. Lee worked for nearly three decades for the City and County of San Francisco, most notably as a transit manager with the municipal railway. After retirement, he became a travel consultant specializing in cruise tour vacation planning for the Chen-Martin Travel Network.
"We would prefer to remember the few beautiful days in Vancouver we shared with him and his Rick on Rick's 84th birthday and the time Hoover and Rick visited us in Hilo, Hawaii," longtime friends MJ Talbot and Michael Lyon wrote, referring to Mr. Lee's longtime partner, who requested only his first name be published. "Not only were they the only friends to visit us from the mainland, they had to endure sleeping on a mat on the floor of our unfurnished guest room! The last time we saw Hoover was during our visit in May 2019."
Mr. Lee was the recipient of numerous honors, among them: community grand marshal of the San Francisco Pride parade in 2002; the Living Treasure Award from the Asian Pacific Democratic Club; the Unsung Hero Award from the Organization of Chinese Americans — San Francisco Bay Chapter; and a Cable Car Award for Man of the Year.
In a 2002 interview with the B.A.R. about his being a community grand marshal, Mr. Lee said he was proud to be an out Asian.
"I build bridges with the straight Asian community," he said.
He was a professionally-trained clown, known throughout the Bay Area as Puhi, participating in numerous benefits as a volunteer for the Shriners Hospital for Children.
Mr. Lee was born November 9, 1937.
In addition to his partner of 49 years, Mr. Lee is survived by cousins and a multitude of friends. Services are pending.
Help keep the Bay Area Reporter going in these tough times. To support local, independent, LGBTQ journalism, consider becoming a BAR member.