News Briefs: SFMTA picks approved by supervisors
Tuesday Jan 5, 2021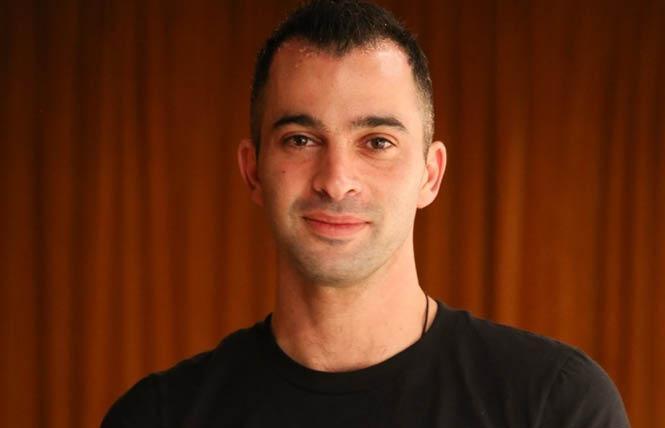 The San Francisco Board of Supervisors approved two of Mayor London Breed's nominees to serve on the San Francisco Municipal Transportation Agency's board but not without a lengthy discussion on diversity for one of them.
Emanuel "Manny" Yekutiel, a gay man and the owner of the eponymously named cafe and event space at 16th and Valencia streets in the Mission district, was approved on a 9-2 vote Tuesday, January 5. He will be the transit board's only LGBTQ member and an advocate for local merchants who for years have called for such a representative on the oversight panel.
Fiona Hinze, a disability rights advocate who lives with cerebral palsy, was approved 11-0. Her appointment brings the number of women on the seven-person SFMTA board to five.
SFMTA is a city department that's responsible for all ground transportation. It has oversight of Muni, as well as bicycling, paratransit, parking, traffic, walking, and taxis. Leading it is Jeffrey Tumlin, a gay man.
The supervisors discussed the need for the next nominee to be someone from the Latinx community. Supervisor Sandra Lee Fewer, attending her last board meeting, started off the discussion by stating while she likes Yekutiel, the next nominee "should be a Latinx person" and that she would not be voting for him.
Yekutiel was nominated largely because of his small business experience. He currently serves on the Small Business Commission but will be leaving that post to join the SFMTA board.
But several other supervisors praised Yekutiel and pointed out the lack of representation from the small business community on the transit board.
"It's important to represent small business," Supervisor Matt Haney said.
Supervisor Ahsha Safaí pointed out that until recently, SFMTA had two Latinx people on it. One of them, Art Torres, is also a gay man. Safaí also noted that Yekutiel is a member of the LGBTQ community.
Supervisor Dean Preston was the other no vote on Yekutiel's nomination.
In a statement, Breed said she was grateful to the board for approving the nominations, noting the SFMTA board now has its full complement of seven members.
"With Manny and Fiona on the board, I'm confident that we'll have the leadership we need to help the SFMTA as it does the hard work of keeping our transit system running while advancing our efforts to make transit more convenient, easy to use, and equitable," Breed stated.
Yekutiel said he was pleased to have been approved.
"On this board my goal is to serve as a bridge builder at a moment when our city and its public transportation system sits at a crossroads," he stated in the mayor's release. "I look forward to rolling up my sleeves and getting to work."
Hinze stated that she looks forward to serving.
"I am excited to work with SFMTA and community members to ensure that San Francisco's transit system and streetscape is accessible and equitable for all San Franciscans, including seniors and people with disabilities," she stated.
Attention SF youth: SFMTA wants you
In other SFMTA news, the agency has announced the creation of a youth advisory board and is now soliciting applications.
The Youth Transportation Advisory Board seeks young people who are interested in transportation, the environment, public health, local government, or social justice. The advisory board members will be selected from each of the city's 11 supervisorial districts plus up to six at-large members.
"The Youth Transportation Advisory Board will include voices of young people from across the city to better inform our policies and practices," Gwyneth Borden, SFMTA board chair, stated in a news release. "By specifically amplifying the perspectives of local youth, the SFMTA is investing in the next generation of transit riders, whose experiences can and should shape the development of our transportation system."
SFMTA director Jeffrey Tumlin, a gay man, encouraged interested youth to apply.
"We are excited to create an inclusive board that represents the diverse identities, backgrounds, and experiences of San Francisco youth," he stated.
The advisory board members will attend two meetings per month and assess and recommend city transportation policies, programs, and projects to the SFMTA board based on their experiences and community's needs. A seat on this board will provide an opportunity for members to explore their interests and gain professional — and paid — experience while serving the city. Board members will receive a $25 stipend per meeting attended.
All youth between the ages of 14-18 who live in San Francisco are qualified. No prior work experience or specific academic standing is required.
Applications are due by noon Monday, January 18. For more information and to apply, click here.
SF supes finalize supportive housing rent reduction
The Board of Supervisors at its January 5 meeting finalized the adoption of a rent reduction for nearly 3,000 residents living in supportive housing units in the city. Expected to cost roughly $6 million a year, the board set a deadline of October 1, 2023 to implement the change in light of the budget deficits the city is facing because of the COVID pandemic.
Tenants will see their rent requirement decrease from 50% of their monthly income to 30%. It will bring the city in line with the same threshold used by the federal government for all supportive housing units. Tenants in buildings constructed since 2016 in the city are already paying the lower rent threshold.
The unanimous vote Tuesday was expected as all 11 supervisors had voted in favor of the ordinance authored by District 6 Supervisor Matt Haney in early December. Haney had secured $1 million in the city's current budget to grant rental relief to more than 500 tenants of supportive housing units in the city who saw their monthly payments reduced to the 30% threshold.
Many LGBTQ leaders backed Haney's ordinance and signed onto the #30RightNow Coalition to advocate for its passage. Despite its high price tag, supporters of the rent reduction argued it will cost the city far more if the tenants are unable to pay their rents, end up homeless, and need emergency room care that is paid for with taxpayer dollars.
Matthew S. Bajko contributed reporting.
Help keep the Bay Area Reporter going in these tough times. To support local, independent, LGBTQ journalism, consider becoming a BAR member.
Comments on Facebook