Kitten makes 9 for Minter's menagerie
Tuesday Dec 22, 2020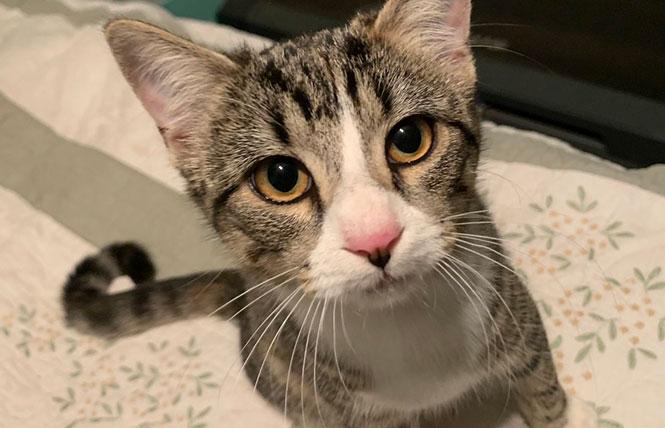 And Furby makes nine.

Just over a year ago, Shannon Minter's life was forever changed when he found an abandoned kitten on Halloween near his Texas home. Later the same night, he discovered a puppy left on his own.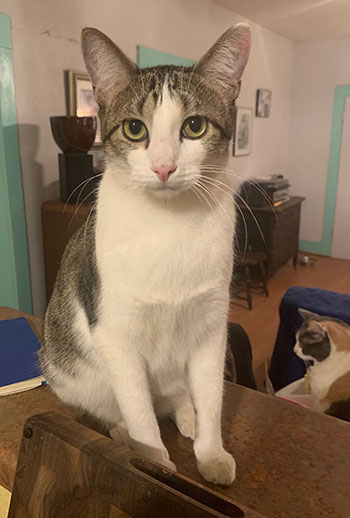 A few days later, Minter found another abandoned puppy. She was a littermate of the first, whom Minter named Albert. Together with Squeaky, the kitten, and Sister, the other young pooch, they joined the two other dogs — Onyx and Gaia — and three cats — Beulah, Sammy, and Piper — with whom Minter and his wife, Robin, live.

All eight animals settled into a life of bliss, based on the photos and videos that Minter, a trans man who is the longtime legal director at San Francisco-based National Center for Lesbian Rights, has posted to Twitter.

And then, surprisingly, one more kitten joined the family. In exciting news, Minter recently tweeted about the new addition.

"Squeaky has a feral sibling we have been feeding but unable to tame," Minter wrote November 18 on Twitter. "She had kittens this summer, but only one survived. We have been feeding both mom & kitten & trying so hard to win their trust. Last night we got the kitten to come inside, & she seems happy. Her name is Furby."
Furby is about six months old, Minter estimated during a December 17 phone interview.

So now there are nine. (Minter's wife told the Bay Area Reporter's online Political Notes column last year that eight is enough. Last week, she joked that she "forgot how to count.")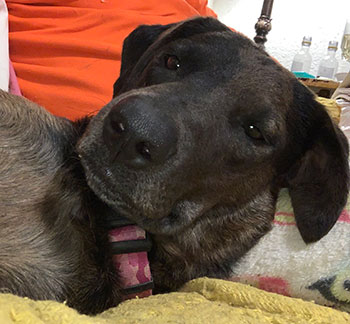 Minter has documented the ups and downs — mostly ups — of life in his rural area with the frisky, loveable pets. And he's shared a lot of it on his Twitter feed to the delight of his more than 11,500 followers.

It's been a rousing — even obsessive — 13 months or so for Twitter fans of Minter, who this year was named one of Out magazine's Out 100. A quick, daily check-in on his feed often serves as a stress reliever of sorts; seeing the photos and short videos of the menagerie takes the edge off the craziness that's been 2020, from politics to the pandemic.

Minter said being named to Out's list this year "was a huge and unexpected honor."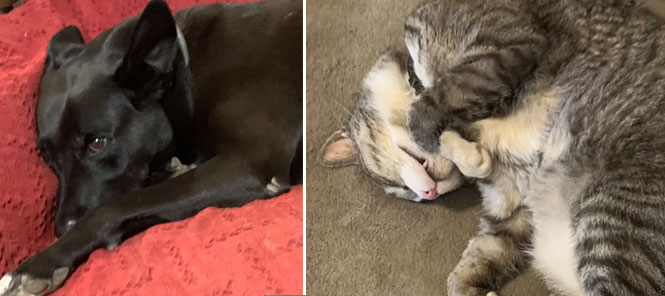 "It's really wonderful," he said. "It's very nice to be recognized and I'm really appreciative for the opportunity to work in the movement for so long."

He said that the animals have helped ground him, especially this year.

Minter has posted thousands of photos and videos of all the animals — discovering a new wading pool, walks, and squirrel alerts (dogs), enjoying the screened-in outdoor "catio" (felines), a group visit to the groomer for the canines. And yes, plenty of pictures of the dogs and cats being, well, dogs and cats — sleeping on the couch, their beds, or the Minters' bed; playing with their toys and each other; and, naturally, posing for the camera.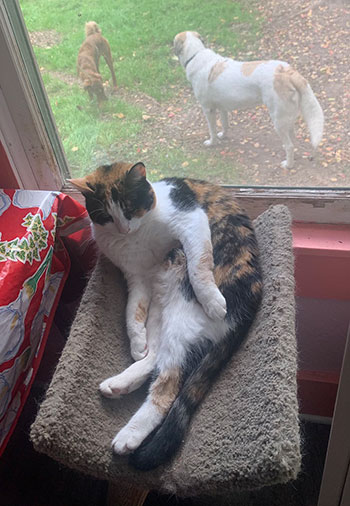 Watching the trio of 2019's newcomers grow up has been something to savor as Minter posts multiple times nearly everyday. Squeaky, Albert, and Sister have grown fond of Onyx and Gaia, who was anxious at first with the sudden extra additions but has become especially close to Sister, as Minter has written in his brief posts accompanying the photos. Onyx is the unofficial leader of the lot.

"He's the most non-bossy boss — an elder," Minter said.

Felines Beulah, Sammy, and Piper tend to keep their distance from the others and are not seen as often by Minter's followers. So, it's extra special when photos of them appear. Minter explained that they mostly stay in a designated room that the dogs can't get into, though they are welcome to join the rest of the bunch. Piper, a beautiful calico, is the least likely to do so, Minter noted.

As for Furby, she has become fully integrated into the household since her arrival just over a month ago.

"Furby's met everybody and is doing great," Minter said. "She and Squeaky are fast friends now."

It's Squeaky though, who hangs out with the dogs all the time. Ultimately, it's been Squeaky who's taken over his dad's Twitter feed the most, followed closely by Albert; the two have bonded since that night they were found by Minter, and have grown almost inseparable.

"They really do love each other," Minter said.

SF adoption option
Closer to home, San Francisco Animal Care and Control continues to find homes for dogs and cats (and other pets), though it has had to make changes due to the pandemic.

Deb Campbell, spokesperson for the department, told the B.A.R. that there are dogs and cats available for adoption, and that most are being fostered by people while waiting for their forever homes.

"We have people adopt virtually," she said.

People can go to the website and fill out an application. Prospective owners are matched with a potential pet and a Zoom meeting is set up with them and the foster family to meet the animal.

"It's been working really well," Campbell said, adding that once the health crisis hit, the department "needed to keep the animals moving."

Campbell cited statistics from the department that show people have definitely taken to adopting pets during the lockdown. Since March, a total of 876 animals have found homes through virtual adoption, including 22 birds, 669 cats, 92 dogs, and 93 small or exotic animals.

Another 1,966 animals have been transferred during that timeframe to the San Francisco SPCA, other shelters, and rescue groups for their adoption programs, Campbell said.

Animal Care and Control remains open and is still providing all services, she added. In-person visits are limited and by appointment only — mostly for people to come down to look for a lost pet. Health protocols are in place, such as face coverings and distancing.

Speaking of rescue groups, Muttville, which works to save senior dogs, is having a year-end fundraiser through DogTrekker's Season of Giving. Donations will be matched. For more information, click here.

Minter said he would encourage those who are interested to consider pet adoption. While his circumstances are a bit different, the benefits are the same.

"Do it," he said. "It's the most rewarding experience. They give so much more than they take. It's nice to have these creatures around, though you have to pay attention and take care of them."

For information about San Francisco Animal Care and Control, click here.

Minter has made calendars featuring the rescue pets. For more information, click here.


Help keep the Bay Area Reporter going in these tough times. To support local, independent, LGBTQ journalism, consider becoming a BAR member.
Comments on Facebook