Out in the Bay: How to enjoy stay-at-home holidays
Friday Dec 4, 2020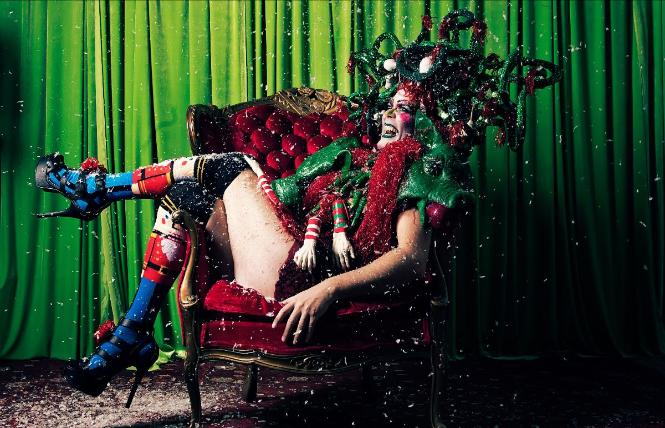 As we approach our 10th month under COVID's cloud, it's depressingly clear the holiday season won't be "normal." How might we find joy and peace without our usual parties, events and general fa-la-la falderal?
Fret not! Novelist and Bay Area Reporter arts and nightlife editor Jim Provenzano appeared on Out in the Bay — Queer Radio this week and gave insightful tips on books and virtual events from "The Slutcracker" to "Taylor Mac's Holiday Sauce ... Pandemic!" to jazz and classical music that may help you endure, even enjoy, your stay-at-home holidays. (Dare I say "Horror-daze?")
Together we previewed enticing events and Provenzano suggested books that could make great gifts for friends or yourself while "snuggling in place" this winter. He also shared his expert observations on how performers, artists, and cultural institutions have changed to survive the pandemic. (And neither of us uttered the word "pivot" — not once!)
"Independent artists and bookstores are struggling, small theaters are struggling, and they're eager and willing to accommodate and to adapt," said Provenzano. "Theater companies are doing radio plays, authors are doing Zoom and able to chat with fans from around the world instead of depending on whoever shows up at bookstores, and musicians are throwing stuff out left and right," he said. "It's been amazing."
Among our December event favorites: the aforementioned "Taylor Mac's Holiday Sauce ... Pandemic!" — you can hear part of Mac's saucy "Christmas with Grandma" song about severe holiday family dysfunction on our podcast; "The Slutcracker," Massachusetts-based Ballet Ruses' S&M interpretation of "The Nutcracker" set to Tchaikovsky's original score, streaming now through December 31; and A.C.T.'s radio play adaptation of its perennial favorite, "A Christmas Carol."
For a break from "corny Christmas music," Provenzano suggests classical and modern contemporary music recorded by San Francisco Performances, Noe Music, Old First Concerts, and Cal Performances, and jazz from SF Jazz's "Fridays at Five" series, which this evening, December 4, features Pink Martini, starting at 5 p.m.)
On books, Provenzano called Bryan Washington's "Memorial" "the hit of the year" and highly praised Silvia Moreno-Garcia's "Mexican Gothic," described as "Lovecraft Country" meets the Brontës in Latin America. "It's spooky, it alludes to magical realism of many South American writers, but also it's its own women's voice," he said.
Provenzano also offered some juicy tidbits about his eighth novel, "Finding Tulsa," published in September. Much of the story takes place in the mid-1990s, with erotica, "gay porn stars, directors and the L.A. riots," he said. "Very sexy!"
Hear more from Jim Provenzano, plus music from two December shows, on this week's Out in the Bay - Queer Radio from San Francisco. The program re-airs at 9:30 a.m. Saturday, December 5, on KSFP Radio, 102.5 FM in San Francisco only, and is available anytime on Out in the Bay's website. Out in the Bay also airs 10 p.m. Tuesdays on KALW, 91.7 FM throughout the central Bay Area.
Eric Jansen is primary host and managing producer of Out in the Bay — Queer Radio from San Francisco. Learn more and listen at https://www.outinthebay.org/
Help keep the Bay Area Reporter going in these tough times. To support local, independent, LGBTQ journalism, consider becoming a BAR member.
Comments on Facebook