Peninsula shelters address complaints
Wednesday Dec 2, 2020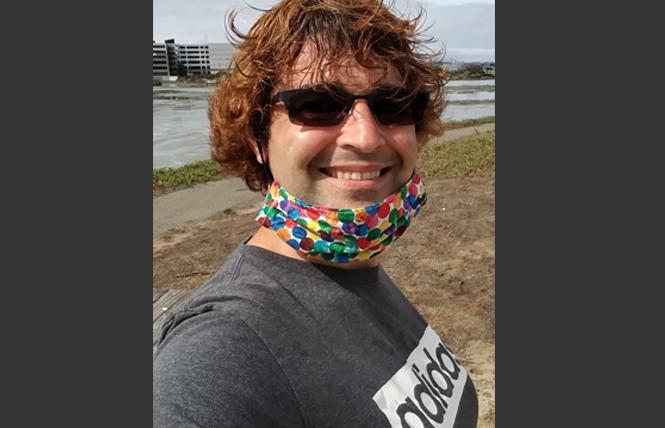 A trans woman's complaints alleging harassment at two Peninsula shelters have prompted officials to defend their records, as a San Mateo County supervisor advises what LGBTQ people can do if they arrive at a shelter and feel uncomfortable or discriminated against.

Sammy Minyard reached out to the Bay Area Reporter in October with copies of her complaints against the South San Francisco Safe Harbor shelter, run by Samaritan House.

Minyard, 35, provided the B.A.R. with photographs of five complaints she filed; only three regard specific instances of alleged harassment or discrimination.

A complaint filed September 12 and another filed September 16 allege she was interrupted on multiple occasions when taking a shower, which is against Samaritan House policy. A third, also filed on the 16th, alleges a staff member misgendered her.

"I was taking a shower and a janitor came in and I said 'excuse me?'" Minyard told the B.A.R. "The janitor is supposed to come in at a certain time. The janitor was playing music very loud and I said 'hello?' and he said 'you need to hurry up and get out' and I said 'it's not your appointed time' and I threw up my hands and left."

Regarding the second complaint on September 16, Minyard said she was told to use the men's restroom. She also said she has been harassed by other people living at Safe Harbor.

In a statement to the B.A.R., Laura Bent, the chief operating officer for Samaritan House, said she could not comment on specific complaints due to privacy concerns.

"In response, please understand that we are not able to discuss individual cases," Bent wrote in an email. "However, we investigate any time there is a complaint and we are confident that there are no outstanding unresolved issues at this time. We take LGBT and all people's rights seriously and would not tolerate an actual condition, were we to find one on investigation, nor would our staff operating our shelter services, some of whom are members of the LGBT community."

Bent also discussed sensitivity training and shelter policies regarding the trans community.

"We have a strong trauma informed and diversity & inclusion training program that all staff are required to participate in," Bent wrote. "Through this training program our staff learn and review appropriate language in working with the LGBTQ+ population as well as the other populations we serve.

"In addition, we have an engaged and strong culture of empathy and having several staff members who are part of the LGBTQ+ communities enhances the impact of that training," Bent added.

Samaritan House operates Safe Harbor through the San Mateo County Human Services Agency, with which it is contracted.

District 5 San Mateo County Supervisor David Canepa, a straight ally who represents Daly City, Broadmoor, Brisbane, Colma, and part of South San Francisco, said that Samaritan House has an obligation to internally investigate.

"In this particular case, there has to be an investigation. Make no mistake — discrimination against the LGBT community is not tolerated in San Mateo County," Canepa told the B.A.R. "If these allegations are true, we have to look into if there is a systematic problem at Samaritan House and, then, they should be held accountable if it's found through investigation that Samaritan House discriminated against Sammy."

Canepa said that there would "need to be consequences for Samaritan House" if an investigation turned up a systematic problem.

"The last thing we want to do is support organizations that discriminate against people. We're living in 2020; this isn't the 1930s," Canepa said. "Sammy deserves to be treated with respect and dignity."

Canepa said that the county has a 211 line if anyone wants to report something anonymously. Further, people can be connected to services through the San Mateo County Human Resources Department.
Second shelter
Minyard made similar allegations against a shelter in Redwood City operated by LifeMoves, saying that she was told to sleep in a men's area and severe limitations were put on her freedom of movement in and out of the shelter.

Samantha Peterson, the senior director of marketing for LifeMoves, disputed this.

"LifeMoves policy is to follow our clients' stated gender identity when arranging sleeping spaces at our facilities. We can confirm that this client was assigned to and stayed in the women's dorm for her entire stay," Peterson wrote in an email to the B.A.R. "LifeMoves takes great pride in our record of supporting and serving those in the LGBTQ+ community who are experiencing homelessness, including opening one of the first LGBTQ+ shelters in the country.

"LifeMoves is also proud of the great work that our teams have done to prevent the spread of COVID-19 within our facilities," Peterson added. "We have taken additional precautions at our sites to comply with county health directives, including limiting movement for all clients in regards to their daily exits and re-entrance."

Peterson wrote that LifeMoves takes steps to ensure LGBTQ inclusion.

"LifeMoves provides cultural competence training each year, which includes training in LGBTQ+ issues. It is the LifeMoves policy to use the name, preferred pronoun, and gender identity that clients self-identify with. This policy is understood and respected by agency staff," Peterson wrote.

"Each LifeMoves employee is required to review and sign the LifeMoves non-discrimination/inclusion policy prior to beginning employment," Peterson continued.

"LifeMoves contracts with a range of diversity consultants to both train staff and review our policies," Peterson added. "We work with a consultant who specializes in LGBTQ+ concerns, and specifically around issues of gender fluidity and transsexuality. In addition to these consultants, LifeMoves also partners with external community stakeholders, including Star Vista LGBTQ+ mental health center in San Mateo to provide services for our clients."

LifeMoves invited a B.A.R. reporter to visit its shelter on Maple Street in person on November 18.

The shelter is located adjacent to a correctional facility. A sewage transfer station from the facility occasionally creates a foul smell in the air, though this is "only when the system burps," Robert Moltzen, associate program director at LifeMoves, said.

Moltzen led the tour, saying that about 10% of the shelter's capacity of 141 clients (there aren't that many now, due to the COVID-19 pandemic) identify as LGBTQ. Separate facilities for women and men have made the shelter a popular option in the community, with trans and nonbinary identities respected, Moltzen said. Since the opening of the women's facility in July 2018, the number of clients served has almost doubled.

This reporter's inspection of bathroom facilities did not find any mildew, mold, or obvious bacterial growth.

The shelter has not had a single case of COVID-19 since the start of the pandemic, Moltzen said, and clients are allowed to leave for walks, appointments, work and grocery store runs, but not for recreational purposes in order to keep other clients safe in congregate living.

Minyard is still at the Safe Harbor shelter in South San Francisco and is currently taking classes at the City College of San Francisco, which she said is a "nice, gender-confirming environment."

According to a 2019 independent auditor's report, LifeMoves received $325,780 in block grants for transitional housing and support services in Fiscal Year 2018-19 from San Mateo County, as well as $216,668 as part of a home investment partnership from the county; $5,000 for First Step for Families; $906,500 for Haven Family House, $87,500 for the Elsa Segovia Center/Clara-Mateo Alliance Shelter and $2,141,532 for Family Crossroads; making for a total of $3,682,980.

Samaritan House's website also contains an independent auditor's report from 2019. It does not contain an itemized note of forgivable advances (government grants forgiven with conditions), as LifeMoves' did, but it does state that during Fiscal Year 2018-19, "total donated facilities of $279,249 have been recognized in the financial statements for the sites provided by the City of San Mateo and the County of San Mateo for the Worker Resource Center and the Safe Harbor Shelter programs."

Help keep the Bay Area Reporter going in these tough times. To support local, independent, LGBTQ journalism, consider becoming a BAR member.
Comments on Facebook