News Briefs: Rainbow Railroad works to save LGBTQ lives
Wednesday Dec 2, 2020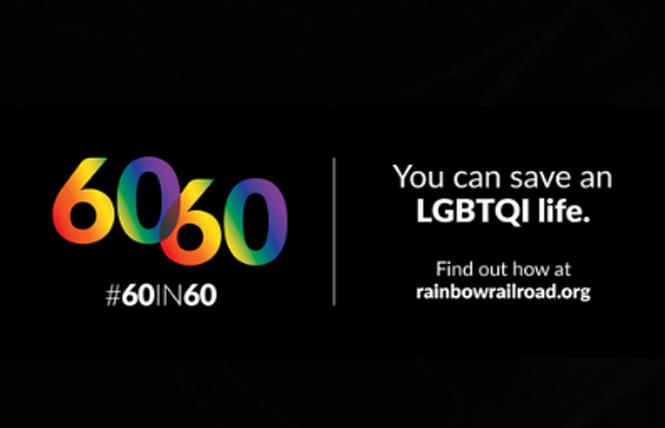 Rainbow Railroad, an international organization based in Toronto that helps LGBTQI people seek safe haven from violence and persecution, is about halfway through its #60in60 campaign to raise $600,000 in the last 60 days of 2020 to save 60 lives.
As of this week, the nonprofit had raised almost $300,000, according to its website.
Through December 31, Rainbow Railroad will be releasing videos and other multimedia content telling the stories of people it has helped and explain the global LGBTQI experience.
"The stakes are high," Rainbow Railroad Executive Director Kimahli Powell stated in a news release. "We now field nearly 3,000 requests for help a year. At this very moment, we are triaging the cases of hundreds of LGBTQI people around the world who need support right now. We need our community to come together and help us give a chance at freedom to as many people as possible."
It costs approximately $10,000 to help an LGBTQI person, the organization noted.
In 70 countries, LGBTQI people face criminal charges under colonial-era anti-gay laws that can result in life in prison, the release stated, citing a report by the International Lesbian, Gay, Bisexual, Trans, and Intersex Association, or IGLA. In 11 countries, queer people face the death penalty.
Since its founding in 2006, Rainbow Railroad has assisted more than 900 people escape to safe countries. With this campaign, the organization said that it hopes to double the number of people helped by 2022.
To donate, go to https://www.rainbowrailroad.org/ and look for the #60in60 logo. The campaign can also be followed on social media via @rainbowrailroad
Project Open Hand's benefit goes online
Project Open Hand, an organization providing medically-tailored nutrition to critically-ill people in San Francisco and Alameda counties, is hosting its annual Hand to Hand gala online Friday, December 4, beginning at 6 p.m. Tickets are free to view the virtual event.
Attendees will enjoy an evening filled with highlights, including music by the San Francisco Gay Men's Chorus and The California Honeydrops and a very special greeting by House Speaker Nancy Pelosi (D-San Francisco).
This year's program, unlike past events, will be completely virtual and will also include award recognitions, a maskquerade competition, silent auction, and much more.
"We are honored and humbled to have Speaker Pelosi and the many others who have joined us for this event highlighting our 35-year legacy," stated Paul Hepfer, CEO of Project Open Hand. "The Hand to Hand event is not only a celebration of our work, but it also honors the many supporters who have helped us to continue to provide access to healthy nutrition to individuals with underlying health conditions, since the early days of the AIDS epidemic in the 80s to today amid the COVID pandemic."
Honorees will include former ambassador James C. Hormel and Michael P.N. Hormel, who will receive the Ruth Brinker Visionary Award.
Raymond Mark and Wendell Nickel Jr. will receive Most Outstanding Community Partner, while Levi Strauss & Co. will be honored with Most Outstanding Corporate Partner.
Shireen McSpadden, who is bisexual and runs the San Francisco Department of Disability and Aging Services, will be recognized with the Community Advocate Award.
To watch, bid on silent auction items, or donate, go to https://one.bidpal.net/handtohand2020/welcome
People can also watch directly from the agency's YouTube channel at https://www.youtube.com/c/ProjectOpenHand.
For more information, visit www.openhand.org/handtohand2020
CoastPride night in
CoastPride, which brings together the San Mateo County coastside in support of the LGBTQ community, will hold a "night out, er in" livestream event Sunday, December 6, from 6 to 7 p.m.
Speakers and performers include emcees and CoastPride board members David Oliphant and Tristan Rajaratnam; professional dancer Christopher Childers, who once worked with Michael Jackson, Madonna, and others; Bay Area singer-songwriter John Lester; Jennifer Grais, a graduate of the Foundation for Shamanic Studies and professional singer; Skip the Needle, an Oakland-based quartet; and Leah Walters, a Bay Area-based multi-instrumentalist and songwriter.
There will also be a youth speak out, where young people can tell their stories of life on the coastside and share their ideas for making it a more welcoming place.
The event also serves as a fundraiser for CoastPride has an auction that is now online with assorted items. It closes December 7 at 5 p.m. People can also donate directly by texting PRIDE to 650-800-5816.
For information on how to watch the event, bid on auction items, or to donate, go to http://www.coastpride.org
Trans winter gala coming up
Trans groups in San Francisco and New Orleans will come together for the virtual Transgender Winter Gala Friday, December 11, starting at 5:30 p.m. Pacific Time.
San Francisco's Transgender District will join House of Tulip in the Big Easy to co-host the event. Both are Black transgender-led organizations.
The gala will feature live music performances, celebrity special guest appearances, and more — all in support of raising awareness and fundraising to address community-driven homelessness solutions in 2021 impacting transgender people of color.
Entertainment includes appearances by Lion Babe, a New York-bred funk and soul duo; Jessica 6, an underground dance music culture cult classic band; and New Orleans performance artist Dawn Richard. Others scheduled to appear include Toyna Boyd-Cannon, who was on "The Voice USA;" soul singer Neverending Nina; rap artist and music producer Wazi; and pop vocalist Dominique Morgan.
The event will also feature "Pose" actress and producer Indya Moore, Trace Lysette of "Transparent," trans activist Raquel Willis, and comedian and actor Ian Harvie, who's appeared on "Transparent" and "Will & Grace."
"Our organizations are so excited to, of course, raise awareness and visibility on a social issue that the Transgender District and House of Tulip are dedicated to solving — but also to close out a rollercoaster year with a moment that reminds us to celebrate our lives and joy," stated Aria Sa'id, co-founder and executive director of the Transgender District, the world's first legally recognized cultural district of its kind.
Added Mariah Moore, co-founder and co-director of House of Tulip, "What's exciting is our organizations are building toward a world without disparities, where everyone across all communities have what they need to be healthy, safe, and nurtured."
The winter gala, which is free and open to the public, will be streamed on YouTube via https://bit.ly/2Vhlcop
Help keep the Bay Area Reporter going in these tough times. To support local, independent, LGBTQ journalism, consider becoming a BAR member.
Comments on Facebook