News Briefs: Illuminate SF Festival of Light kicks off
Tuesday Nov 24, 2020
Illuminate SF Festival of Light has added some temporary light artworks to its many others to brighten nights as the days get shorter.

One of the newest additions is "The Ladder," at 1066 Market Street, which will be a permanent installation, according to a news release. "Tara Mechani," at Patricia's Green at Octavia and Hayes streets, is temporary through the end of the year.

All told there are over 40 installations, including some from Illuminate, best known for the Bay Bridge Lights. The local arts group also has a permanent work in the Castro, the "Hope Will Never Be Silent" fronting Harvey Milk Plaza. (As the Bay Area Reporter has reported, the quote is widely attributed to the late gay Supervisor Harvey Milk, though it is unclear when he first said it.)

The San Francisco Travel Association is presenting the light festival. Works are located in 17 different city neighborhoods, the release stated.

"This is the perfect activation for San Francisco this season where we can all view these marvels while staying safe, enjoying the new outdoor patios along the way, and get some much-needed exercise with an evening stroll," stated Brenda Tucker, director of marketing for SF Travel.

Notably, Golden Gate Park will host multiple installations in celebration of its 150th anniversary, including the Observation Wheel and "Entwined" in Peacock Meadow.

"Each year San Francisco adds new permanent and temporary installations," Tucker stated. "This year, we are celebrating five new additions."

One of those is the aforementioned "The Ladder," by internationally recognized light artist Ivan Navarro.

The new and existing art installations are included in the Illuminate SF Light Art Trail, a self-guided itinerary that includes 11 installations in neighborhoods like the Embarcadero, South of Market, Civic Center, Hayes Valley, the Castro, and the Bayview.

For more information, go to https://illuminatesf.com/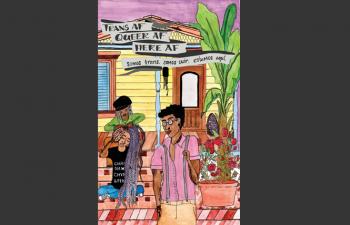 Outdoor art honors trans lives
The Haight Street Arts Center has unveiled an outdoor art display commissioned by Forward Together that is now available for people to visit.

The exhibition's opening was timed with the November 20 Trans Day of Remembrance and is on view until January 31.

The arts center reopened November 12, stated Kelly Harris, a queer-identified woman who is the executive director.

The exhibition, entitled "Radical Imagining: Trans Resilience is Powerful," was created by Forward Together, a Bay Area-based nonprofit, and Micah Bazant, the organization's artist in residence. Together, they have nurtured the project for the past seven years. Both the Audre Lorde Project and BreakOUT played critical roles in founding and shaping the themes and content of the project, and many of the pieces created from 2015-2020 were done in collaboration with trans justice organizations across the country, a news release noted.

"HSAC is honored to host this engaging work that highlights the resilience, power, and strength of trans communities of color," Harris stated. "Our garden gallery will serve as a place for empowerment, community building, and healing for the trans community and allies."

The artists featured in the exhibition are: Amir Khadar, Art Twink, Asia-Vinae Jazzreal Parker, Bishakh Som, Colin Laurel, Ebin Lee, Kosmo X Parker, Féi Hernandez, Glori Tuitt, Hinter Ashleigh Shackelford, Kah Yangni, Mojuicy, and Rommy Sobrado-Torrico.

HSAC is located at 215 Haight Street. People can view the exhibition Monday-Friday from 9 a.m. to 7 p.m. Admission is free.

For more information, visit http://www.haightstreetart.org

SF Pride theme chosen
The San Francisco LGBT Pride Celebration Committee has announced the theme for next year's Pride festivities.

"All in this Together" was selected as the 2021 SF Pride theme, according to a news release. Almost 300 people voted on a runoff ballot after there was a three-way tie, the release stated. The theme brings to mind a familiar saying in this year of COVID-19. The release noted that the theme also is a call to unity amid challenging times.

San Francisco Pride will take place June 26-27. This year's 50th anniversary celebration was virtual due to the pandemic.

Fred Lopez, executive director of SF Pride, said a decision on the 2021 parade and festival has not been made.

"We are pleased about the theme for SF Pride 2021, 'All In This Together.' The board and staff are evaluating the possibilities and will be able to share plans for Pride 2021 around mid-February."

SFPD, Walgreens hold toy drive
The San Francisco Police Department and Walgreens have partnered for a holiday toy drive to help children in need.

In its fifth year of collaboration with the drug store chain, SFPD will accept donations of new, unwrapped toys at over 54 San Francisco Walgreens. The toy drive runs through Friday, December 18.

According to a news release, people can drop off a new, unwrapped toy at any city Walgreens store. The toys will be collected by the police department and donated to kids this holiday season. Last year, approximately 2,500 toys were donated through the program.

OFC town hall coming up
Our Family Coalition will hold a virtual town hall to hear from people about what their needs are and what they would like to see the LGBTQ nonprofit do in 2021.

The meeting will take place Friday, December 4, from noon to 1:30 p.m.

The Bay Area Reporter recently wrote about the agency's new executive director, Mimi Demissew, who virtually started in the post this fall. At the time, OFC board co-chair Lisa Fujie Parks said that the agency was planning to hold a virtual town hall.

For more information, go to https://ourfamily.org/

Help keep the Bay Area Reporter going in these tough times. To support local, independent, LGBTQ journalism, consider becoming a BAR member.
Comments on Facebook