Gay man to oversee Point Reyes national park
Thursday Nov 19, 2020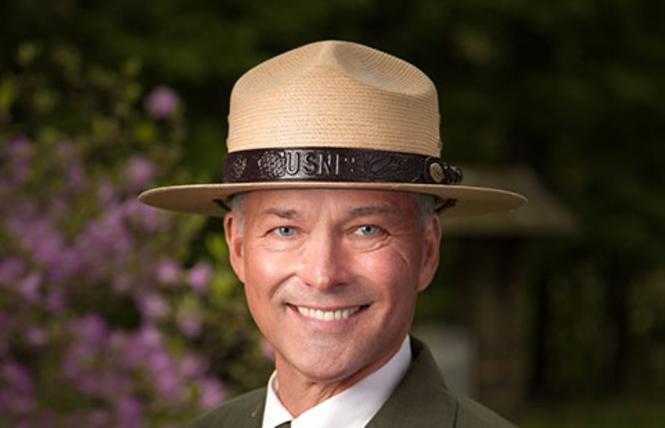 One of the highest-ranking LGBTQ officials with the National Park Service will be returning to the Bay Area in the new year.
Craig Kenkel, 60, a gay man who has spent close to four decades with the federal agency, on Thursday was named the incoming superintendent of the 58-year-old Point Reyes National Seashore.
He will start in January.
He currently serves as the superintendent of Cuyahoga Valley National Park and First Ladies and James A. Garfield national historic sites in Ohio.
At the Point Reyes National Seashore Kenkel will be responsible for more than 80 miles of undeveloped coastline in Marin County. It offers 147 miles of hiking trails, several backcountry campgrounds, and many beaches while being the home to 28 threatened and endangered plant and animal species.
Kenkel will also oversee the 32,730-acre Phillip Burton Wilderness and one of only two designated marine wilderness areas within the National Park System. The park preserves 120 Coast Miwok archeological sites and roughly 300 historic structures including the 149-year-old Point Reyes Lighthouse, which he had a hand in restoring back in 1987.
"I first experienced Point Reyes early in my career, and instantly connected with its dramatic wildness, ruralness and small communities," stated Kenkel in a release about his being named its superintendent. "When I was a San Francisco resident, the park was often my respite from city life. I'm both excited and honored to join the incredible team of employees and partners who care for Point Reyes and serve all who live in and visit the park."
Kenkel will find himself trying to mediate a contentious debate over the competing interests of commercial ranchers who work on the parkland and environmentalists concerned about the businesses' impacts on the picturesque site and its wildlife. As the San Francisco Chronicle pointed out, the issue has spawned a prolonged legal battle and controversies over the sanctioned killing of Tule elk, which the park service has defended as necessary to balance the various needs of animals and humans.
"As a 37-year National Park Service veteran, Craig has extensive experience caring for historic and cultural resources in parks and managing them in balance with natural resource conservation and public use," stated acting NPS Regional Director Linda D. Walker. "Craig's exceptional ability to work with partners resulted in tremendous success at Cuyahoga Valley National Park. His collaboration skills make him a great fit for this position."
His career with the park service began in 1983 while an architectural student at Iowa State University and was assigned in 1988 to the park service's Western Regional Office in San Francisco.
Sent in 1992 to the park service's Midwest Regional Office, Kenkel in 2005 transferred to the Golden Gate National Recreation Area as chief of its cultural resources division and was then named in 2009 as its deputy superintendent. A year later he was promoted to superintendent of the San Francisco Maritime National Historic Park, where he remained until being tapped in 2014 to oversee the northeast Ohio park site along the Cuyahoga River between Cleveland and Akron.
In December 2016, he was hired as the sprawling GGNRA's interim superintendent and returned to Ohio the next year after the park service hired someone else to take on the role permanently. Kenkel had applied to be closer to his partner, Oscar, a native San Franciscan who did not relocate with him to the Buckeye State.
Kenkel grew up on an Iowa corn and hog farm the second oldest of 10 brothers and sisters, one of whom is his twin sister. Talking to the Bay Area Reporter in 2010, he said landing his summer job with the national parks while still in college changed his career path.
"It stirred a passion in me, I guess," said Kenkel, who had never visited a national park while growing up. "I thought, 'Wow. We get paid to work in national parks. How amazing is this?'"
He is one of at least two out national park superintendents in the Bay Area. Since 2009 Naomi Torres, a lesbian, has been the superintendent of the Juan Bautista de Anza National Historic Trail.
And Christine S. Lehnertz, a lesbian whose reassignment from her job as the GGNRA superintendent to oversee the Grand Canyon led to Kenkel's being given the job on an interim basis, is now president & CEO of the Golden Gate National Parks Conservancy, a nonprofit that raises money for the GGNRA.

Help keep the Bay Area Reporter going in these tough times. To support local, independent, LGBTQ journalism, consider becoming a BAR member.
Comments on Facebook