Bias prevalent against TGNC APIs, new needs assessment finds
Wednesday Nov 18, 2020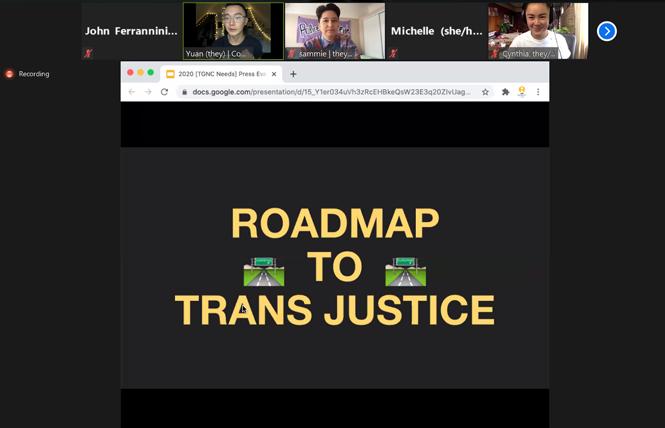 A needs assessment of transgender and gender-nonconforming Asian and Pacific Islanders in the Bay Area shows a community facing the effects of discrimination in housing, safety, and other areas.
APIENC, a San Francisco-based nonprofit formerly known as the Asian Pacific American Coalition for Equality, conducted the assessment and developed a five-point action plan. The organization held a news event to announce the major findings of the assessment November 18 and is holding a community release party over Zoom Sunday, November 22, at 2 p.m.
"This is the most comprehensive community-led needs assessment of trans, gender-nonconforming and gender-expansive APIs," said Sammie Ablaza Wills, a nonbinary Filipinx person who is the executive director of APIENC.
Over 200 people responded to the needs assessment, Ablaza Wills said, though only "the 181 most complete responses were included in the analysis."
These included responses from San Francisco, the Peninsula, the South Bay, and the East Bay. APIENC was unable to get any responses from the North Bay, in spite of outreach, which Ablaza Wills said was significant.
Of needs assessment participants, 22% had experienced homelessness, including almost half of the respondents in San Francisco and of the respondents who identify with feminine genders, said Yuan Wang, a trans nonbinary queer Chinese American and community organizer for APIENC.
"We know we need to have access to safe, stable, and affordable homes," Wang said. "There is a widespread belief that in the Bay Area, all queer and trans people are safe. We know from our own lives these myths are false."
Wang said that the model minority myth often applied to Americans of Asian descent leads people to falsely believe API and trans communities are much better able to access resources and community, and less likely to face challenges, than other ethnic groups and cisgender people.
The participants in the needs assessment reported huge obstacles to personal safety — 58% had survived sexual assault, and at least one participant said their alleged assaulter was a law enforcement officer.
"Even though we face these high levels of violence, 80% of these 181 people said they straight-up felt uncomfortable asking the police for help," Wang said. "We are in dire need of healing resources."
Some 68% reported experiencing verbal harassment, with the numbers again higher for femme-identifying individuals.
Almost one-quarter of respondents said they were fired, treated unfairly at work, or not hired due to their gender identity; 43% of respondents reported that they felt uncomfortable seeing a doctor; and almost one-third could not afford to see a doctor, according to needs assessment results sent to the Bay Area Reporter.
The title of the assessment, "Up to Us," refers to the fact that it is up to everyone to improve these numbers among trans and gender-nonconforming people in general and those who are of Asian and Pacific Islander descent in particular, Wang emphasized.
Wang pointed out that they did not want news coverage of discrimination to eclipse the good that comes out of the community. The action plan's recommendations to "media makers" asks them to "respect our names and genders; report on more than our pain; [and] amplify us in immigrant/monolingual API communities."
"We need to keep learning from our trans ancestors in creating safety for each other and ourselves," Wang said. "We need progressive APIs to recognize and uplift our specific needs and make our communities safe for trans people."
The action plan states that APIENC will act on the needs assessment by using it as an opportunity to "invest in community-led healing and emotional skill-building; train health providers to address TGNC API needs; advance our voices as TGNC APIs in campaigns for housing justice; nurture TGNC API artists and invest in our storytelling and create concrete community safety strategies led by TGNC APIs."
"When this survey was created, we were not sure what the impact would be," Wang said. "When we got over 200 people to respond to this survey, we celebrated. Some of us cried that there were that many of us out there."
The full needs assessment will be published November 22 on APIENC's website at https://apienc.org/
Help keep the Bay Area Reporter going in these tough times. To support local, independent, LGBTQ journalism, consider becoming a BAR member.
Comments on Facebook