Queer Chicana artist is QCC ED
Wednesday Nov 18, 2020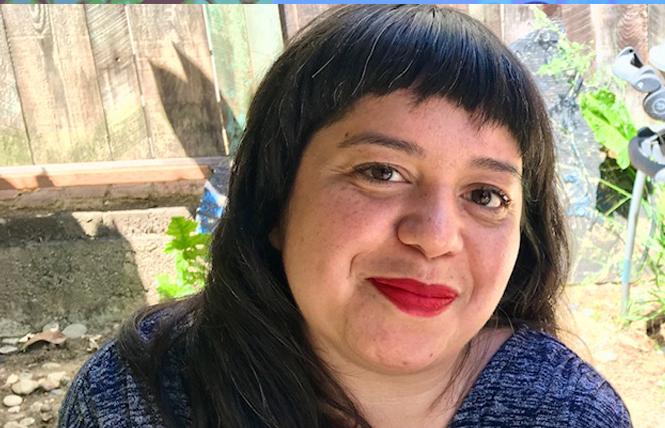 Natalia Vigil, a queer Chicana artist who was born and raised in San Francisco, was named executive director of the Queer Cultural Center of San Francisco earlier this year.
Founded in 1983, QCC promotes social justice and the artistic and financial development of queer artists, art, and culture. Vigil, who was hired in August, is the group's first executive director; Pamela Peniston, one of the original founders of QCC and the artistic director for more than 25 years, retired from the nonprofit this year.
Vigil, 40, a writer and multi-media curator, has been the development and communications director at the Lavender Youth Recreation and Information Center for the past six years. She is also the co-founder and artistic director of Still Here San Francisco Productions, an intergenerational cultural preservation project amplifying creations by LGBTQ artists raised in the city, since 2012. Previously, Vigil was community engagement coordinator at Coleman Advocates for Children and Youth. Vigil was one of the publishers of the "Still Here San Francisco" anthology last year.
"We are so pleased to name Natalia Vigil as our first full-time executive director," QCC board President Jacqueline Francis wrote in the organization's newsletter. "She is an acclaimed queer artist and activist who brings exceptional vision, communication skills, and leadership to our organization."
In a telephone interview with the Bay Area Reporter in early November, Vigil talked about her vision for the new job.
"Growing up in San Francisco, the artists and art spaces of the Bay Area were my inspiration and my teachers and they gave me the courage to become the artist I am today," she said.
"Artists continue to play an instrumental role in uniting communities, uplifting voices, and leading the way toward societal change," Vigil added. "As QCC's executive director, I will continue the legacy built before me and dedicate myself to the work of creating supportive spaces for voices on the margin."
In an email, Francis explained what QCC was looking for.
"After 20 years of impactful, collective leadership, we decided to seek out an individual who demonstrated the qualities that our founding members have: vision for supporting queer arts and culture and commitment to cultural equity and social justice," she wrote. "We're so thrilled to bring aboard Natalia because she brings experience, skills, and passion for QCC's mission and values to the ED role."
Vigil's involvement with QCC began a decade ago and grew from her involvement with QCC's emerging artist program, which was the foundation for the "Still Here San Francisco" show.
"I am thrilled" to have this opportunity to work with QCC, she added.
Vigil received a master of fine arts degree from Mills College in Oakland in 2008 and a Bachelor of Arts degree in social science and creative writing from Hampshire College in Amherst, Massachusetts in 2004.
Vigil's salary as executive director is $80,000. The organization's annual budget is about $848,000, according to the organization's 2017 IRS Form 990.
Help keep the Bay Area Reporter going in these tough times. To support local, independent, LGBTQ journalism, consider becoming a BAR member.
Comments on Facebook