Political Notes: Gay West Sacramento Mayor slips to second place in reelection race
Friday Nov 13, 2020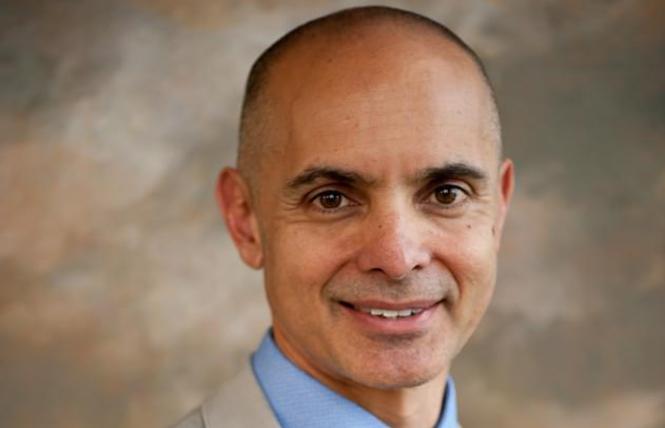 After holding on to first place since the November 3 election, gay West Sacramento Mayor Christopher Cabaldon has now fallen behind his opponent in his bid for reelection.
Cabaldon, 55, who in 2004 was the first mayor to be directly elected by his city's voters, came out of Election Day ahead of West Sacramento City Councilwoman Martha Guerrero. And last Friday, November 6, he continued to be leading their contest by 122 votes.
But when the latest vote count was released Friday, November 13, Guerrero had leapfrogged past Cabaldon to take first place. She is now leading with 8,267 votes or 50.42% of the ballots cast, while Cabaldon has 8,130 votes for 49.58% of the ballots tabulated to date.
Her lead of 137 votes is larger than the one Cabaldon had last Friday, when he was ahead by 122 votes. Yolo County elections officials will next post election results Friday, November 20.
Cabaldon is vying for his ninth consecutive two-year term as mayor. In 1996 he first won a seat on the City Council, having fallen short during his first bid two years prior, and served four yearlong terms as mayor while a council member.
In 2004, Cabaldon was the first mayor to be directly elected by West Sacramento voters. He came out as gay during his State of the City address the following year and has won reelection ever since, helping to usher in a major redevelopment of the riverfront town connected by bridge to the state capital of Sacramento.
Guerrero, a single mother of twin daughters and now grandmother, won election to her City Council seat in 2018. She moved to West Sacramento in 2003 and is currently a legislative advocate for the County of Los Angeles.
Should the results stand and Cabaldon be defeated, he would be the third gay male mayoral candidate in Northern California to lose their race this month. Justin Sha came in second in his race to oust Fremont Mayor Lily Mei, who easily won a second term.
Gay Tracy mayoral candidate denounces homophobic attack
Out in the Central Valley gay Tracy City Councilman Dan Tavares Arriola, who turned 31 on Election Day, remains stuck in second place in his bid for the city's open mayor seat, as the incumbent is termed out of office. Arriola, who was vying to be the first LGBTQ mayor and first mayor of color in Tracy, was at 30.34% as of Friday afternoon.
Termed out Tracy Councilwoman Nancy Young remained in first place with 35.41% of the vote. Her lead has grown in recent days to 1,409 votes, with a new vote count to be released Friday evening at 9 p.m. (Young now has an 1,509-vote advantage, with another results update expected at 9 p.m. Monday, November 16.)
Arriola, who works as a deputy district attorney for the San Joaquin County District Attorney's office, will remain on the City Council if he loses, as his term doesn't expire until 2022. He was subjected to a homophobic attack a few days prior to the November 3 election.
In a social media post 209 Times, which refers to itself as a "grassroots newscast" and Arriola describes as a "local tabloid," shared photos from Arriola's profile on the gay dating app Grindr and suggested that he engaged in human trafficking by utilizing it. It also attacked his boss, San Joaquin County District Attorney Tori Verber Salazar, in the post.
"Should a Deputy District Attorney have an active profile on a website that has been investigated multiple times for human trafficking when the District Attorney he works for has been so openly adamant that human trafficking is not welcome is not welcome in San Joaquin County?" asked the local outlet.
In a statement Arriola sent to news outlets Tuesday, November 10, he denounced the misleading allegations leveled against him and Salazar.
"Let me be very clear: As a single 30-year-old adult, I still date regularly - sometimes by using dating apps - just like millions of other single adult millennials. Suggesting that a person with a profile on a gay dating app is engaging in human tracking - merely because they use a gay dating app - is absolutely HOMOPHOBIC," stated Arriola. "As a Deputy District Attorney, I have committed my career to public safety - including fighting human trafficking. The unfortunate reality is that human trafficking occurs on ALL social media, including Facebook and Instagram, and I will absolutely continue to fight this heinous crime as a criminal prosecutor."
As the Tracy Press noted, it was the second time that 209 Times had attacked Arriola, as it had previously tried to claim that he was "just a white guy from Portugal" who pretends to be Latino "for scholarships and votes."
Arriola stated he expected it wouldn't be the last time he was subjected to such scurrilous attacks. He called on others in Tracy to speak up and denounce all acts of homophobia in the Central Valley community.
"This is not the first time I have been targeted by racist, xenophobic, or homophobic attacks. Unfortunately, it probably won't be the last," he predicted. "But as the first openly LGBT elected official in the City of Tracy, I will continue to fight wholeheartedly for the LGBT community and for the equality of ALL residents in our city."

Keep abreast of the latest LGBTQ political news by following the Political Notebook on Twitter @ http://twitter.com/politicalnotes
Got a tip on LGBTQ politics? Call Matthew S. Bajko at (415) 829-8836 or e-mail m.bajko@ebar.com

Help keep the Bay Area Reporter going in these tough times. To support local, independent, LGBTQ journalism, consider becoming a BAR member.
Comments on Facebook