Lesbian CA state Senate candidate Medina drops to 2nd place
Thursday Nov 5, 2020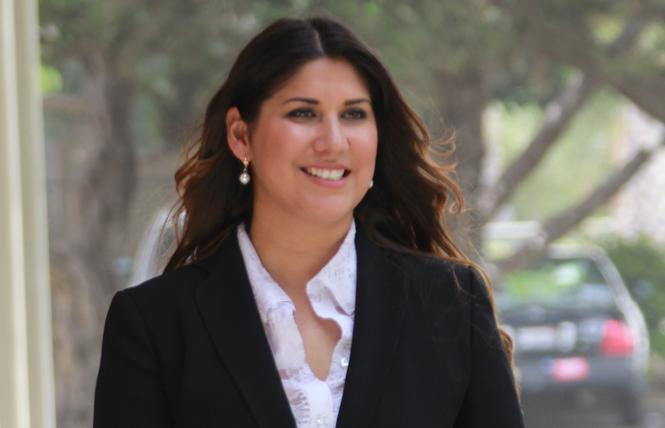 After holding on to a slim lead in her race for a state Senate seat, Democrat Abigail Medina has now fallen behind her Republican opponent, Rosilicie Ochoa Bogh, for the open 23rd Senate District seat.

Based on the latest returns, Bogh now has a 1,051-vote edge against Medina, who identifies as both queer and lesbian. Bogh's share of the vote total now stands at 50.2% and Medina's is at 49.8%.

The Secretary of State's office has declared their race to be a "close contest" and the results could change again as more votes are counted. As of 4:05 p.m. today (Thursday, November 5) San Bernardino County elections officials reported they still had 310,000 ballots to tabulate.

(Bogh's lead grew to 1,211 votes when new vote totals were released Friday, November 6.)

Should Medina be able to pull out a victory, she would be the first person who identifies as queer and the first out lawmaker from San Bernardino County serving in the Legislature. She would also be one of the first two LGBTQ women of color to serve in the state Senate.

Lesbian Assemblywoman Susan Talamantes Eggman (D-Stockton) appears assured of being the first LGBTQ woman of color serving in the state Senate as she continues to hold a commanding lead in her race for the open 5th Senate District seat. According to the unofficial returns Thursday afternoon, her share of the vote has barely moved since Tuesday.

Eggman is at 58.4% and her GOP opponent, Jim Ridenour, is at 41.6%, nearly the same as it was yesterday. She is vying to succeed termed out lesbian state Senator Cathleen Galgiani (D-Stockton) and maintain the seat in the hands of an out legislator.

A victory by Eggman will ensure California's Legislative LGBTQ Caucus grows from its current seven members to eight. Should Medina also be elected then the LGBTQ caucus would number at nine members, all Democrats, the largest in its history. Since its creation in 2002, the affinity group for out legislators has had at most eight members at one time.

Joining its ranks in December will be Assemblyman-elect Alex Lee of San Jose, the first out bisexual elected to the statehouse, and gay former Assemblyman John Laird of Santa Cruz, who easily won a Central Coast Senate seat Tuesday. In San Diego, gay San Diego City Councilman Chris Ward will succeed gay Assemblyman Todd Gloria, who won his race to become the city's first out elected mayor.

All of the current LGBTQ caucus members running Tuesday were reelected. They include lesbian Senate President pro Tempore Toni Atkins of San Diego; gay state Senator Scott Wiener of San Francisco; lesbian Assemblywoman Sabrina Cervantes of Corona; and gay Assemblyman Evan Low of Campbell.
Comments on Facebook