Wiener fends off progressive challenger
Wednesday Nov 4, 2020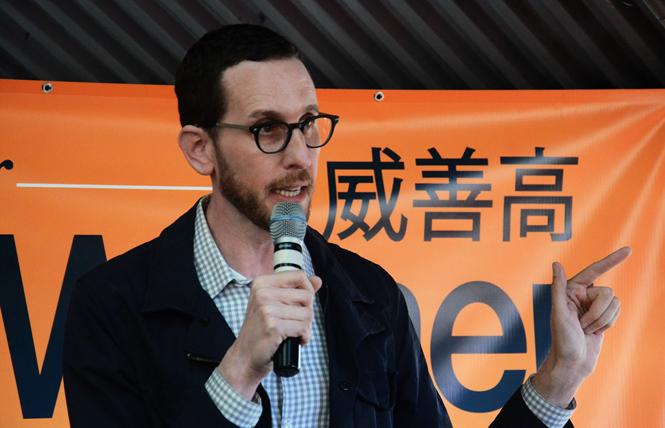 Gay state Senator Scott Wiener (D-San Francisco) easily defeated queer educator Jackie Fielder Tuesday to secure reelection to his 11th Senate District seat. Joining him in the Legislature will be Assemblyman-elect Alex Lee, the first out bisexual elected to the Statehouse, and gay former Assemblyman John Laird, who easily won a Central Coast Senate seat.

Meanwhile, lesbian Senate candidates Abigail Medina, a Democrat running for the open 23rd Senate District seat, and Assemblywoman Susan Talamantes Eggman (D-Stockton), who is running for the open 5th Senate District seat, both were holding on to first place in their contests, according to the unofficial returns Wednesday morning. Either would be the first LGBTQ woman of color to serve in the state Senate if they win.

And if both win their races, then California's Legislative LGBTQ Caucus will number nine members, all Democrats, the largest in its history. Since its creation in 2002, the LGBTQ caucus has had at most eight members at one time.

The affinity group for out legislators currently is at seven members. It has yet to see a transgender member and no transgender legislative candidates were on the November ballot.

According to the unofficial returns Wednesday morning, Wiener garnered 59.1% of the vote while Fielder received 40.9%. It tracked what Democratic Party insiders had expected to see in the race, and Wiener was one of the first legislative candidates to declare victory on Tuesday night.

"I am just so grateful to the voters for seeing my work for the community and trusting in me to represent them in the Legislature," Wiener, who gathered with his campaign team at a private residence in Russian Hill Tuesday night, told the B.A.R. shortly after San Francisco posted its first returns before 9 p.m.

Fielder conceded the race Tuesday night shortly after 11 p.m. when additional returns were posted showing the vote split had remained the same.

"We have so far won 127,000 of votes. It's not enough, but we worked damn hard for every single one, and we're proud of every single one," stated Fielder, who had joined with her supporters at a food truck park in the city's Mission Bay neighborhood Tuesday night.

In the South Bay Lee declared victory on Twitter Tuesday night in his race for the open Assembly District 25 seat that includes parts of Alameda and Santa Clara counties. He easily bested Republican Bob Brunton 73% to 26.9% to succeed Assemblyman Kansen Chu (D-San Jose) in the heavily Democratic district, according to the unofficial returns.

At 25 years old, the Democratic legislative policy adviser who lives in San Jose will be the youngest state lawmaker since 1938 when he is sworn into office Monday, December 7. He will also be the first state legislator from Generation Z.

"I am deeply, deeply grateful for my community for electing me to the state Assembly," Lee told the B.A.R. "It is going to be really amazing to represent my hometown."

Along the Central Coast in the race for the open 17th Senate District seat, Santa Cruz resident Laird easily defeated Republican businesswoman Vicki Nohis 68% to 32%, based on the unofficial returns, to return to the Legislature.

"After last night's vote count was completed, I am leading in all four counties with 68% of the vote — with a lead of over 130,000 votes. I said I wouldn't formally claim victory until all votes are counted — but it's clear what direction it's heading in," Laird posted on his Facebook page Wednesday morning. "Thank you to everyone who voted, the two thousand donors, everyone who put up a sign or endorsed during the twenty-two months (!) of campaigning. We have a lot of work to do on urgent issues, and I'm looking forward to getting to work on December 7."

Out in San Joaquin County Eggman was leading her GOP opponent, Jim Ridenour, in their contest to succeed termed out lesbian state Senator Cathleen Galgiani (D-Stockton). Eggman was ahead with 58.6% of the vote compared to Ridenour's 41.4%, according to the unofficial returns Wednesday, with just 31.2% of precincts in the race reporting results.

Should Medina defeat her Republican opponent, Rosilicie Ochoa Bogh, she would be the first person who identifies as queer and the first out lawmaker from San Bernardino County serving in the Legislature. As of Wednesday morning, Medina was in a statistical dead heat with Bogh at 50% of the vote, with Medina clinging to a lead of 141 votes.



In San Diego gay City Councilman Chris Ward was winning his bid to succeed gay Assemblyman Todd Gloria (D-San Diego) in the 78th Assembly District, as Gloria is poised to become the city's first out elected mayor. Ward was in first place with 57.5% of the vote, according to the unofficial returns Wednesday, while queer single mom and midwife Sarah Davis was in second with 42.5%.

Lesbian Senate President pro Tempore Toni Atkins (D-San Diego) easily defeated her GOP opponent, Linda Blankenship, 67.5% to 32.5% to win reelection to her 39th Senate District seat.

In Riverside County, lesbian Assemblywoman Sabrina Cervantes (D-Corona), was ahead in her reelection bid for the 60th Assembly District seat. Cervantes was defeating her gay Republican opponent, peace officer Chris Raahauge, 56.5% to 43.5%, according to the unofficial results.

And gay Assemblyman Evan Low (D-Campbell) easily won reelection to his 28th Assembly District seat in Silicon Valley. He was in first with 74.4% of the vote against his GOP opponent, Carlos Rafael Cruz, who had 25.6%, according to the unofficial returns.

Falling short Tuesday was gay Mission Viejo businessman Scott Rhinehart in the race for the open 73rd Assembly District seat in Orange County. He took second place with 42.7% of the vote against the winner, Republican Laurie Davies, who was in first place with 57.3% of the unofficial vote.

He had faced steep odds in trying to flip the currently GOP-held seat, even though the incumbent, Assemblyman William Brough (R-Dana Point), who was accused of inappropriate behavior by four women, was defeated in the March primary.

Other races
In the suburbs northeast of Sacramento, lesbian businesswoman and senior advocate Jackie Smith, who used to live in San Jose, lost her second bid to unseat Assemblyman Kevin Kiley (R-Granite Bay) from his 6th Assembly District seat. He took first place with 54.2% of the vote compared to Smith's 45.8% based on the unofficial returns.

And in Los Angeles, gay Koreatown resident Godfrey Santos Plata (D), an educator who emigrated as a child from the Philippines, fell short in his bid to unseat Assemblyman Miguel Santiago (D-Los Angeles) in the 53rd Assembly District. According to the unofficial returns, Santiago took first place with 56.7% of the vote and Plata garnered 43.3%.

"I'm thrilled because we ran to change systems working against us & here we are: showing up strong, against the odds," Plata wrote on Twitter Wednesday morning. "We'll post more as we know more. But all I want to do is keep building power w/ you all — whether it's from the Assembly or not, I believe that we will win."

In San Francisco bisexual escort Starchild, a Libertarian whose write-in votes in the March primary allowed him to be on Tuesday's ballot against Assemblyman David Chiu (D-San Francisco), netted 10.1% of the vote. Chiu easily secured a fourth term with 89.9% of the vote.

In the city's other Assembly race for the 19th District Seat, Assemblyman Phil Ting (D-San Francisco) handily defeated Republican John P. McDonnell in his reelection bid. Ting, who in the summer acknowledged he had had an extramarital affair after a conservative online news site broke the news, took first place with 78.6% of the vote and McDonnell netted 21.4%, based on the unofficial returns.

Help keep the Bay Area Reporter going in these tough times. To support local, independent, LGBTQ journalism, consider becoming a BAR member.
Comments on Facebook