Sign coming to Oakland street named for Ride
Wednesday Oct 28, 2020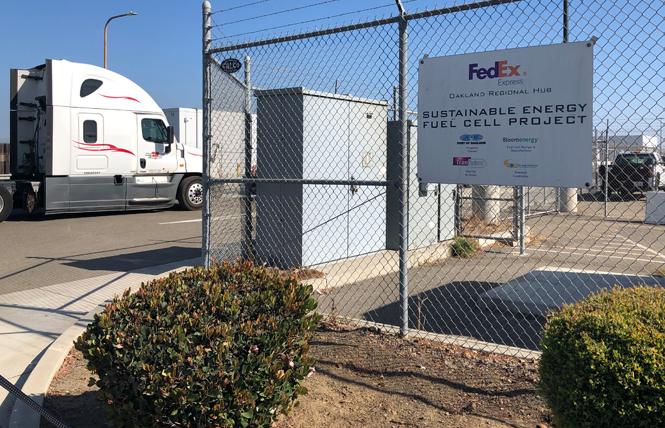 At its August 16, 1988 meeting, the Oakland Port Commission named a newly constructed road connecting the Federal Express Metroplex and Port Building M-132 to the main cargo access roadway in the Oakland International Airport as Sally Ride Way.

Minutes of the meeting note that the port has a tradition of naming its South Airport streets after American astronauts and that Ride had consented to being honored in such a manner. She was the first American woman in space when she made her historic voyage aboard the space shuttle Challenger in 1983.

After a long battle with pancreatic cancer, Ride died in 2012 at her San Diego home. She was 61. While she had a female partner of 27 years, Tam O'Shaughnessy, it was not publicly disclosed that Ride was a lesbian until the time of her death.

Sacramento and Herndon, Virginia also have streets named Sally Ride Way. As for there being a roadway in Oakland named after her, it is not widely known today.

Nor is there any street signage informing the public that Sally Ride Way exists. When a reporter visited the port roadway recently, there was nothing there indicating it was named after the famous space voyager.

Unlike when built, the road is no longer readily accessible to the public. Fifteen years ago FedEx announced plans to expand its footprint at the Oakland airport, one of its regional hubs around the country, due to increased trade with China and other Asian countries.

Today, much of Sally Ride Way is within the secured area for FedEx's facilities. A small portion remains outside the gated complex but serves as a de facto driveway where trucks stop at a security checkpoint before being let through the gates.

Across the street truck drivers park their cabs while waiting to pick up their freight. A few feet away on Air Cargo Way sits the airport control tower for the south field runway.

Oakland resident Michael Colbruno, a gay man who joined the Port Commission in 2013, told the Bay Area Reporter that no one had flagged for the oversight body that the signage for Sally Ride Way was missing until being contacted Monday, October 26, for this story.

"It's never come up. We can take care of that, that is an easy one," said Colbruno, adding that he would immediately contact the port's operations manager about the missing sign.

A few hours later while being interviewed for this story, the port's communications manager Robert Bernardo received an email that the sign had been ordered. The new signage and pole to hang it on costs $250 to produce and should be installed by mid-November.

"The street obviously exists. Sally Ride Way does exist and it is incorporated into the FedEx lease hold," said Bernardo, a gay man who formerly was an elected member of the San Mateo County Harbor Commission. "Yeah, we need to find out why there is no sign."

At its January 4, 2000 meeting the Port Commission had approved a new lease with FedEx that gave it the right of first refusal to expand on the then vacant land surrounding Sally Ride Way. Ever since, the roadway has been considered under the domain of the global shipping company, explained Bernardo.

"It is technically FedEx property," he said.

FedEx's corporate media relations department did not respond to the B.A.R.'s request for comment for this story. But a 26-year employee at the Oakland port facility, who declined to give her name to a reporter, recalled there being a Sally Ride Way street sign at some point.

When FedEx expanded its footprint in the area, it built a new secured entrance into the facility for both truck drivers and employees. The staff now enters through a separate building where they and their bags can be screened.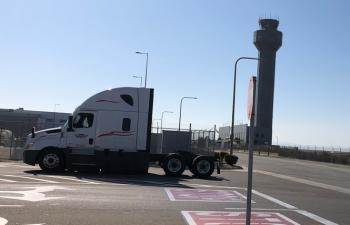 There is a small parking lot in front of it with a few spaces for visitors. While there is no visible signage on the building signifying it is located on Sally Ride Way, printed social distancing protocol memos posted on the doors at the two entrances into the building do note the facility's address is 1 Sally Ride Way.

While it was easy to find the roadway using Google Maps, the FedEx employee said it can be difficult to get Uber drivers to pick her and her colleagues up at the site if they need a ride home.

"If you catch an Uber, they don't know where Sally Ride Way is. I don't know why that is," she said.

The Oakland airport also has roads named in honor of two other deceased female aviators — Bessie Coleman, the first Black and Native American woman to hold a pilot's license, and Amelia Earhart, who landed there on May 21, 1937, after a 19-hour flight from Hawaii — and for the late astronauts John Glenn, Neil Armstrong, and Alan Shepard.

In 2018, the B.A.R. editorialized that the Oakland airport should be named after lesbian novelist, poet, playwright, and critic Gertrude Stein, who grew up in the East Bay city. Colbruno said the port commission had discussed renaming the airport after a historic figure but had tabled the idea, as it didn't want to get into a divisive debate about who the person should be.

"It gets very complicated," he said. "The staff felt we should keep it Oakland International Airport so we don't get into these battles, so we dropped it."

As for the signage for Sally Ride Way, the port's Bernardo told the B.A.R. none of the maritime facility's staff knows when it went missing. Nor could he find any records of it other than the resolution adopting the name for what had been a cul-de-sac off an access road that runs between the Oakland airport's two runways.

"No one has any pictures of it," said Bernardo, adding, "Rest assured, in a couple weeks, you are going to see a brand new sign."

Help keep the Bay Area Reporter going in these tough times. To support local, independent, LGBTQ journalism, consider becoming a BAR member.
Comments on Facebook