Upper Market dognapping has happy ending
Tuesday Oct 27, 2020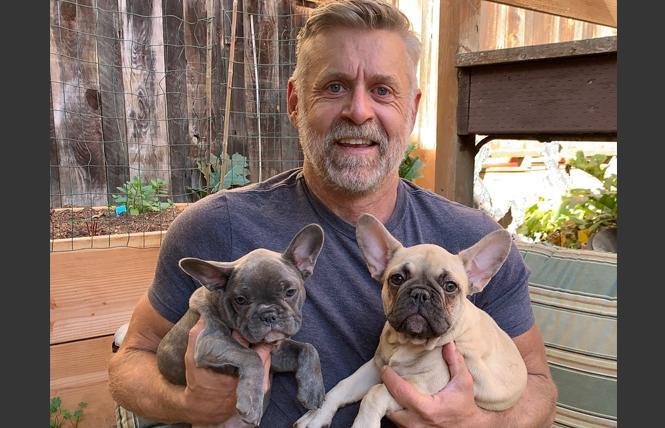 When Doug Roenicke returned to his Upper Market home on the afternoon of October 17, he was shocked to find that two of his 10-week-old French Bulldog puppies were missing.
Roenicke, 57, a retired corporate human resources executive who breeds, trains, and does volunteer work with dogs, thought they might've slipped out of the pen he left them in that morning.
But when the puppies were nowhere to be found, Roenicke noticed that the kitchen window was wide open and presumed someone climbed into his apartment and left with the dogs.
When he found a shirt and a glass drug pipe in the dog pen, Roenicke thought the clues added up to a scary scenario: the alleged thief had probably already sold the dogs. French bulldogs are frequent targets for dognappers, said Roenicke, because they often cost $4,000 or more for a puppy.
"People have broken into cars to steal them," said Roenicke, a gay man who has lived in San Francisco almost two decades.
"I told myself that I could not panic," Roenicke said in a recent interview in the Castro. When asked how he was able to remain calm, Roenicke recalled the time in December 1986 when he was diagnosed with HIV.
"I knew then and I knew now that I had to stay calm. I wanted to be of maximum usefulness in locating the puppies," he said.
Roenicke immediately planned a search for the nine-pound pups, which culminated in the arrest of a suspect.
"I'd helped with dog searches before so I pretty much knew what I had to do," he said. "There is almost a formula to locate lost animals: call the police, call animal care and control, print and distribute flyers, and get as many people as possible on the ground looking for the puppies. Also of course, jump on social media and start posting right away."
The suspect, or suspects, didn't bother to steal the four other dogs in the house or Roenicke's valuables, including money and electronics.
"I think it was a crime of opportunity," Roenicke theorized. "They walked by the open window and decided what they could grab quickly were cute puppies and could get $100, which would be enough to get high for the day."
The search
With a wide circle of friends and acquaintances in the Bay Area, as well as an extended family of people who have purchased the Frenchies he had bred in recent years, dozens of people walked the streets of the Castro and the Mission, posting over 400 fliers and asking people to be on the alert.
The story went viral on social media and after write-ups on Nextdoor and TV news stories about the missing puppies, the effort to find the dogs quickly multiplied.
"We asked people to be on the alert for something unusual, for example someone with a couple puppies who looked like he might not be able to take care of himself, let alone two puppies," he said.
Friends and relatives of people who had previously bought Roenicke's dogs drove to San Francisco to hep with the search, Roenicke said.
"Before I did anything else, I called the two people who had already purchased Indigo and Lila so they didn't hear about this first on the news," said Roenicke.
After a sleepless night, Roenicke was up early on Sunday to set up a search command post to "keep all the channels open" for information on sightings as well as updates to keep the story alive in the news.
A promising lead came from someone who worked at the 7-Eleven at 18th and Noe streets, Roenicke said. According to the employee, a man tried selling him the puppies, for $500 each, referring to them as "pit bulls."
"A sighting — any sighting — is encouraging," said Roenicke. "It meant the puppies were probably still in town."
Roenicke's niece, who lives in Redding, joined the search by making calls to homeless shelters and smoke shops, hoping someone might remember someone trying to sell a pair of puppies.
Miraculously, a clerk in a smoke shop overheard a customer trying to sell some puppies, which led to a tip that the puppies might be with someone who was living at the homeless encampment at 18th and Mission streets.
Roenicke went down there quietly asking around if anyone had seen his puppies. "I told them how scared I was" about the theft, he said, an attitude that drew sympathy from a number of people.
Back at home, Roenicke got a call from a woman who said she bought one of the pups for her daughters, unaware that the dogs might have been stolen. "She wanted to do the right thing," said Roenicke, returning the puppy immediately. Roenicke, in return, promised the woman he'd find the family a French bulldog through appropriate channels. He is setting up a GoFundMe campaign for the people who want a dog.
With one dog back home, Roenicke "could hardly believe it" when he got a tip that a woman living at the 18th and Mission encampment "knew where the other puppy was located," he said.
Roenicke met with the woman. "I got down on my knees and begged her to help me find the puppy," said Roenicke. "We were both emotional."
The woman said she went to Richmond to retrieve the puppy and returned the dog to Roenicke, who gave her a $400 reward.
Arrest made
About the time the dogs were returned to Roenicke, the San Francisco Police Department arrested Francisco Zaragoza, address unknown, and charged him with four felonies for grand theft and possession of stolen property as well as two misdemeanors for providing false information to peace officers and possession of drug paraphernalia.
According to Assistant District Attorney Alex Bastian, Zaragoza pleaded not guilty October 21 and was released on assertive case management. He is expected back in court November 4 for a pre-hearing conference.
A spokeswoman for the public defender's office, Valerie Ibarra, said Zaragoza is being represented by an attorney from that office.
In a statement, Deputy Public Defender Brian Pearlman, who is representing Zaragoza, said, "There was no premeditation in this case. Mr. Zaragoza was not in a clear state of mind when he wandered into the dog breeder's yard via the garden gate. Two of the puppies followed him when he left, and were seen following Mr. Zaragoza down the street. Strangers later approached Mr. Zaragoza and offered to buy the dogs, which were both returned to the breeder unharmed."
According to the public defender's office, the police report noted there was no evidence that Zaragoza had entered the home through the window, but rather through a gate in the yard.
In a prepared statement, the police said that while an arrest has been made, the investigation is still open. Anyone with information is asked to call the SFPD 24-hour tip line at 415-575-4444 or text a tip to TIP411 and begin your text message with SFPD. You may remain anonymous.
With the dogs back home, Roenicke is philosophical about the experience.
"I am so grateful and humbled by all of the love and support from so many people — literally hundreds of friends, acquaintances, and even strangers," he said. "People got involved, took action, and were praying and cheering on our behalf. And it worked."
Updated, 10/27/20: This article has been updated with a comment from Mr. Zaragoza's attorney.
Help keep the Bay Area Reporter going in these tough times. To support local, independent, LGBTQ journalism, consider becoming a BAR member.
Comments on Facebook