Political Notes: Out candidates seek Berkeley rent board seats
Monday Oct 26, 2020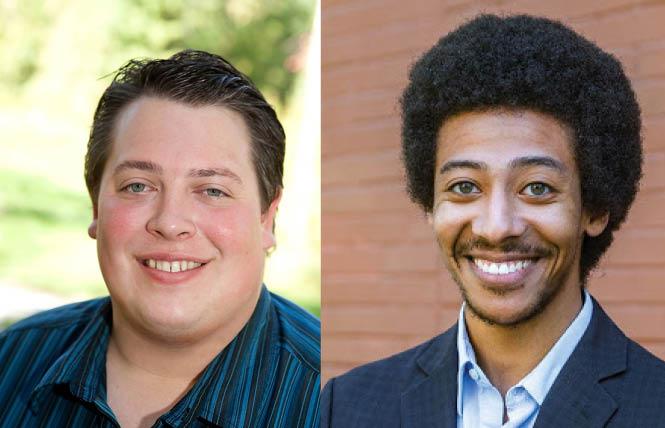 Two out candidates are seeking seats on the Berkeley rent board, one of two such oversight bodies in California whose members are elected. Should they win their contest on the November 3 ballot, they would bring the number of LGBTQ community members mediating rental disputes in the East Bay city to three.
Xavier Johnson, who is queer, and Andy Kelley, who is gay, are part of the five-person progressive Right to Housing slate running for the five seats up for election this year on what is formally known as the Rent Stabilization Board. Both are renters, and this is their first time seeking public office.
Johnson, 29, is a tenants' rights attorney at Centro Legal de la Raza and mostly handles cases in the city of Oakland. His family moved all over the South and East Coast when he was a child, eventually settling in Texas, where he graduated from the University of Texas at San Antonio with a sociology degree in 2013.
He graduated from the UC Berkeley School of Law in 2016 and worked for two years as a congressional aide in the district office of Congresswoman Barbara Lee (D-Oakland). He then went to work at the legal services agency and passed his bar exam earlier this year to become a licensed attorney.
Since his job doesn't present a conflict of interest for his serving on the rent board, as he doesn't handle cases before the body, Johnson decided to seek a seat on it this year.
"The rent board is extremely important because one, it protects against illegal rent increases, and two, it also helps renters get good conditions in their apartment," Johnson told the Bay Area Reporter during a recent phone interview. "You can contest for repairs your property owner has not done."
Kelley, 34, grew up in Arroya Grande near Pismo Beach on the Central Coast and has lived in Berkeley for 15 years. A 2010 graduate of UC Berkeley, where he earned a political economics degree, Kelley currently serves on the Alameda County Planning Commission.
He is also an elected member of the Alameda County Democratic Central Committee on which he serves as vice chair. But he will be transitioning off the local party's governing board at the end of the year having come up short in his reelection bid in the March primary.
Campaigning in a pandemic
Running for municipal office has been quite different than his past bids for the political party post, Kelley told the B.A.R. in a recent phone interview. And having to do so during a health pandemic that requires curtailing nearly all in-person campaigning has presented unique obstacles, he noted.
"I thought I knew what it was like to run for office but D-trip was a very different experience," said Kelley, using a nickname for the party committee. "One common sense example is there are non-Democrats who can vote in this race. It is a whole other voter universe."
Having been a part of numerous campaigns on behalf of Democratic candidates over the years, Kelley said the grassroots tactics he is used to, like walking precincts and holding rallies, have had to be jettisoned because of the health crisis. In their place are more expensive methods of reaching voters, like mail pieces and digital advertising.
"Like all other candidates, I've never run in a pandemic before," he said. "The tactics I am used to using in the field — knocking on doors, having events, shaking hands, and being around people and groups — all those things are really diminished in this type of campaign."
Another obstacle for him and his fellow slate members, including incumbents Leah Simon-Weisberg and Mari Mendonca, is the fact that the UC Berkeley campus is largely shut down, with most students taking classes remotely from their hometowns. It is a vast voting pool of tens of thousands of people who largely rent apartments in Berkeley and normally would be supporters of the pro-renter team of candidates.
"There are 40,000 students at Cal and they vote. That is the big concern," said Kelley, a former communications director for the California League of Conservation Voters. "The rent board race is usually hard to get a lot of eyes on, which is unfortunate as we have a great impact. We have a greater impact on the average Berkeley renter than the City Council does."
Not only does the rent board set how much landlords can raise rents each year on rent-controlled units, it also mediates disputes between tenants and their landlords. It also oversees a major city department and employs its own lobbyist who can impact legislation not only at Berkeley City Hall but also in the Statehouse in Sacramento. The rent board members will be hiring a new executive director, as Jay Kelekian retired this summer after being in the job for 18 years.
Most of the people currently serving on the Berkeley's rent board are renters, said Kelley, and all nine members are considered to be pro-tenant. This year's election, with a majority of the body's seats up for grabs, coming during a pandemic has given real estate industry groups an opportunity to claw back control on the rent board.
Those interests have already spent $135,000 on the race, with $107,000 coming from the National Association of Realtors. The rest has come from the California Rental Housing Association, a lobbyist group for property owners.
Helping tenants, small property owners
Johnson and Kelley both said they not only support granting rent forgiveness to tenants whose incomes have been impacted by COVID-19 but also favor support for small property owners who are struggling to pay their mortgages because they have lost rental income from tenants unable to pay or who have moved out.
"It is crucial to protect tenants," said Kelley. "We don't want to have mass displacements when 1 in 5 people in Berkeley are unemployed right now. It would be devastating to the community."
Both Berkeley and the state of California have adopted measures protecting tenants from being evicted into next year if they have lost wages or income due to the health crisis. If elected, Johnson and Kelley told the B.A.R. they would use their position to advocate for more relief for both renters and small property owners.
"The biggest issue is people who have lost income from COVID-19," said Johnson. "We have a rental eviction moratorium in effect, but people will still have to pay back the rent they owe. People are already moving back in with their families. We are losing a lot of people in our Berkeley community because that debt obligation is something people fear and don't want to navigate."
Johnson, who is polyamorous and has multiple partners, also aims to be a voice for the polyamorous community on the rent board. One issue he wants to address is allowing multiple-person partnerships to be able to add people to a rental lease as easily as a married couple is allowed to do.
"That right exists for married couples. They can add their spouse to the lease," he noted.
The other city with an elected rent board is Santa Monica and the current out member of the Berkeley panel is James Chang, a gay man whose term is up in 2022.
Keep abreast of the latest LGBTQ political news by following the Political Notebook on Twitter @ http://twitter.com/politicalnotes
Got a tip on LGBTQ politics? Call Matthew S. Bajko at (415) 829-8836 or e-mail m.bajko@ebar.com
Help keep the Bay Area Reporter going in these tough times. To support local, independent, LGBTQ journalism, consider becoming a BAR member.
Comments on Facebook