Preston supports Red Vic collective in tenant dispute
Wednesday Oct 14, 2020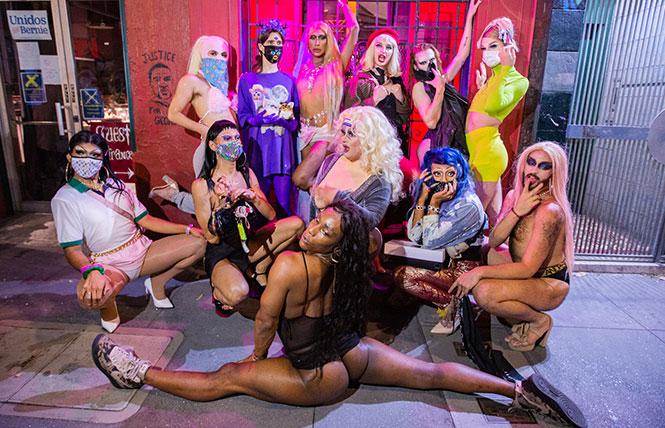 A collective of queer and trans people who put on an in-person weekly drag show from the former hotel on Haight Street where they reside fear eviction after they received a notice from their landlords.
Supervisor Dean Preston, a tenants rights advocate, told the Bay Area Reporter that he stands with collective members.
Members of the Fishbowl Collective have been subleasing the former home of the Red Victorian Hotel at 1665 Haight Street for some months. The members started living there at different times, with most arriving in August.
The hotel stopped operations in March due to the pandemic.
"We are being represented by a lawyer who specializes in tenant-landlord disputes," Adam Rice, a trans man who is part of the collective and originally hails from Texas, told the B.A.R. in a recent Zoom call.
"I'd say there was a more focused effort to get us to vacate the building this past month. Since we have started working with legal counsel it's been kind of difficult to tell what's going on, frankly, but there is a definite sense of things having slowed down. There's not as much fear and urgency we are facing, but we are still experiencing uncertainty."
The collective's attorney, James Millar, said that his clients have been served with "what is purporting to be a termination notice" but that an unlawful detainer lawsuit has not been filed.
"That's the gist of the problem — it was never clearly delineated what the status was, but long-term occupancy plus some amount of payments equals tenancy; in this case, subtenancy," Millar said.
In an email Tuesday night, Preston stated he's proud to stand with the Red Vic tenants.
"No one should be worried about losing their homes right now, and that is especially true for queer artists and activists who are very much part of the fabric of the Upper Haight and the artist community at large in San Francisco," he added.
A long-term resident of the building, who is disabled, and the six trans, queer, and gender-nonconforming tenants have started a GoFundMe, where they have raised $16,512 out of a $100,000 goal as of the afternoon of October 14. They want to reimagine the space as housing for Black, Indigenous, queer, and trans people of color.
The building is owned by the Peaceful World Foundation, which has not responded to a B.A.R. request for comment.
"We are in a relationship with leaseholders who we have an agreement with," Michael Thurin, a genderqueer femme performance artist from the East Bay who now lives at the Red Vic, told the B.A.R. during the Zoom meeting. "The leaseholders seem to be making agreements in a casual, conversational way and we are affected by those decisions."
The tenants' agreement is with the hotel.
The leaseholder is the Red Victorian Hotel, which is seeking to terminate its lease of the building. District Commons, a nonprofit, owns the Red Victorian Hotel. It did not respond to a request for comment as of press time.
Bussy Dad, a nonbinary trans woman, is originally from Missouri.
"I'm unemployed and homeless because of COVID's impact so I would have no place to go," Dad wrote to the B.A.R. "My only family is myself and the people I live with at the Red Victorian!"
Dad and other collective members put on a weekly drag show from the building on Saturdays at 8 p.m., which have drawn crowds and media attention.
"Art is the easiest way to work through pain and trauma without actually thinking about the triggers," Dad wrote. "It allows for trans and [gender-nonconforming people and Black and Indigenous people of color] to feel beautiful and real in a world that demonizes and dehumanizes us."
Puma Carpio, a gender-nonconforming Latinx person from San Francisco, told the B.A.R. during the Zoom meeting that they have "worked with different housing cooperatives in the past" and hopes to help the collective stay.
"I joined Fishbowl at the beginning of August and started to do the shows," Carpio said. "I jumped on the team to help with getting connections to different organizations."
Several members of the collective said living in a community with people like themselves has made life much easier in a tumultuous year.
Gia Régalado, a trans woman, also performs in the shows and is part of the collective.
"I was displaced from my home due to COVID," Régalado said. "I'm here to help with outreach and [public relations]. This is a place for me to heal, to be housed. It is a sanctuary and a safe space for me — and to do that [heal] with like-minded people, a support system and to be safe from the craziness of the world."
Régalado is "now able to go through hormone replacement therapy."
"I'm finally becoming the person I always dreamed of," Régalado stated.
Michael Borel, a genderqueer trans person, ran Red Victorian hotel operations for much of the last three years and stayed at the building occasionally during that time.
"I have a potent spiritual connection with the place," Borel said. "We had so many strange, wonderful experiences and we are trying to make art blossom."
Updated, 10/27/20: This article was corrected to indicate the leaseholder of the Red Victorian.
Help keep the Bay Area Reporter going in these tough times. To support local, independent, LGBTQ journalism, consider becoming a BAR member.
Comments on Facebook