Political Notebook: Supe candidates pledge to protect SF's queer cultural patrimony
Wednesday Oct 14, 2020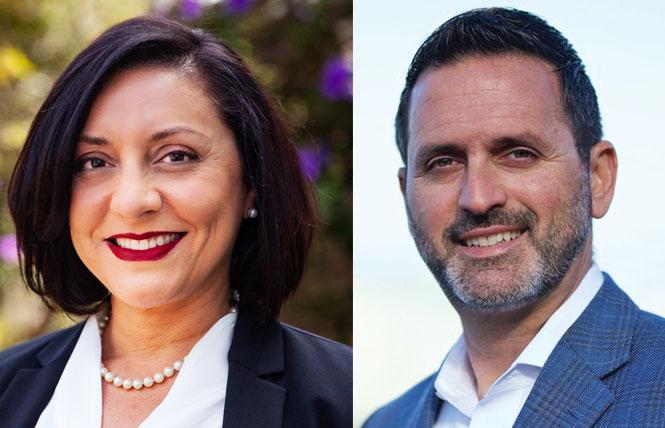 Maintaining San Francisco's LGBTQ community as a thriving, robust segment of the city has been a perennial concern for decades, and during LGBTQ History Month in October, preserving its rich legacy and historic sites receives even greater attention. As the Bay Area Reporter details in a front-page story this week, it has been five years since a city report listed dozens of potential LGBTQ sites worthy of being landmarked yet only one has received such a designation.
For the past several elections featuring races for seats on the Board of Supervisors, the B.A.R. has asked candidates what they would do if elected to protect and strengthen the city's queer cultural patrimony, particularly in the historic LGBTQ neighborhoods of the Castro, Tenderloin, and South of Market. The question was put again to the candidates in the races this fall for odd-numbered seats on the 11-member board.
Fifteen candidates turned in the B.A.R.'s questionnaire. None mentioned by name San Francisco's groundbreaking LGBTQ+ Cultural Heritage Strategy, a draft version of which was first released in 2018, or pledged to ensure its myriad ideas for preserving and strengthening San Francisco's LGBTQ community were enacted.
Nonetheless, most of the ideas they brought up can be found in the document, which has yet to be finalized by city officials. And all said they would defer to the leadership of the board's lone LGBTQ representative, gay Supervisor Rafael Mandelman, when it came to addressing the issues in the Castro since it is part of his District 8.
District 3 Supervisor Aaron Peskin, who is seeking reelection, noted he has already worked in tandem with Mandelman on various issues affecting the Castro as he has faced similar concerns in North Beach, once home to many LGBTQ establishments and residents that of late has seen its Italian identity be eroded due to business closures.
"We worked together on the Storefront Vacancy Tax and have had more recent conversations about how to focus efforts to secure space for LGBTQ-owned and Black-owned businesses in the Castro," said Peskin, referring to a ballot measure voters passed in March that the supervisors deferred instituting until 2022 due to the health crisis.
Nonprofit executive Danny Sauter said if he were elected to the District 3 seat, he would work closely with District 6 Supervisor Matt Haney since their districts border each other and include portions of the Tenderloin and Polk Gulch, which was home to a thriving LGBTQ commercial corridor for decades. He also would partner with Mandelman to make it easier to open small businesses in the Castro and target more city grant programs toward LGBTQ+ agencies and businesses.
In the open District 7 race to represent the neighborhoods west of Twin Peaks, as Supervisor and board President Norman Yee is termed out, former planning commissioner Myrna Melgar, the mother of a lesbian daughter, said she would work with both Mandelman and Haney to support "efforts to prevent the destruction of historical sites, ensure adequate mitigation through community benefits that support and expand the preservation and celebration of history and cultural identity and support the stabilization of the lives of residents, prevent evictions and create affordable and supportive housing."
Joel Engardio, a gay married man and former journalist mounting his third bid for the seat, called for assisting LGBTQ entertainment venues like bars and clubs to remain open and providing "entrepreneurs the freedom to create queer spaces in other, more inclusive types of business that aren't oriented towards alcohol."
He also said the city needs to do a better job of addressing its lack of affordable housing.
"Stopping displacement can only happen when you do the work of making a city truly affordable," said Engardio," and that happens when the city meets its housing needs and there are enough quality jobs for residents."
Deputy Public Defender Vilaska Nguyen, brother to a transgender sister, called for building more social housing to "end the outmigration of our city's queer community." He also said he would fight for city funding for the LGBTQ cultural districts the city has recognized in the Castro, Tenderloin and SOMA.
"I will lead with trans issues because I know from my life experience how important that is," said Nguyen.
Former school board member Emily Murase, who oversaw the city's Department on the Status of Women, recommended holding regular, "results-oriented meetings" with stakeholders in the LGBTQ community "to determine the best path forward."
Republican Stephen Martin-Pinto, a city firefighter, was the lone person who questioned if the city needed to do anything to address preserving its LGBTQ cultural patrimony. He said his focus would be placed on reducing the permits needed and fees paid by businesses trying to open in the city.
"I'm not aware the queer identity of the Castro is in danger," said Martin-Pinto. "To me, the bigger concern is homelessness and vacant storefronts in the Castro."
The candidates in the open District 1 seat representing the Richmond district, as Supervisor Sandra Lee Fewer isn't seeking reelection, largely focused their responses on assisting LGBTQ-owned businesses.
Connie Chan, a former City Hall aide and spokeswoman for the parks department, told the B.A.R. she would direct city funding toward programs aimed at LGBTQ youth and to assist businesses seen as "the backbone" to maintaining the "queer identity" of the Castro.
"I will follow the lead of LGBTQ leaders to best support the Castro's queer identity," said Chan.
Marjan Philhour, who lost to Fewer in 2016, called for the city to provide grants to LGBTQ-owned businesses, similar to the programs it has in place for businesses owned by minorities and women.
"Small businesses are the economic and cultural backbone of any neighborhood, so it is especially important that we provide support to LGBTQ+ owned businesses and cultural spaces," she said.
Educator David Lee echoed that stance, telling the B.A.R. the city needs to "take steps" to preserve the queer identity of the city's LGBTQ cultural districts. But he was vague in how we would achieve doing so, other than to state the city needs to reduce the taxes and regulations it imposes on small businesses.
District 5 Supervisor Dean Preston, a democratic socialist, is facing a rematch against Vallie Brown, whom he ousted last November from the seat that covers the Haight, Fillmore, and Western Addition neighborhoods. He told the B.A.R. the city needs to increase its efforts to stop the displacement of marginalized communities, especially in its three LGBTQ cultural districts.
"We as a whole city have a responsibility to make sure that our city, which has been such a north star in the fight for LGBTQ justice, continues to be a safe haven for all," said Preston. "There is no room for pushing out our vibrant gay communities, though it is constantly under threat by speculators and landlords eager to sell to the highest bidder."
Brown pointed to her support last year for the legislation that created the Castro cultural district, as it borders District 5, and working with Mandelman to make it easier for businesses to open along upper Market Street within it. Like Preston, she said more affordable housing is needed to ensure LGBTQ residents can afford to remain in the city.
"We also need to make sure we're building housing at all levels of affordability, including in the Tenderloin and SOMA," said Brown. "Affordable housing prevents displacement and allows residents to age in place among their community, which is crucial to preserving neighborhood identity."
District 11 Supervisor Ahsha Safaí, who is seeking a second term representing the city's southeastern neighborhoods, noted his support for establishing the LGBTQ cultural districts. He echoed others in the need to assist small business owners and residents of the three neighborhoods.
Uniquely, he also called for appointing more LGBTQ people to city oversight panels so "they are given a stronger voice to bring about change to all San Francisco neighborhoods."
John Avalos, who is running to reclaim the D11 seat he was termed out of four years ago, called for "greater protection for tenants" and local merchants located within the city's cultural districts, one of which, SOMA Pilipinas: the Filipino Cultural Heritage District, is led by his partner, Raquel Redondiez. Small business owners should be extended grants before given low or zero interest loans, added Avalos.
"I also support the city identifying core services for every neighborhood and then seeking to get such services filled throughout the city," said Avalos, who noted his two teenage children identify as queer. "All too often, the city focuses on the big ticket, corporate extravaganzas like the America's Cup and NFL Superbowl fan complex, pulling vital resources from our commercial corridors and neighborhoods for tourist and billionaires."
Web Extra: For more queer political news, be sure to check http://www.ebar.com Monday mornings for Political Notes, the notebook's online companion. This week's column reported on West Hollywood poised to be the first city with a drag laureate.
Keep abreast of the latest LGBTQ political news by following the Political Notebook on Twitter @ http://twitter.com/politicalnotes
Got a tip on LGBTQ politics? Call Matthew S. Bajko at (415) 829-8836 or e-mail m.bajko@ebar.com
Help keep the Bay Area Reporter going in these tough times. To support local, independent, LGBTQ journalism, consider becoming a BAR member.
Comments on Facebook