49ers PRIDE celebrates National Coming Out Day Friday
Thursday Oct 8, 2020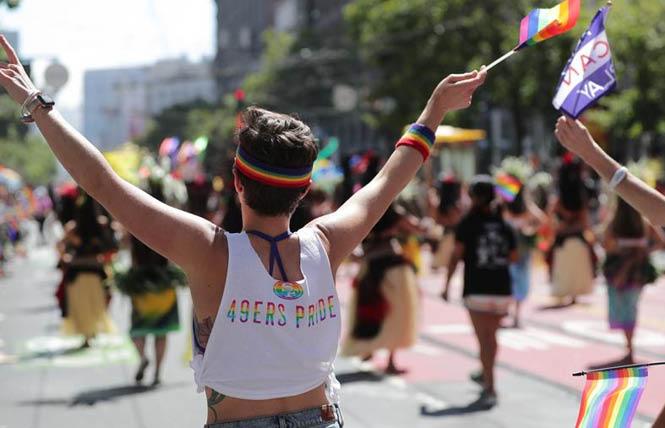 The San Francisco 49ers are 2-2 on the season, and they will roll out the rainbow flags Friday, October 9, with a live YouTube event to commemorate National Coming Out Day.
According to a news release, the event, from 7:30 to 9 p.m. is being held two days ahead of Coming Out Day (October 11) as the team will be facing the Miami Dolphins on Sunday.
"Whether you've just recently come out or have been out for awhile, we applaud your strength and bravery. We love all of the Faithful, so you be you, and the Red and Gold will always support you," the team stated, referring to its fans. "We hope that you'll join us for an evening hosted by DJ Cisco! The 90-minute musical set that will feature guest appearances from notable members of the 49ers team, front office, and fan base."
To join the event on the team's YouTube channel, RSVP here.
This year marks the 32nd anniversary of National Coming Out Day! It was launched on the anniversary of the National March on Washington for Lesbian and Gay Rights and aims to help LGBTQ people come out of the closet about their sexual orientation or gender identity.
National LGBTQ youth advocacy organization The Trevor Project produced "Coming Out: A Handbook for LGBTQ Young People" as a resource for ways LGBTQ young people can come out safely. It also includes primers on the basics of both gender identity and sexual orientation, topics students often are not taught about in school or by their parents.
According to the nonprofit, research it has conducted shows that LGBTQ youth face serious challenges in coming out. Its 2020 National Survey on LGBTQ Youth Mental Health found that six out of 10 LGBTQ youth had a person in their life try to make them change being LGBTQ, while one in three reported being physically threatened or harmed because of being LGBTQ.
Ahead of National Coming Out Day, Good Morning America Digital published a personal essay from ABC News Correspondent Alex Perez on his coming out story as a gay Black man. He recounted how he first knew he was different in the fifth grade but remained closeted for close to two decades.
The first person he told was his mom, and his doing so had an immediate impact on his mood and outlook on life, Perez wrote.
"And I somehow knew in that moment that even if no one else were ever to accept me for who I am, I had the acceptance of the person that mattered most in my life," recalled Perez. "As I started to peel away the thick cocoon I had built around my life, my mindset changed. What I once thought was my 'problem' I now realized wasn't a problem at all."
Sunday drag performers will be taking to the streets in San Francisco and Oakland to encourage people to register to vote before the October 19th deadline to do so in California. The Bay Area Drag Out The Vote ambassadors are part of a national effort featuring drag queens and kings to raise awareness about the November 3 election.
In San Francisco the ambassadors will be targeting the South of Market neighborhood, which historically has seen less voter participation than other areas of the city. They will be joining the pop up Sunday Streets by Livable City event from 11 a.m. to 4 p.m. on Folsom Street between 6th and 8th streets.
In Oakland, the drag ambassadors will be at Lake Merritt near The Pergola at Grand Ave and El Embarcadero. The day of activation is being organized by Michael Trung Nguyen, who goes by the stage name Juicy Liu in drag, and is one of a number of Bay Area-based drag performers who signed up to be ambassadors with Drag Out The Vote this fall.
"I was startled to hear that 1 in 5 LGBTQ+ people is not registered to vote, and that 100 million people overall did not vote in 2016," stated Nguyen, who also is chair of GAPA, an advocacy group for the queer and transgender API community. "National Coming Out Day is the perfect time for the LGBTQ community to come together and make sure our voices are heard on Election Day!"

Help keep the Bay Area Reporter going in these tough times. To support local, independent, LGBTQ journalism, consider becoming a BAR member.
Comments on Facebook