Surreal San Francisco skies
Wednesday Sep 9, 2020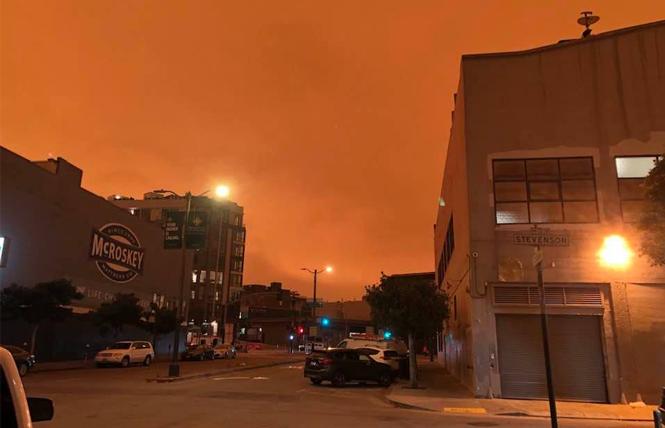 The scene outside the Bay Area Reporter newsroom Wednesday, September 9, was eerie and apocalyptic with the sun never rising. Fog blanketing the city, combined with smoke from the wildfires burning across Northern California and as far north as Oregon, created a dark orange sky.

The San Francisco Department of Emergency Management issued an alert Wednesday morning warning residents that, "Widespread haze from wildfires is causing darker skies that can be observed throughout the Bay Area."

The Bay Area Air Quality Management District issued a Spare The Air advisory for Wednesday and Thursday. The agency has declared a record 25 straight days where residents in the region have been ordered not to burn wood and asked to limit their vehicular trips.

"When you wake up and don't know whether it's morning or night, that can be just a little shocking," stated San Mateo County Supervisor David J. Canepa, a director for the air district. "I have to ask myself, 'are we literally going through a zombie apocalypse?' because that's what it feels like right now. The BAAQMD issued a Spare the Air alert for today and tomorrow so no one should be driving cars or burning wood or doing anything to put themselves or their neighbors at risk. Stay home and stay safe."





Mayor London Breed commented on the unusual scene on Twitter.

"I know people are concerned by the orange sky we all woke up to this morning. The cause is a combination of fog and smoke from wildfires up and down the West Coast," she wrote.

She also posted a video to her Facebook page explaining the cause behind the orange glow in the sky.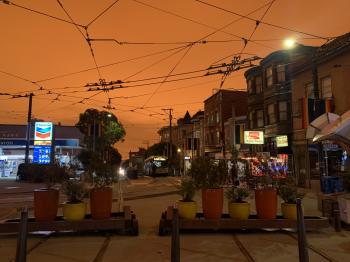 The Castro was also aglow Wednesday. Smoke has covered the city and the Bay Area for weeks following a rare lighting storm in mid-August that sparked several major fires to the north, east and south of San Francisco.

The Creek Fire burning in the Sierra National Forest east of Fresno had consumed 163,138 acres and was 0% contained as of Wednesday. But the three major fires that have been burning for the last two weeks in the Bay Area were near total containment.

The LNU Lightning Complex fire that had led to the evacuation of the LGBTQ resort area of Guerneville in Sonoma County and includes the Hennessey fire in Solano County, was 91% contained. It has engulfed 375,209 acres.

The SCU Lightning Complex Fire burning in Santa Clara and Stanislaus counties has consumed 396,624 acres and is 95% contained. And the CZU August Lightning Complex fire that has torn through 86,509 acres in the Santa Cruz Mountains was 83% contained as of Wednesday.

To check the air quality and the latest safety alerts from city officials, visit https://www.sf72.org.

Help keep the Bay Area Reporter going in these tough times. To support local, independent, LGBTQ journalism, consider becoming a BAR member.
Comments on Facebook