Efren Ramirez, beloved SF gay photographer, remembered
Wednesday Jul 29, 2020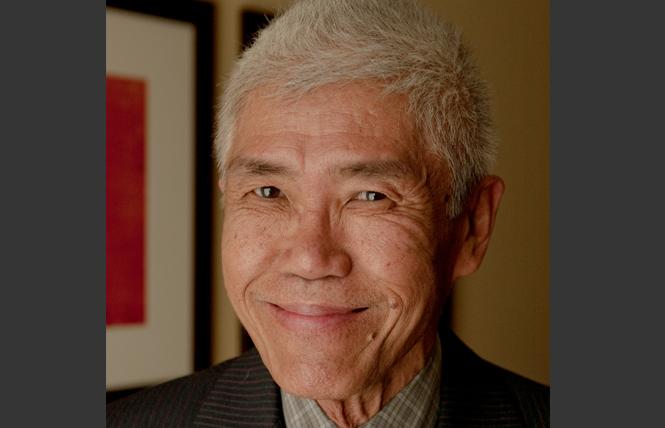 Efren Convento Ramirez, a gay man who was a photographer for the now-defunct San Francisco Sentinel newspaper, is being remembered several years after his death.
Mr. Ramirez died in Colorado Springs, Colorado, on January 22, 2017. He was 75. A cause of death was not provided.
He had an undying passion for creativity and participation in progressive social justice causes.
Mr. Ramirez was born in Cavite City, Philippines on July 30, 1941 to Jose Ramirez and Flaviana Convento. He had one older sister, Evangeline Ramirez, who married Dionisio Solomon. Mr. Ramirez is survived by his niece, Delma Solomon, and many grand nieces and nephews, as well as many chosen family members from his storied life.
Mr. Ramirez's birth dad joined the U.S. Navy and immigrated to the U.S. when Mr. Ramirez was a young boy (circa 1949). Father and son later reunited in the U.S. when Mr. Ramirez joined the U.S. Navy via an enlistment in the Philippines in the early 1960s.
Mr. Ramirez was a perennial scholar with credentials in photography and film, teaching and art, and art history.
He moved from Washington, D.C. to San Francisco in 1971 to be with the LGBTQ people that were migrating to the region then. He became a well-known and beloved figure in the LGBTQ community and worked as a photographer at the Sentinel, an LGBTQ paper. Mr. Ramirez was also a contributing photographer to numerous periodicals, including the Bay Area Reporter and Drummer.
In 1976, Mr. Ramirez received artist grants from the National Endowment for the Arts and the California Arts Council, which enabled the publishing of his elegant and seminal book about Bay Area LGBTQ life in the 1970s, "In Pursuit of Images."
With this author, Rink, Glenn Meisenheimer, and Sandy Graham, Mr. Ramirez co-founded the Gay Freedom Day Photo Archive. They did group exhibitions at art fairs and slide lectures throughout the Bay Area in the mid-1970s.
Mr. Ramirez was one of several people who followed Harvey Milk's career closely and was a significant contributor of archival material to numerous projects about Milk, most notably the Oscar-winning documentary "The Times of Harvey Milk," and, in 2009, the prestigious exhibition "Gay Icons" at the National Portrait Gallery in London.
By 2003, Mr. Ramirez moved to Colorado Springs, but sadly, lost much of his archive in the process of moving. In Colorado, he enjoyed a quieter life living with his close friend, Mervin Scott, and he worked as a substitute teacher in special education and as a college adjunct instructor in ancient art history. He volunteered in the adult literacy program of the region and enjoyed working as an actor in films and theater including Disney's "The Lone Ranger" and the local theatre company Off Broadmoor Productions.
Into his Colorado Springs years, though the remains of his lost photographic archive were scant, Mr. Ramirez continued to lend great support to numerous LGBTQ projects until his death.
There is a section devoted to his work in the now-archived LGBTQ history website called Uncle Donald's Castro Street.
Editor's note: If you liked this article, help out our freelancers and staff, and keep the B.A.R. going in these tough times. For info, visit our Indiegogo campaign. To donate, simply claim a perk!
Comments on Facebook