News Briefs: Bison cams now live at Golden Gate Park
Wednesday Jul 22, 2020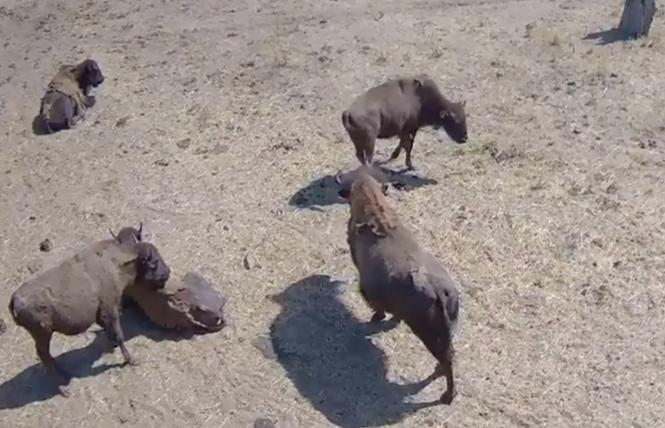 For the first time, fans of Golden Gate Park's resident bison can connect with the animals from home, thanks to two new live webcams in their paddock.

The San Francisco Recreation and Park Department noted in a news release that the bison cams offer a rare opportunity to observe the all-female herd as five longtime residents — Betsy, Bailey, Bellatrix, Buttercup, and Bambi — get to know their five young roommates, 1-year-olds acquired in March in honor of the park's 150th anniversary.

The bison cams can be viewed on the park's anniversary website — www.goldengatepark150.com/bison — where visitors of all ages can also explore the history of bison in the park and enjoy learning activities, listen to podcasts, and watch videos. People can also enjoy the park's other webcams, including penguins, stingrays, coral reef, and other sea life at the California Academy of Sciences.

"The bison paddock is one of the favorite destinations in the park and now we can open this amazing experience up to animal lovers regardless of location," Rec and Park general manager Phil Ginsburg stated.

The social herbivores can be seen grazing together, wallowing in the dirt, or, like many park visitors, simply resting on the grass.

Staff from the San Francisco Zoo cares for the bison herd, while Rec and Park gardeners maintain the enclosure. An emblem of the American west, bison had been driven nearly to extinction by the time the park's herd was established.

"Bison have been part of Golden Gate Park for more than a century and they help connect us to our storied past and represent our exciting future," Drew Becher, a gay man who is CEO of San Francisco Parks Alliance, stated in the release.

Changes coming to Church Street
The San Francisco Municipal Transportation Agency will hold a virtual community meeting Saturday, July 25, at 11 a.m. to discuss proposed transfer improvements for the J-Church Muni line between 15th Street and Duboce Avenue.

According to an email, Muni rail service is scheduled to resume in August to coincide with the likely reopening of more businesses and schools. As rail service is restored, SFMTA is planning to increase capacity on the subway by adjusting which train lines enter the tunnels.

The J-Church, along with the K-Ingleside and L-Taraval lines, will be taken out of the subway. These changes will get people through the subway more reliably and reduce delays that could increase risk of exposure to COVID-19.

SFMTA said that the J-Church transfer improvements project will keep the line out of the tunnel, allowing it to circulate more frequently.

Among the changes are that inbound and outbound boarding will occur on the existing Church Street boarding island between Market and 15th streets; Church Street between Market and 15th streets will be reserved for transit, taxis, local access, and commercial loading; the 22-Fillmore route will continue to run through this segment of Church Street with no changes.

For meeting details, go to https://www.sfmta.com/calendar/j-church-transfer-improvements-project-public-hearing-0

For more on the J-Church project, go to https://www.sfmta.com/projects/j-church-transfer-improvements

Alice club holds SF supe debates
The Alice B. Toklas LGBT Democratic Club will hold three virtual debates between candidates for San Francisco supervisor.

The series begins Thursday (July 23) with candidates for District 1 supervisor. Incumbent Sandra Lee Fewer is not seeking reelection, so the Richmond district seat is wide open. Participating candidates will be Connie Chan, David Lee, Marjan Philhour, and Veronica Shinzato.

Next up will be District 11 on Thursday, July 30. There, incumbent Supervisor Ahsha Safai will face off against challenger John Avalos, a former D 11 supervisor.

Finally, candidates for District 7 will square off Thursday, August 6. Current supervisor and board President Norman Yee is termed out of office. Candidates vying to represent Parkmerced, Sunnyside, Westwood Park, and the surrounding areas who are scheduled to appear are Joel Engardio, a gay man; Myrna Melgar; Emily Murase; and Vilaska Nguyen.

All of the events begin at 6 p.m. and will be broadcast over Zoom. A donation of $25 is suggested to watch all three forums. Registration is required for the Zoom links.

To sign up, go to https://bit.ly/2CRzV3g

SF mayor marks disability month
San Francisco Mayor London Breed has declared July as Disability Pride Month. It is also the 30th anniversary of the federal Americans with Disabilities Act.

"Disability Pride enables people with disabilities to redefine their identity with self-worth, serves as a tool to tackle ableism, bias, and discrimination, and reshapes false negative perceptions of individuals with disabilities as people with value, talents, and significance," the mayor's proclamation states.

On Sunday, July 26, City Hall will be lit up in blue to celebrate the ADA milestone anniversary.

"San Francisco is a key location in the history of the Disability Rights Movement, as the occupation of the Federal Building in San Francisco by disability rights activists in 1977 directly led to enactment of the groundbreaking Section 504 regulations that the ADA is based on," the Mayor's Office on Disability stated in an email.

Several events are scheduled as the month winds down, including a Disability Unite livestream and a webinar, both July 26. For more information, go to https://sf.gov/ada-30

District manager sought for Castro cultural district
The Castro LGBTQ Cultural District is preparing to hire its first manager and applications are now being accepted.

The district is one of three in San Francisco dedicated to the queer community; the others are the Transgender District in the Tenderloin and the Leather and LGBTQ Cultural District in the South of Market area.

In the Castro, the district has been electing board members this year and is now ready to hire a leader. According to an email, an experienced person is sought to help set the direction of the storied neighborhood. It is committed to leaving no one behind, particularly elders, youth, LGBTQ Black and Brown people, trans and nonbinary people, and queer women.

According to the job description posted on the San Francisco LGBT Community Center's workforce page, the salary for the full-time job is between $75,000 and $79,000.

For more information and to apply, visit https://bit.ly/3fQYhc4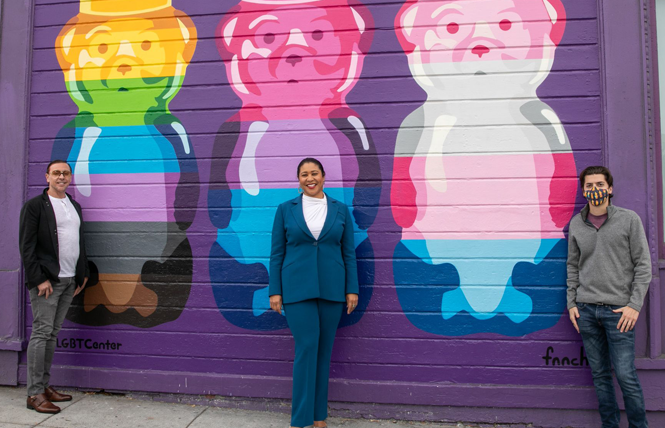 SF LGBT center seeks items for youth
The San Francisco LGBT Community center is seeking donations for queer youth.

According to an email sent to supporters, the most-needed items are: face masks, hand sanitizer, packaged snacks, and backpacks.

Those who can help out are asked to complete a form. (The center is currently closed due to the novel coronavirus pandemic.) Donated items will go to LGBTQ youth served by the center and by its partner agencies, the email stated.

Rainbow masks available
The Rainbow Community Center of Contra Costa County is making rainbow masks available for a donation.

According to its newsletter, people can email laura@rainbowcc.org with their request and a local mailing address.

The suggested donation is $25, inclusive of shipping costs. The center will also accept larger donations "in this time of much-needed affirmation and visibility," the email noted.

People can make their donations directly to PayPal at www.paypal.me/rainbowcc

Write in "Rainbow Mask" in the PayPal message for your donation. (You don't need PayPal to process payment.)

Editor's note: If you liked this article, help out our freelancers and staff, and keep the B.A.R. going in these tough times. For info, visit our Indiegogo campaign. To donate, simply claim a perk!
Comments on Facebook