Longest-held trans female asylum seeker in ICE custody released
Wednesday Jul 15, 2020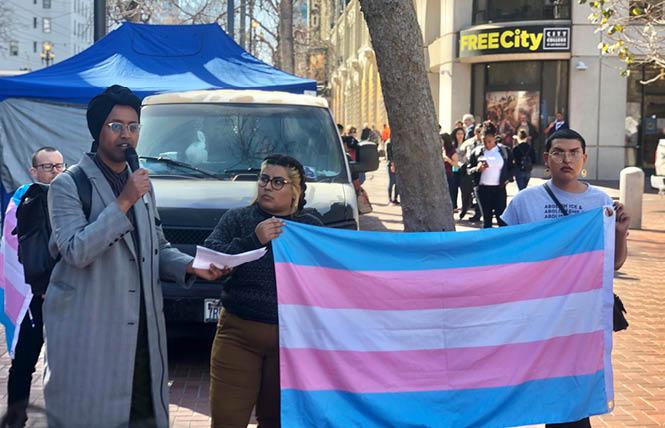 The longest-held transgender woman in Immigration and Customs Enforcement custody was released Tuesday.
According to the TransLatin@ Coalition, Kelly Gonzalez Aguilar has been released from Aurora Detention Center in Colorado after 1,051 days in custody.
"Thank you so much to ALL the people who have supported the #FreeKelly campaign. From signing the petitions, calling ICE, calling members of Congress, participating in weeks of action, writing letters to Kelly, creating events to show your solidarity, and so much more, THANK YOU FROM THE BOTTOM OF OUR HEARTS," a statement from the coalition reads.
"Kelly's release is a reminder that ICE could have released her at ANY point during the 1,051 days that she was stripped of her freedom. It is a reminder that ICE has the discretion to release ALL people from their custody, and that community organizing works! Since the campaign to #FreeKelly was launched, over 90,000 people joined us in demanding Kelly's release," the statement read. "We strongly believe ICE was forced to release Kelly, largely due to the community advocacy that was happening online, outside the detention center, and in their inboxes (offices)."
Gonzalez Aguilar's attorney, Tania Linares Garcia, said in a phone call with the Bay Area Reporter July 15 that she was released by order of ICE, which had power in its discretion to release her before.
"That's the problem: we had to undertake a national campaign — an international campaign — and it should not have taken that," Linares Garcia said. "It shouldn't take that when ICE could have released her for three years."
Linares Garcia said that Gonzalez Aguilar is happy to be out of custody.
"She is a little overwhelmed. It's been almost three years but she had a lot of the community rooting for her," Linares Garcia said, adding that Gonzalez Aguilar will be heading to live with her sponsors Jessica Lehman and Lehman's partner, Lee Staub.
The Oakland couple issued a joint statement to the B.A.R. Wednesday.
"We are so happy and relieved that Kelly is finally free," Staub and Lehman wrote. "We can't wait to welcome her into our home in the Bay Area. It is appalling that ICE kept her incarcerated for three years and especially during this deadly pandemic. It is time for all immigrants to be freed from detention."
As the B.A.R. previously reported, local trans leaders rallied in United Nations Plaza in February to show public support for releasing Gonzalez Aguilar. At that event Miché Pulido, policy director for the TransLatin@ Coalition, told protesters about Gonzalez Aguilar's journey.
She had experienced beatings and psychological abuse during her childhood in Honduras because she acted effeminate, Pulido said.
"She was clearly trans from an early age," Pulido said. "When she was 12, she ended up in Mexico, where she was a victim of sex trafficking and labor trafficking."
By the time she was 17, Gonzalez Aguilar had made it to the United States, where she was placed into custody — but then released, pending a hearing on her asylum claim.
"She found an attorney but they didn't let her know the important dates of her asylum case," Pulido said. "While it was pending, she was arrested and has not been released for two and a half years."
Gonzalez Aguilar, 23, was initially put in solitary confinement because she's a trans woman. She was transferred three times before she ended up in Aurora.
The rally led to the office of Senator Dianne Feinstein (D-California) committing to reaching out on behalf of Gonzalez Aguilar.
Lehman said in February that the office of Congresswoman Barbara Lee (D-Oakland) had inquired with ICE and that the office of Senator Kamala Harris (D-California) was working on the issue as well.
Harris' office told the B.A.R. June 18 that it couldn't confirm if it was working on the issue.
"Speaking generally, congressional offices are prohibited from publicly discussing constituent issues without written consent," a spokesperson wrote in an email to the B.A.R. "As I'm sure you can understand, it would be improper for any member of Congress to speak publicly about an individuals' personal matters without first obtaining their express permission to do so."
Feinstein's office told the B.A.R. Wednesday that it would send a statement if the senator makes one, which she had not done as of press time. The B.A.R. reached out to Lee's office Wednesday and did not hear back as of press time.
Mistreatment in custody alleged
Staub told the B.A.R. June 17 that he learned Gonzalez Aguilar was being mistreated in Aurora.
According to a sworn statement obtained by the B.A.R. that was translated from Spanish and filed June 22, Gonzalez Aguilar said that she was forced to fumigate with chemicals twice a day, ostensibly due to the COVID-19 pandemic, and that she began to have symptoms consistent with a physical reaction to them.
"The guards told me we had to use the spray because of the pandemic and that it is very toxic. My understanding is that we are using this spray to disinfect our pod, but I do not believe they gave us enough protection from this toxic substance," she wrote. "For about two weeks, I had to spray these chemicals twice a day. Most of the time, the guards did not give me gloves.
"During the week of June 8, I began to feel unexplained warmth, itchiness, and a burning sensation in various parts of my body. I noticed I had redness all over my body," she wrote. "Around Wednesday, June 10, my arms, legs and face became swollen and sore, and I began having nosebleeds. I have been sending medical requests since Friday, June 12, asking to see the doctor but my requests are always reviewed by a nurse who just sends me Tylenol. Another trans woman in my housing unit has been having similar symptoms."
Gonzalez Aguilar was told to continue spraying the chemicals in spite of these symptoms, which continued to escalate until she refused to do so on Saturday, June 13.
"For the last week or so, the guards have been making us spray a different chemical. The guards gave us a pair of goggles but no gloves. I am not sure how long this is going to last or whether they will start using the spray again," Gonzalez Aguilar wrote. "My symptoms are just now starting to go away, and I am afraid that if they start spraying different chemicals again, it will make me sick. I am also afraid that the new chemicals will make me sick, since last time it took a few weeks for me to react to the last chemicals."
Linares Garcia said that this matter is still pending in court but will probably now be dropped due to Gonzalez Aguilar's release.
"Kelly was very fortunate to have had a lot of people and organizations rooting for her and pushing for her release," Linares Garcia said. "But what's happening to her is happening to asylum seekers all over the country. ICE does have the discretion to release asylum seekers, and is choosing not to."
Editor's note: If you liked this article, help out our freelancers and staff, and keep the B.A.R. going in these tough times. For info, visit our Indiegogo campaign. To donate, simply claim a perk!
Comments on Facebook