LGBTQ Agenda: San Mateo bisexual teen explores social justice career paths
Monday Jul 13, 2020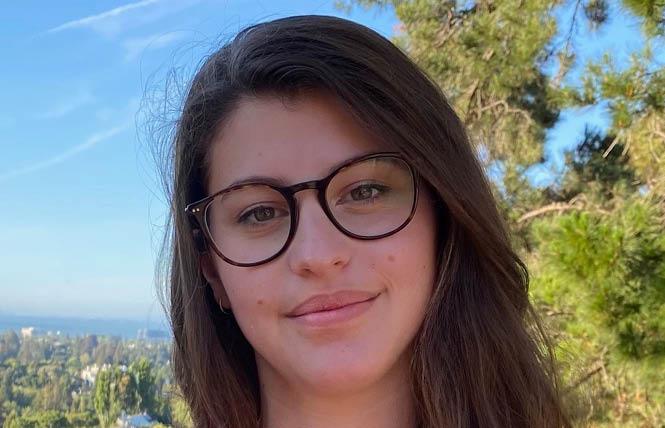 Ariela Leventhal started working as an intern for Congresswoman Jackie Speier (D-San Francisco/San Mateo) before she actually met her.
"One of the most interesting things about working with her staff was that they would tell us about the bills she stood up for, the tragedies she has gone through, and when I met her in person, she was shorter than me," Leventhal said in a Zoom interview with the Bay Area Reporter July 10. "I was expecting this larger-than-life person, but what I got to see was someone who always asked what was the best for the people in her district."
Speier, who has served in Congress since 2008, was shot and wounded when her boss at the time, Congressman Leo Ryan, was assassinated during the Jonestown massacre in 1978.
Leventhal, 17, said she does not know if she wants to become a politician like the 5 foot 4 inch Speier but said that "if I do go into politics that is 100% what I want to model."
Leventhal said that working for Speier gave her the opportunity to put together an event focusing on a variety of mental health issues, but specifically how they affect LGBTQ youth. (Her internship has now concluded.)
"For Speier, our project was to have a community event, so mine was called 'Behind The Rainbow' to help advocate for mental health issues and identity issues," Leventhal said. "Eventually, because of other things, my event and a different event were merged and became the 'Learning to Listen' event."
A member of GLSEN, she reached out to that organization and to the Trevor Project to help with the event. GLSEN works to end LGBTQ bullying and discrimination in K-12 schools, while the Trevor Project focuses on suicide prevention and operates a confidential hotline for queer youth.
Learning to Listen, which took place in November 2019, was attended by Speier and Leventhal's own father, to whom she had not yet come out to as bisexual.
"I came out to my father fairly recently," Leventhal said. "He came to the event without knowing that and it was interesting listening to my dad talk to psychologists and other parents in the community. It was incredible to see my dad absorb that information. For parents to understand their queer kids better — it was a remarkable experience."
In an emailed statement to the B.A.R. July 13, after this article was published, Speier stated that the experience taught her how important mental health issues are to Generation Z.
"Having started my own career in public service as an intern, I am a strong believer in internship programs. Ari was one of my interns last fall who inspired an event idea that we turned into an actual event," Speier stated. "I was struck, during a presentation in which the interns introduced their event ideas, that four of them suggested an event on mental health. It was a wake-up call to realize how pressing mental health issues are in that teen generation.
"Watching Ari and the other students turn their idea into reality was inspiring and I hope taught them that they can make a difference in life," she concluded.
Leventhal, who recently graduated Aragon High School in San Mateo, said that when she was the yearbook editor in chief she got to "see behind the scenes" of that school's gay straight alliance, which was advised by the yearbook adviser.
Leventhal said she has always been passionate about social justice issues.
"I've always been invested in activism and social justice my whole life," she said, adding that she is trying many different things to find out how she can specifically contribute.
"I can't tell you what form this will take," Leventhal said. "I used to say my dream job changed from week-to-week."
She will, however, be attending the University of North Carolina, Chapel Hill as a political science major — "corona-permitting," she noted.
For now, Leventhal is involved in the Bank of America student leadership program, one of five people selected to participate, according to Raquel Gonzalez, president of Bank of America for the Silicon Valley market and the bank's executive for the Western states, in a July 10 phone call with the B.A.R.
"Ari is a very talented individual and we typically are looking not only for students who have distinguished themselves academically but also by leadership in the community," Gonzalez said. "She was involved in a number of activities even as she was going through school."
Gonzalez was on the committee that selected Leventhal to participate in the program, she said, which connects young people with jobs and teaches them transferable skills to other leadership positions.
This year the program will be working with a nonprofit, LifeMoves, which operates 11 shelters in Silicon Valley, where it will help people escape homelessness and develop the skills to remain financially successful.
"I've done a lot of resume building, testing different community work, nonprofit work, so for me this is the same thing," Leventhal said.
Leventhal said that the most recent wave of social justice activism that began following the police killing of George Floyd on May 25 has challenged her.
"I think it's affected me deeply. It's interesting to see all the people in my life who have come forward with their opinion on something I have deep opinions on," Leventhal said.
She participated in a protest in San Mateo that was also attended by Speier.
"It was really remarkable and has honestly inspired me a lot as to the possibility of change. Obviously this has been something I can tell the youngsters about in my older years when they ask 'what did you do during the pandemic?'"
The Trevor Project hotline is 1-866-488-7386.
LGBTQ Agenda is an online column that appears weekly, usually on Tuesdays. Got a tip on queer news? Contact John Ferrannini at j.ferrannini@ebar.com
Updated, 7/13/20: This article was updated to include comments from Congresswoman Speier.
Editor's note: If you liked this article, help out our freelancers and staff, and keep the B.A.R. going in these tough times. For info, visit our Indiegogo campaign. To donate, simply claim a perk!
Comments on Facebook