Political Notes: Dems' platform proposal features LGBTQ rights
Wednesday Jul 8, 2020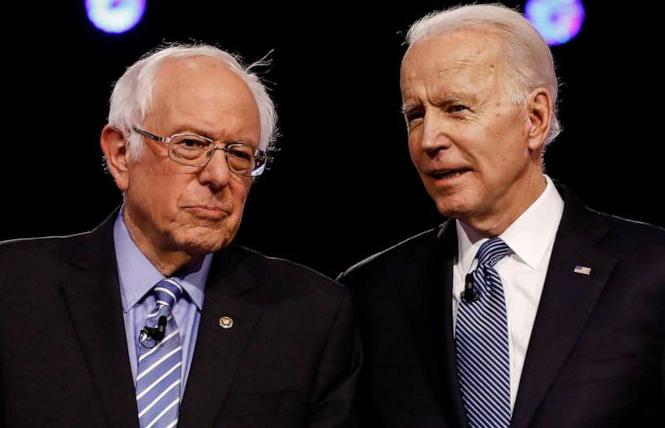 As the Trump administration continues to rollback protections for queer Americans, Democrats are set to adopt a party platform that includes myriad proposals to protect LGBTQ people from discrimination based on sexual orientation and gender identity.
The party's top presidential contenders, presumptive nominee former Vice President Joseph R. Biden Jr. and U.S. Senator Bernie Sanders (I-Vermont), in the spring agreed to form a diverse committee to develop the party's 2020 platform. Called the Biden-Sanders Unity Task Forces, different groups focused on climate change, criminal justice reform, economy, education, health care, and immigration policies.
The task forces submitted their recommendations Wednesday, July 8, to the Democratic National Committee's Platform Committee and to Biden directly. The final platform will be voted on during the party's convention later this summer.
"For the millions of Americans facing hardship due to President Trump's failed coronavirus response, this election offers the chance to usher in a stronger, fairer economy that works for our working families," stated Biden. "I commend the task forces for their service and helping build a bold, transformative platform for our party and for our country."
Biden added that he was "deeply grateful" to Sanders for agreeing to work collaboratively on uniting the party behind the policy proposals.
Sanders, in thanking the task force members for working "in good faith to create these compromise agreements," acknowledged the end results differ from what he and his supporters would have proposed if he had become the nominee. He ended his second presidential bid this spring when it became clear Biden would be the party's pick to challenge President Donald Trump in the November 3 election.
"While Joe Biden and I, and our supporters, have strong disagreements about some of the most important issues facing our country, we also understand that we must come together in order to defeat Donald Trump, the most dangerous president in modern American history," stated Sanders, noting that "the task forces have created a good policy blueprint that will move this country in a much-needed progressive direction and substantially improve the lives of working families throughout our country. I look forward to working with Vice President Biden to help him win this campaign and to move this country forward toward economic, racial, social, and environmental justice."
The LGBTQ acronym is used 17 times in the 110-page document, while the term transgender comes up twice. The Equality Act, the federal legislation that would ban LGBTQ-based discrimination in such areas as housing and employment, is not mentioned. The bill was passed by the House last year but is stalled in the Senate.
Health care a priority
Ensuring LGBTQ people are not discriminated against when they seek health care is one of the main policy recommendations from the task forces. The issue took on greater urgency with the U.S. Supreme Court's decision Wednesday in the case Trump v. Pennsylvania that upheld the Trump administration's authority to institute broad exemptions to the birth control benefit of the Affordable Care Act.
The ruling permits employers and universities to refuse employees and students contraceptive coverage based on a religious or moral opposition, forcing their employees and students to pay out of pocket for their birth control. But LGBTQ advocates also fear it will be used to deny health care to LGBTQ people, in particular transgender and nonbinary individuals.
"While the Supreme Court has made it clear that it is against the law to fire someone for being LGBTQ, today they made it easier for religiously-affiliated employers to discriminate — including against LGBTQ people," stated James Esseks, director of the American Civil Liberties Union's LGBT & HIV Project. "The court also opened the door to broader denials of health care, an area where LGBTQ people — particularly transgender people — already face alarming rates of discrimination."
The Democratic Party's platform recommendations call for ensuring that doesn't happen and commits the party "to eliminating health disparities" that lead to "disproportionate death and disease among people of color, women, LGBTQ+ people, and rural Americans."
It also condemns the Trump administration for its "discriminatory actions against the LGBTQ+ community, including the dangerous and unethical regulation allowing doctors, hospitals, and insurance companies to discriminate against patients based on their sexual orientation or gender identity," states the document.
Democrats, the document pledges, "will reverse this rulemaking and restore non-discrimination protections for LGBTQ+ people in health insurance. We will also take action to guarantee that LGBTQ+ people have full access to needed health care and resources, including by requiring that federal health plans provide coverage for HIV/AIDS treatment and HIV prevention medications like PrEP and PEP, gender confirmation surgery, and hormone therapy."
The party would also restore federal funding for Planned Parenthood, according to the policy proposals, as it "provides vital preventive and reproductive health care for millions of women, especially low-income women and women of color, and LGBTQ+ people across the country, including in underserved areas."
Education
The policy recommendations also seek to protect LGBTQ students in schools. Among those on the education task force was lesbian union leader Randi Weingarten, president of the American Federation of Teachers, AFL-CIO.
It contends "the government's responsibility to ensure that every child, everywhere, is able to receive a world-class education that enables them to lead meaningful lives, no matter their race, ZIP code, disability status, sexual orientation, gender identity, or household income."
It proposes that private schools be prohibited federal funds if they discriminate based on race, sex, religion, disability, national origin, sexual orientation, gender identity, or immigration status. It also recommends reinstating Department of Education guidance on transgender students' Title IX rights, which was recently revoked by the Trump administration, and clarify that federal civil rights law prohibits anti-LGBTQ+ rules.
The party, according to the proposal, would "act expeditiously to reinstate Department of Education guidance protecting transgender students' rights under Title IX and make clear that schools shall not discriminate based on LGBTQ status."
Immigration
LGBTQ immigrants would also receive assistance under the platform suggestions. The document calls for reversing "Trump administration policies that prevent victims of gang and domestic violence, as well as LGBTQ+ people who are unsafe in their home countries, from being eligible to apply for asylum."
It specifically calls for the Office of Inspector General to conduct an investigation into immigration enforcement spending, detention determinations, detention conditions and practices, including whether there are policies that discriminate against Black and Brown immigrants and other instances of racial, ethnic, religious, and LGBTQ+ bias.
Another recommendation calls for the reversal of "policies that prevent victims of gang and domestic violence, as well as members of the LGBTQ+ community, from being eligible to apply for asylum."
And it calls on a Biden administration to work with the United Nations High Commissioner for Refugees on strengthening "asylum processing and integration efforts in Latin America and the Caribbean, especially Mexico, and promote in-country protections for Internally Displaced Populations, including those fleeing crime and gang-related violence, LGBTQ+ individuals, and victims of domestic violence."
Also mentioned in the document is assistance for LGBTQ homeless individuals seeking permanent housing, as it commits the Democratic Party "to ending homelessness in America" and taking "a housing-first approach to ending homelessness."
"LGBTQ+ youth, especially Black and Brown LGBTQ+ youth, too often find themselves on the streets. We will act swiftly to end homelessness among veterans and will enact strong protections for LGBTQ+ people," states the document. "And we will ensure that 100 percent of returning citizens have access to transitional housing upon reentry from jail or prison."
Wednesday evening the Human Rights Campaign, the national LGBTQ advocacy organization, released a statement praising the work of the task forces and their inclusion of policy proposals specific to the concerns of the LGBTQ community.
"The Biden-Sanders Unity Task Force recommendations prove this upcoming platform will be among the most, if not the most, pro-equality platform from any party in our history," stated HRC President Alphonso David. "These recommendations also clearly contrast with the virulently anti-LGBTQ Republican platform - a poorly considered copy and paste job they didn't even bother to update for our day and age."
David added that Trump, Vice President Mike Pence and their allies have undertaken a years-long campaign to dehumanize LGBTQ people and strip away their rights.
"The Biden-Sanders Unity Task Force recommendations would help us turn the page and build a better, stronger future for all LGBTQ people," stated David.
UPDATED 7/8/2020 with comments from Human Rights Campaign President Alphonso David.

Keep abreast of the latest LGBT political news by following the Political Notebook on Twitter @ http://twitter.com/politicalnotes
Got a tip on LGBT politics? Call Matthew S. Bajko at (415) 829-8836 or e-mail m.bajko@ebar.com
Editor's note: If you liked this article, help out our freelancers and staff, and keep the B.A.R. going in these tough times. For info, visit our Indiegogo campaign. To donate, simply claim a perk!
Comments on Facebook