Political Notes: East Bay fall races attract LGBT candidates
Monday Jun 15, 2020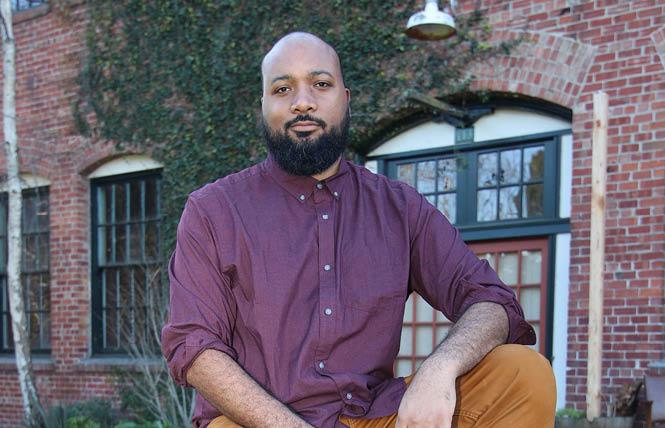 At least 13 LGBT candidates are running for local office this November throughout the East Bay. The number could grow as various races shape up and more out contenders throw their hats into the contests.
The list includes six elected officials seeking reelection this year, such as gay city councilmen Jim Oddie of Alameda and John Bauters of Emeryville. Lesbians Judy Appel, who serves on the Berkeley school board, and BART board member Rebecca Saltzman, who represents the transit agency's District 3 covering parts of Alameda and Contra Costa counties, are also running for reelection.
Gay Richmond resident Cesar Zepeda is seeking a full four-year term on the board of the West County Wastewater District, having been appointed last year to fill a vacancy. And lesbian Oakland City Council President Rebecca Kaplan is seeking a fourth term in the city's at-large council seat.
Among those challenging Kaplan is gay restaurant owner and political newcomer Derreck Johnson, who has the backing of Oakland Mayor Libby Schaaf. Should he win the seat, Johnson would be the first out black person to serve on Oakland's City Council.
Two other first-time gay black male candidates are running for council seats in East Bay cities this fall. In Berkeley, author, poet, and editor Terry Taplin is one of several people challenging District 2 City Councilwoman Cheryl Davila.
Davila four years ago ousted from office gay former City Councilman Darryl Moore, one of the few out black elected officials in the Bay Area. The two had a falling out over whether the city should divest from Israel due to its treatment of Palestinians.
Having grown up in West Berkeley and living there the last two years with his husband, psychiatric nurse Andrew Godar, Taplin told the Bay Area Reporter he feels the district needs new leadership. He has endorsements from Appel and former Berkeley school board member Karen Hemphill, who opted not to run against Davila.
"I just really couldn't sit on the sidelines. Last May, I was wrapping up my graduate program and filed to run before graduation," said Taplin. "I didn't tell anyone, not even my partner, I just went to the city clerk's office and pulled papers."
Lambda Democratic Club of Contra Costa County President Devin Murphy, the first black person to lead the LGBT political club, told the B.A.R. last week he was launching his candidacy for a seat on the Pinole City Council Monday (June 15). If elected, he would be the second gay man to serve on the council, as San Francisco Sheriff's Department captain Stephen Tilton was elected in 2006.
Tilton, who was recalled in February 2008 following the council's ousting of a popular city manager, had told the B.A.R. in April he hoped to see Murphy run for a council seat. Murphy has lived in Pinole since graduating from UCLA with a degree in African American studies in 2015.
A political campaign consultant who is CEO of DTM Strategies, Murphy serves on his city's planning commission. At 26, he would be one of the youngest LGBT people elected to political office in the Bay Area.
"It is important we have folks who represent our democratic values," Murphy had told the B.A.R. earlier this spring when he was mulling whether to run.
In announcing his candidacy Monday Murphy stated, '"These are incredibly challenging times, and we need strong, effective leadership to push for action to address the tough recovery ahead for our city. I will fight to ensure Pinole's families and our local businesses, especially in Old Town Pinole and along San Pablo Avenue, receive strong support so they can thrive."
Three lesbian El Cerrito residents could win election to local office this year, as Saltzman and her wife bought a home there last fall ahead of the birth of their first child. Carolyn Wysinger, president of the board that oversees San Francisco Pride, pulled papers in January to seek the District 5 seat on the West Contra Costa Unified School District board.
And Margaret Kavanaugh-Lynch, who lives in the Contra Costa County city with her wife and their two sons, is seeking to double LGBT representation on the El Cerrito City Council. If elected, she would serve alongside gay City Councilman Gabriel Quinto, one of the few HIV-positive people to hold public office in California.
Kavanaugh-Lynch spent seven years on her city's planning commission and has had a long career working for local governments throughout the East Bay. She is currently the city planner for Martinez and had worked as El Cerrito's development services manager.
As she notes on her campaign website, "I truly understand local government and how to get things done."
Voters in Alameda County will decide in November which of two out judicial candidates to seat on their superior court. Lesbian trial attorney Elena Condes and gay civil rights attorney Mark Fickes both advanced out of the March 3 primary race for Seat #2 on the Alameda County Superior Court.
At least three other East Bay cities could potentially see out candidates running this fall. In Hercules Brian Campbell-Miller is being encouraged to run again for City Council, as there will be a vacant seat. He lost his first bid in 2016.
That year voters elected as the city's first known LGBT council member Roland Esquivias. While friends and family knew of his sexual orientation, Esquivias publicly came out in an interview with the B.A.R. published two days after he was sworn into office. He told the B.A.R. last week that he had decided not to seek a second term this year.
"My family in Manila needs me to be back there after my term expires in December," replied Esquivias in response to a question about his reelection plans. "I would like to be able to go back and forth first then move back there for good in a couple years."
Campbell-Miller, who lives in the Contra Costa County city with his husband, serves on the Hercules Community and Library Services Commission. Asked if he would run again, Campbell-Miller told the B.A.R. Friday, June 12, he wasn't certain.
"That's some thing I might consider. I'm not sure though, I am going into my last year of library school," replied Campbell-Miller.
In the Alameda County city of Dublin the city's elected mayor position is open due to the incumbent running for a county supervisor seat in November. Gay City Councilman Shawn Kumagai, his city's first out council member, is considering a mayoral run.
"I haven't ruled it out but I'm waiting to see what my colleagues do," he told the B.A.R.
Next door in Livermore professional photographer and branding consultant Brittni Kiick, a married mother of two who identifies as pansexual, is being encouraged to run for a City Council seat. The Tri-Valley city is moving to electing its four council members by district, as well as having an elected mayor. It is phasing in the districts beginning with two this year and two in 2022.
Kiick is waiting to see if the seat for the council district where she and her husband live with their two young children will be open this year.
"When there is an open seat in my district I will be running, whether now or in two years," Kiick told the B.A.R.
Bauters, the lone LGBT person serving on the Emeryville City Council, is so far the only one among the declared out East Bay candidates to have the endorsement of the LGBTQ Victory Fund, which helps to elect LGBT people to office across the country. He told the B.A.R. it has been a "privilege" to serve the last four years and hopes voters will allow him to continue addressing the needs of their city.
"In that time, I am proud of the incredible progress we've made on the issues I campaigned on in 2016: affordable housing, homeless services, transportation infrastructure, sustainable community development, and small business programming - through a lens of equity and social justice," wrote Bauters in an emailed reply. "Much work remains to be done, and I look forward to implementing the victories of the past four years, while continuing to lead Emeryville and the East Bay toward a more just and sustainable future."
Keep abreast of the latest LGBT political news by following the Political Notebook on Twitter @ http://twitter.com/politicalnotes
Got a tip on LGBT politics? Call Matthew S. Bajko at (415) 829-8836 or e-mail m.bajko@ebar.com
Editor's note: If you liked this article, help out our freelancers and staff, and keep the B.A.R. going in these tough times. For info, visit our Indiegogo campaign. To donate, simply claim a perk!
Comments on Facebook